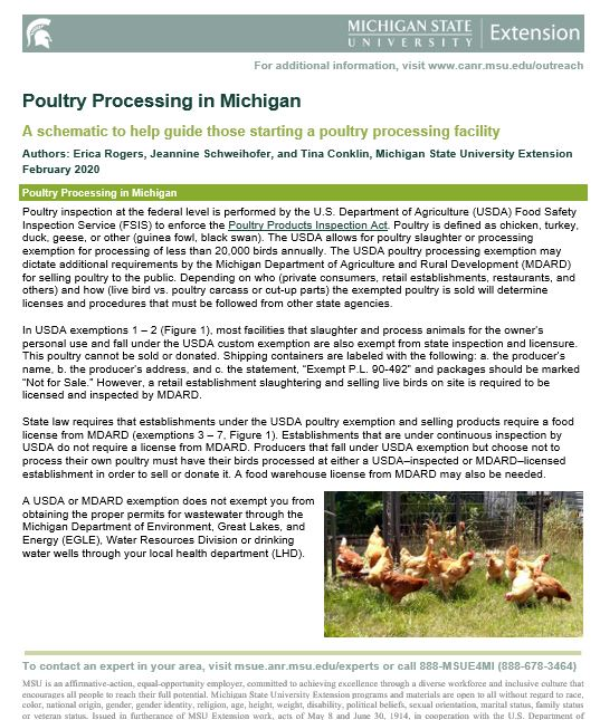 Poultry Processing in Michigan
DOWNLOAD
February 25, 2020 - Author: Erica Rogers, Jeannine Schweihofer, and Tina Conklin, Michigan State University Extension
Poultry Processing in Michigan
Poultry inspection at the federal level is performed by the U.S. Department of Agriculture (USDA) Food Safety Inspection Service (FSIS) to enforce the Poultry Products Inspection Act. Poultry is defined as chicken, turkey, duck, geese, or other (guinea fowl, black swan). The USDA allows for poultry slaughter or processing exemption for processing of less than 20,000 birds annually. The USDA poultry processing exemption may dictate additional requirements by the Michigan Department of Agriculture and Rural Development (MDARD) for selling poultry to the public. Depending on who (private consumers, retail establishments, restaurants, and others) and how (live bird vs. poultry carcass or cut-up parts) the exempted poultry is sold will determine licenses and procedures that must be followed from other state agencies.
In USDA exemptions 1 – 2 (Figure 1), most facilities that slaughter and process animals for the owner's personal use and fall under the USDA custom exemption are also exempt from state inspection and licensure. This poultry cannot be sold or donated. Shipping containers are labeled with the following: a. the producer's name, b. the producer's address, and c. the statement, "Exempt P.L. 90-492" and packages should be marked "Not for Sale." However, a retail establishment slaughtering and selling live birds on site is required to be licensed and inspected by MDARD.
State law requires that establishments under the USDA poultry exemption and selling products require a food license from MDARD (exemptions 3 – 7, Figure 1). Establishments that are under continuous inspection by USDA do not require a license from MDARD. Producers that fall under USDA exemption but choose not to process their own poultry must have their birds processed at either a USDA–inspected or MDARD–licensed establishment in order to sell or donate it. A food warehouse license from MDARD may also be needed.
A USDA or MDARD exemption does not exempt you from obtaining the proper permits for wastewater through the Michigan Department of Environment, Great Lakes, and Energy (EGLE), Water Resources Division or drinking water wells through your local health department (LHD).