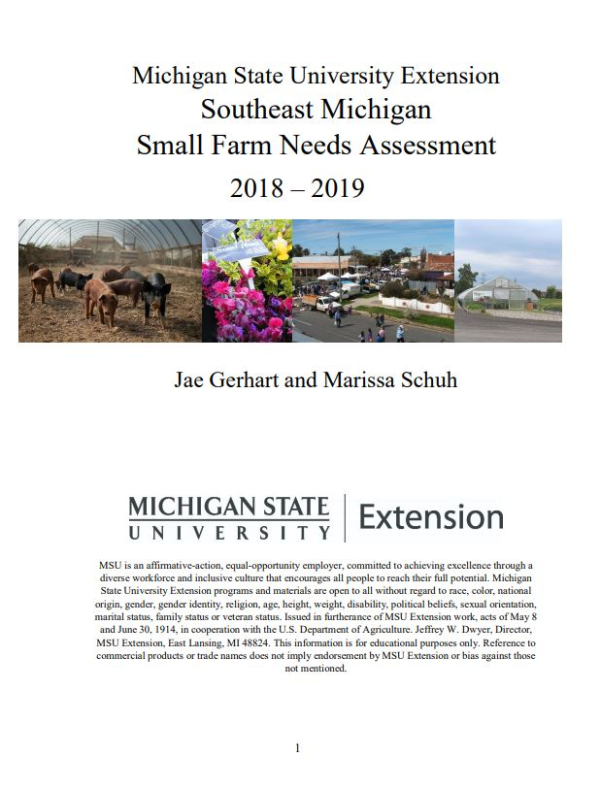 Southeast Michigan Small Farm Needs Assessment
DOWNLOAD FILE
April 11, 2019 - Author: Mariel Borgman, Michigan State University Extension; updated from original needs assessment by Jae Gerhart and Marissa Schuh
Overview of Needs Assessment
Throughout the months of November and December of 2018, MSU Extension personnel Jae Gerhart and Marissa Schuh conducted a community needs assessment to gain deeper insight on role of the organization, topics of interest, and preferred methods of communication among small (using the USDA definition of sales under $250,0001 ) farmers across Southeast Michigan. The assessment was developed in response to both local MSU Extension personnel desire to develop relevant programming for this population as well as to expand on the data gathered through the 2015-2016 Issues Identification Process.
Purpose
Having worked in Southeast Michigan for over two years, it was a natural time for Gerhart and Schuh to assess the programmatic areas clients would find most useful in their development as small farmers. The information gathered is intended to inform future MSU Extension program development for Southeast Michigan small farmers as well as inform other Agriculture and Agribusiness Institute (AABI) and Community, Food, and Environment Institute (CFEI) educators and program instructors of the possible needs of small farms in other regions of the state.
Additionally, the Needs Assessment addresses priorities identified by the MSU Extension Issues Identification. This internal, organization-wide needs assessment highlighted that the public valued work around the food supply, small and/or urban farms, farmers markets, and vegetables 2,3 . People who said vegetables were "very important" and lived in urban and suburban areas placed a high value on ensuring the food supply is safe and plentiful, creating and enhancing agribusiness, and conducting research and education programs. This type of respondent was clustered in Southeast Michigan (primarily Wayne and Macomb counties)4 .
Methodology
Data was gathered through both a comprehensive survey sent out to over 200 small farmers in Southeast Michigan as well as through a focus group hosted in Washtenaw County. The survey collected both qualitative and quantitative data and included broad questions as well as commodity-specific questions solicited from relevant AABI work team educators. The focus group was chosen as a method to gather more in-depth, qualitative feedback about some of the topic areas addressed in the survey.
Survey
Using Qualtrics survey design software, Gerhart and Schuh designed the survey to address basic questions about farm size, scale, markets, and crops. Based on responses to crop type, farmers were directed to a series of commodity-specific questions. Also included were questions on their experiences and impressions of MSU Extension, preferred forms of communication, and familiarity and use of other service providers.
The survey was circulated on the Washtenaw County Local Food and Farming Newsletter, and then subsequently sent out through the networks of Will Jaquinde (Sustainable Agriculture Instructor, MSU Extension) and Kelly Wilson (Taste the Local Difference, Southeast Michigan coordinator). Additional emails were sent to any farmer who had registered for the Produce Safety Alliance Grower Safety Training courses held in the Eastern side of Michigan. The survey was included on the MSU Extension events calendar listing for the focus group, and thus circulated in the MSU Extension Vegetable Production newsletter. The MSU Student Organic Farm monthly email (a statewide list of mostly beginning farmer members) and the Socialfarmers listserv (a grassroots network of small farmers in Southeast Michigan) also publicized the survey and the focus group.
Targeted counties for distribution included Hillsdale, Ingham, Jackson, Lenawee, Livingston, Macomb, Monroe, Oakland, Washtenaw, and Wayne Counties, though responses were accepted from any Michigan county. Ninety surveys were returned, though only 75 responses, representing the nine counties of Districts 11 and 12 and Ingham County were included in the report.
Focus Group
The focus group was held on December 13 at the MSU Extension Washtenaw County Office in Ann Arbor. The focus group was advertised through the Washtenaw County Food and Farming Newsletter as well as through the MSU Extension events calendar and the MSU Extension Vegetable Production newsletter.
The focus group prompted the attendees with open-ended questions about their business goals as small farmers, reflections on the past season, expected hurdles in the next five and ten years, and useful research topics from research institutions specifically for small farmers.
Focus group notes were recorded by hand and re-circulated among focus group participants to assure sentiments expressed were adequately and accurately captured. Overarching themes were identified from the focus group notes and summarized. Comments were categorized based on common themes that emerged across participants.
Strengths and Limitations
The strengths of this needs assessment include attention to timing for distribution, attention to survey length, and the use of inspiring verbiage in distribution materials. Distribution of the 5 survey was initiated in late fall, as this is generally a time when experiences from the previous growing season, at least for plant-based agriculture, are still fresh in growers' minds. This is also typically a quieter time of year as it is too early to begin transplants and other preparations for the 2019 season. The survey was edited to only include 23 questions, many of which were structured as multiple choice, a relatively simple format. Lastly, the outreach materials all specified that the information gathered in the survey would ultimately benefit the survey takers, as it would inform the development of programming for the participants. Combined, these three factors may have helped incentivize participation.
The variety of outlets for survey distribution had the potential to illicit a sampling error, as individuals could have responded to the survey more than once. In an attempt to avoid this error, consistent verbiage was used throughout all the distribution outlets. The survey also had the potential to only reach those farmers who had access to the internet, as the survey was only circulated digitally. No phone calls or mailed surveys were distributed.
Next Steps
Results from this needs assessment will help guide program prioritization in the immediate future as well as broad program area development in both MSU Extension AABI and CFEI. Results have been compiled and will be distributed to AABI and CFEI educators and program instructors throughout the state.