SharePoint
Logging in to SharePoint Online
You can log into SharePoint Online using your MSU Email Address and Password by going to portal.office.com and then selecting SharePoint.
NOTE: The applications may be in a different order on your screen.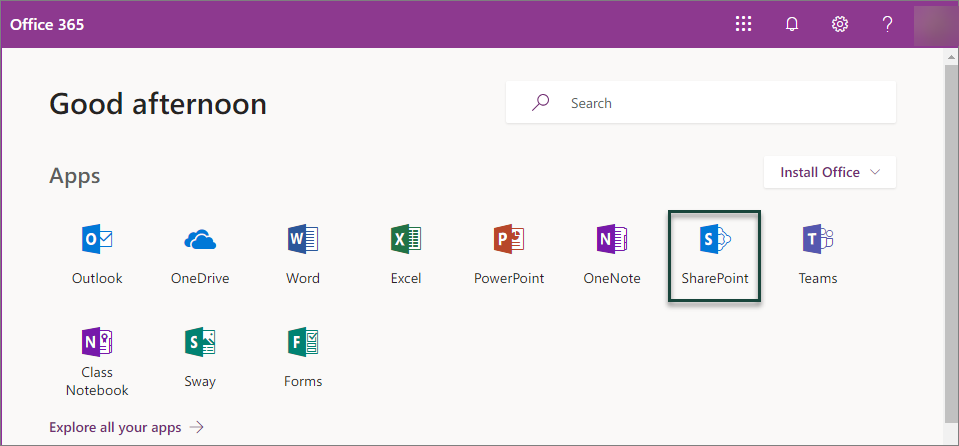 Sharing Files on SharePoint
To access your department shared files from SharePoint on your computer, you will need to:
Set up the SpartanDrive (OneDrive) application on your computer. Instructions for installing this application for both Windows and Mac are in the next section.
Log into SharePoint and Sync your Files and Folders.
Synced SharePoint folders can be Removed from within the OneDrive app when no longer needed.
Setting Up SpartanDrive to Access Department Shared Files on SharePoint
You may be required to log in using your MSU NetID and Password to view some of the instructions below.
Windows
Mac
Frequently Asked Question
What is the character limit for a file/folder?

The character limit is 255 characters for the entire link. This includes the file name, folder structure, and base link automatically provided by SharePoint You may run into the character limit if you nest a lot of folders and/or if you use very long file names.


Where do the department shared folders or shared with me by other users sync to?

Shared folders will show up in a separate area from any of your personal MSU synced folders in a section titled Michigan State University with a small city icon next to it. All department shared folders migrated from the S Drive will be located in this area. In addition, any folders shared with you from other users will also show up in this area with the person's name and the folder title.

If you have a personal, non-MSU affiliated OneDrive, you may have an additional OneDrive folder listed as well.




What do I do if SpartanDrive is having sync issues?

Solutions to common sync issues can be found on the Microsoft Help Page for Fixing Sync Issues. If you continue to have sync issues, contact anr.support@msu.edu for assistance.