Case Studies
A Lifecycle Cost Analysis of Wood Pellet, Propane, and Heating Oil
This study analyzes the life cycle costs of wood pellets compared to propane and heating oil. A house and an institutional building were both considered as were subsidized and unsubsidized wood pellet heating units. In the case of the residence, a life span of 30 years was considered; a 40 year lifespan was analyzed in the case of an institutional building. In all cases the wood pellet heating units are less expensive than propane and heating oil. The lower costs of the heating fuel more than offsets the higher costs of the boilers. Wood pellet boilers also have the advantage of having a longer life span than oil and propane units.
More about A Lifecycle Cost Analysis of Wood Pellet, Propane, and Heating Oil
Wood-based Heating Appliances
Michigan forests have a huge potential to help supply Michigan with heat and, perhaps, power. However, providing heating and cooling is the low-hanging fruit. A wide range of appliances help serve this purpose, from home-heating to institutions and multi-building district energy. Fuel sources include cordwood, wood chips, and wood pellets. The most advantageous system will vary with the site conditions at each location.
Wood Pellet Bulk Delivery
The Statewide Wood Energy Team and partners are cooperating on an economic development project to create a wood pellet bulk delivery service to southwest Michigan. This region of the state has several key components in place, as well as profile of characteristics similar to areas where bulk delivery services have been successful. New England has several of these businesses, such as Maine Energy Systems. These technologies are common across many of the northern European countries, as well. Advanced wood pellet furnaces (forced air) and boilers (radiators) are unfamiliar to many Michigan residents (they're not stoves!). These systems are as hands-free as natural gas or propane systems, but offer a range of economic and environmental advantages over fossil fuel heating systems.
More about Bulk Delivery
Kalamazoo presentation by Dutch Dresser
Lansing presentation by Dutch Dresser
Bordine's Nursery, Grand Blanc, Michigan
Bordine's nursery is a large greenhouse facility that has found an outstanding niche for using wood-based thermal energy. Many area municipalities, landscapers, and other businesses supply solid-wood waste that feeds a 10 million btu Vyncke boiler that supplies hot water for an extensive heating grid and steam to produce 3 megawatts of electricity. The facility heats about 11 acres of greenhouses and over 50 hoop houses. The nursery services Bordine's retail centers across the greater southeast Michigan region.
Veteran's Administration Medical Center, Battle Creek, Michigan
The VA Battle Creek built a wood chip fueled high pressure steam boiler to turn a turbine a produce about two miliwatts of electricity. Excess steam is used for heat, reducing natural consumption by about 60 percent. The facility has about 35 buildings, about a million square feet, located on a 206 acre campus. The CHP system was commissioned in 2015.
Pinecrest Medical Care Facility, Bark River, Michigan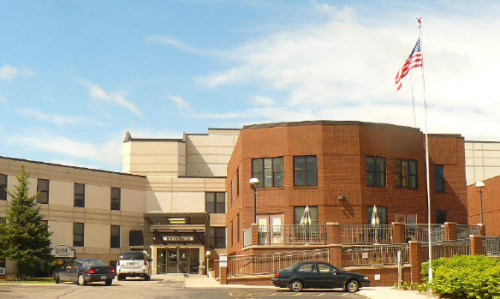 Pinecrest is located in Powers, Michigan, in northern Menominee County in the south central part of the Upper Peninsula. The facility offers medical care, Alzheimer's care, physical, occupational and speech therapy, and can house up to 160 residents. There are 170,000 square feet in four buildings that are both heated and cooled using a low-pressure steam district energy (DE) system fueled primarily by wood chips. Cooling is provided by a Trane absorption chiller, which runs water at 42 degrees Fahrenheit. The system also provides domestic hot water, high-temperature hot water (e.g. dishwashing), and hot water for the laundry. There are two natural gas backup boilers. Pinecrest also has a 10 kw solar panel array connected to the grid that was funded by the Michigan Energy Office.
More about Pinecrest Medical Care Facility
YMCA Storer Camps
These facilities are located among the Irish Hills in Jackson County, including the 240-acre Stoney Lake. About 17,000 people visit each year, from all over the world. The main building, Malachi Hall, is 16,000 square feet and heated with forced air using the heat from a pair of outdoor cordwood boilers. Fuel is supplied by camp personnel and volunteers from woodlands on the property. Additionally, the system supplies the hot water needed for the kitchens and other uses. The system uses a 1600-gallon thermal storage tank.
More about the YMCA Storer system
The Mariner North Restaurant, Copper Harbor, Michigan
The Mariner North is located in downtown Copper Harbor, a small town near the tip of the Keweenaw Peninsula. Six buildings are heated with hot water from a 250,000 btu, water-jacketed Central Boiler. About 40 cords of wood are used during the extended cold season. Alternative heating is either with propane or fuel oil, as the natural gas grid does not reach Copper Harbor.
The case in the State of Upper Austria
Upper Austria, a state in northern Austria, has a well-developed, wood-based heating sector, including home-based automatic pellet boilers, micro-grids and other district energy installations, and CHP facilities that use wood. This model has been very successful and serves as a good example of what can potentially be built in Michigan.
More about the Upper Austrian case study
Schools: Several case studies demonstrate cost-savings and other benefits
Mid-Peninsula School has burned wood chips since 1984 and have had upgrades to the original system. The North Central Schools installed their first wood chip systems in the early 1980s and replaced the boiler in 2014. North Central has access to natural gas but burns wood. North Dickinson County School installed their wood system in 1991. The Republic-Michigamme Schools burned fuel oil prior to 2012. The savings obtained by the conversion to wood chips has been well-accepted in the communities and the school loves it. These schools each heat roughly 50,000-100,000 square feet, as well as domestic hot water. Different suppliers deliver the wood chips. All of the schools save enough money (over fossil fuel consumption) to pay approximately the cost of a teacher, which is significant to these small rural schools.
DeTour Area Schools
Mid-Peninsula School
North Central Schools
North Dickinson County School
Ontonagon Area Schools
Republic-Michigamme Schools
Messersmith Manufacturing, Inc. - Bark River, Michigan
Messersmith is one of the nation's leading manufacturers of wood chip heating systems. Engineer and CAD technician designs include the chip bins, augers and conveyors, chip sorters, combustion chambers, emissions control, and other components to suit the requirements of each particular project.
Snapshot of New Woody Biomass Production Potential in Michigan
Additional supplies of new woody biomass for an expanded bioeconomy are available (1) in Michigan's natural forests (about 3.40 metric tons/year), (2) in new biomass plantations on idle, underused, non-agricultural land (about 2.42 metric tons/year), and (3) from urban wood waste streams (about 2.20 metric tons/year). Together, these potential new resources could provide over 8 million dry metric tons of biomass - enough to almost triple the size of Michigan's current wood products industry. This snapshot is part of the assessment portion of the Michigan Statewide Wood Energy Team grant.
Michigan Thermal Energy Analyses
Using two databases, various fuels used heat and cool Michigan buildings can be segregated. A series of county-based graphics help illustrate the use of different fuels used for households and for boilers regulated by the State of Michigan. Depending upon a number of site-specific circumstances, wood chip systems are often cost-competitive with all fossil fuel alternatives. Wood pellets are cost-competitive will all fossil fuel alternatives except natural gas. The graphics show how advanced wood-based thermal technologies could be deployed.
Number of Households: Heating Sources Wood Propane/Fuel Oil Electricity Natural Gas
Number of Regulated Boilers: Wood Fuel Oil Electricity Coal Natural Gas
Data sources were 1) Michigan Department of Licensing and Regulatory Affairs, and 2) U.S. Census Bureau, American Community Survey.
Minnesota Woody Biomass Case Studies
Dovetail Partners, in cooperation with other groups, has prepared several examples of how wood-based energy has been deployed. These serve as models for different applications.
Wisconsin woody biomass case studies
The Wisconsin Statewide Wood Energy team has also built a set of case studies to complement what is being done elsewhere in the upper Great Lakes Region.
Case studies from BTEC
These BTEC resources cover a large variety of sites across the USA.
About the Michigan Wood Energy Team
The Michigan Wood Energy Team assesses Michigan's woody biomass supplies, energy infrastructure, and community readiness related to wood energy. We also provide educational resources related to the use of wood energy in Michigan, and provide supporting materials for the installation of demonstration systems for wood energy combined heat and power or district heating and cooling systems at the institutional or small community scale. Learn more about our mission and our members.