Improving agricultural techniques in Malawi to help feed the future
Sieg Snapp and her colleagues in Ekwendeni (northern Malawi) report steady improvements in crop yield, child nutrition and overall agricultural incomes.
April 8, 2013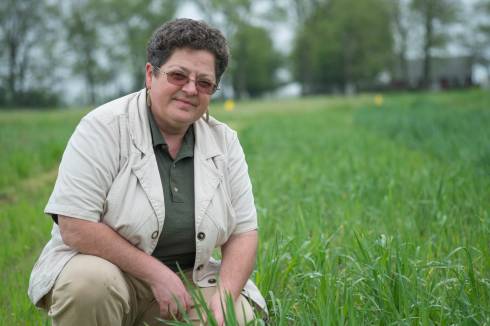 In one of the most rural areas of the world, where up to 85 percent of the men and women are farmers, a Michigan State University (MSU) AgBioResearch scientist is looking to expand upon the benefits she has unearthed during the past decade.
Sieg Snapp, professor of plant, soil and microbial sciences at the W.K. Kellogg Biological Station, and her colleagues in Ekwendeni (northern Malawi) have seen over the past 10 years steady increases in crop yield and diversity and improvement in child nutrition and overall agricultural incomes as a result of the collaboration between MSU researchers, the University of Malawi and the local hospital.
"The U.S. Agency for International Development [USAID] has a mandate for international agriculture development, and a current initiative called 'Feed the Future' involves five countries and universities such as MSU. My team has a subcontract with the International Institute for Tropical Agriculture, and our work together has been a wonderful success."
Participatory action research plays a large role in Snapp's work in Malawi, where farmers can rotate or combine fields of various legumes to keep the soil from getting stripped of important nutrients, such as nitrogen.
"Particularly we've been focusing on sustainable intensification – using fertilizer in a more sustainable way, and using different types of legumes. Legumes fix their own nitrogen, so they're a way to grow your own nitrogen," she said. "It's really important because all of your production is based on nitrogen in this part of the world."
MSU has one of the largest and most comprehensive African studies departments in the country, which has been invaluable for Snapp's efforts to aid the local agriculture in Ekwendeni.
"I really appreciate that my students can take more African languages here than anywhere else, and they're supported when they apply for scholarships and other opportunities," she said. "There are many opportunities for them here, and for me to collaborate with historians or anthropologists, agricultural economists – such a wide range of disciplines."
As a direct result of the work with crop combination and rotation, corn yields have increased to three times the yields of monoculture, farmers have reduced their use of fertilizer and seen a 20 percent increase in yield stability (which helps the community successfully deal with drought), and the height and weight gains of the local children are closer to meeting international norms as a result of better nutrition. The biggest gains for the children were found in villages where the program has been running the longest. This long-term research was funded by the McKnight Foundation, and now the Feed the Future USAID initiative is assisting.
Snapp is starting work at a second site in central Malawi, one closer to the capital city.
"We're really excited to try and scale out and bring the effort to central Malawi -- and doing it with national partners, such as the new Lilongwe University of Agriculture and Natural Resources," she said. "We're trying to see how much we can replicate working in this new area, building on the lessons we've learned."
In early March, a delegation of deans and MSU researchers had the opportunity to visit the new field site.
"It was so exciting to see the interim provost wading in to climb through the soybeans in the muddy trial sites on farmer fields," she said. "The reception by the farmers, the University of Malawi folks, Malawi government Extension staff and media was extremely warm. There was a short play put together by school children on the 'baby trials,' which are an opportunity for farmers to try out various technologies [on a small scale]. Finally, there was a dance that the farmers had practiced and presented to us. There was so much energy at the on-farm sites, and all of the MSU delegation – interim provost, deans, associate deans and faculty -- talked about the warm reception we received from the farmers and extension staff in Malawi."
Snapp said she hopes that her work can contribute to a holistic change for the people of Malawi.
"This participatory research approach has led to an agricultural revolution, one that will support a more resilient production system, with benefits beyond increased productivity," she said. "For example, as dependency on fertilizer and subsidies decrease, the government can use the money to invest in education, health and civil society."
Snapp was a keynote speaker at the launch event for the new Global Center for Food Systems Innovation (GCFSI) on campus March 21. MSU is one of the recipients of a $25 million grant from the USAID Higher Education Solutions Network. The aim of GCFSI is to focus on the transformation in global food systems needed to respond to population growth, climate change and urbanization.