MSU nets three grants, totaling more than $5 million for specialty crop research
Three researchers from MSU landed federal grants totaling more than $5 million that will be used to enhance research designed to boost specialty crop production in the United States.
October 21, 2011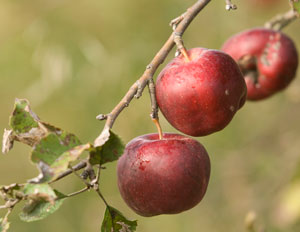 Three researchers from Michigan State University (MSU), including two MSU AgBioResearch scientists, landed federal grants totaling more than $5 million that will be used to enhance research designed to boost specialty crop production in the United States.
The grants are among 29 awards, totaling $46 million, from the USDA National Institute of Food and Agriculture. Institutions in 19 states are receiving the grants as part of the Specialty Crop Research Initiative which will be used to develop and share science-based tools to address the needs of America's specialty crop industry.
The three MSU researchers and their projects are:
Matthew Grieshop, MSU AgBioResearch scientist and assistant professor of entomology, will use $2.5 million for the development of resource-efficient and ecologically sustainable production systems for apple and cherry producers.
Catherine Lindell, associate professor of zoology, will use a $2 million grant to study ways to limit bird damage to fruit crops.
Ryan Warner, MSU AgBioResearch scientist and associate professor of horticulture, will use a $1.6 million grant to study genomics-based approaches for improving petunia production efficiency and performance. He is also an MSU Extension specialist.
"Our goal as researchers is to be responsive to new trends that not only affect growers but also help consumers end up with a better product," said Doug Buhler, interim dean for MSU's College of Agriculture and Natural Resources. "These projects and the grants from the USDA move us forward in efforts to advance agriculture and economic development in a sustainable way."
Overall, the initiative will focus on improving crop characteristics through plant breeding, genetics and genomics; address threats from pests and diseases; improve production efficiency, productivity and profitability; develop innovations and new technologies; and develop methods to improve food safety.
"Over the past 60 years, agriculture, including horticulture, has become increasingly reliant on science and technology to maintain profitable production," said Kathleen Merrigan, Department of Agriculture deputy secretary. "These projects will help provide specialty crop producers with the information and tools they need to successfully grow, process and market safe and high-quality products, supporting jobs and opportunities for Americans working in specialty crops."
Grieshop will work with researchers at Cornell University and Washington State University to develop what he called a "21st-century irrigation system."
Currently, Grieshop said, a majority of the watering and pesticide application in orchards is done by tractor. The process is slow and tedious. Grieshop said his team of researchers will work to develop a multilevel automated system that could apply pesticides and water using a machine instead of a human operator.
"[The system] will essentially allow you to do all those things without putting a tractor in the orchard," he said. "We won't be using as much fuel."
Grieshop said the grant will provide for testing facilities to be installed at a location at each of the three universities involved, and after two years of initial research, the technology gradually will be introduced to industry farmers in the colleges' respective states.
Tests done on preliminary technology indicate that the machine potentially could water as much as an acre of apple or cherry trees in only one to two minutes, Grieshop said.
"This is a really exciting project," he said. "We're going to be able to apply pesticides and water without having a human in the orchard — worker safety is much better."
Warner's project may have other implications beyond the benefits of improving petunia performance. Horticulture senior Nick Calderone — who currently works for Warner on another research project — said Warner's grant will boost the visibility of horticulture programs at MSU.
A full list of SCRI projects can be found here.
Photo: Apples