Researcher Profile: Helping research collaborators communicate more effectively
Learn more about MSU AgBioResearch philosopher Michael O'Rourke and how he focuses on enhancing communication and collaboration in cross-disciplinary teams.
September 13, 2013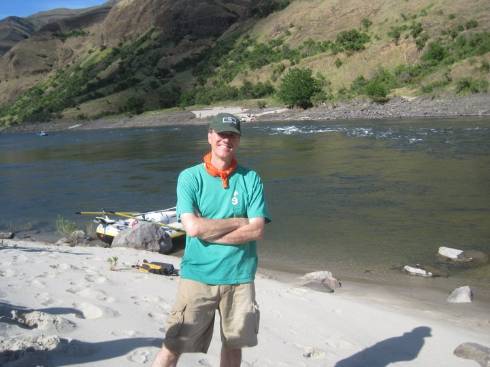 MSU AgBioResearch philosopher Michael O'Rourke is curious about a lot of things. For a number of years, even after he received his doctorate, he thought he had to suspend his curiosity about other disciplines to be a good philosopher. However, while working at the University of Idaho (UI), O'Rourke discovered he could combine his philosophical interests with his interdisciplinary curiosity. That has led to helping people communicate more effectively.
"The work I'm doing focuses on enhancing communication and collaboration in cross-disciplinary teams," O'Rourke explained. "I use philosophical concepts and methods to structure dialogue among collaborators that allows them to learn about one another's research. The goal is to enhance their understanding about how they operate as research scientists and then, through that, enhance their communicative capacity so that they can interact more efficiently and effectively with one another."
His first project using this style of philosophy was at UI with a group of engineers who were developing autonomous underwater vehicles. O'Rourke contributed agent communication language and behavioral protocols. That led to other similar projects and eventually to the Toolbox Project, a seven-year endeavor funded in part by the National Science Foundation (NSF) that includes a structured set of philosophical prompts that facilitate communication. The NSF project concluded last August, but O'Rourke and others involved in the project are continuing the work through partnerships with initiatives to facilitate and enhance the partnerships' collaborative capacity. One current partner is the BEACON Center for the Study of Evolution in Action, an NSF Science and Technology Center headquartered at MSU.
O'Rourke initially thought he would major in math and physics, but his plans changed after he took a class with Joe VanZandt, a philosophy instructor at the University of Kansas.
"After Joe's class, I was completely hooked," O'Rourke said.
The opportunity to work with people in philosophy and across the campus at MSU lured him away from UI.
"At MSU, a number of people in the philosophy department have devoted their careers to making connections between more theoretical activities and activities outside academia that involve stakeholders, agencies and businesses," O'Rourke said. "They are engaged in traditional philosophical thinking about concepts and theories but are doing that in a way that informs communities outside of philosophy. That's what I do. So, joining an active community of scholars already doing that kind of work in many ways is extremely exciting."
Name: Michael O'Rourke
Title: Professor of philosophy
Joined MSU: August 2012; previously worked 16 years at the University of Idaho and two years
at Kansas State University
Education: B.A., philosophy – University of Kansas, 1987
M.A., philosophy – Stanford University, 1991
Ph.D., philosophy – Stanford University, 1995
Hometown: Smith Center, Kansas
Muses: My parents, Robert and Keo O'Rourke, who were both inspiring educators
Favorite food: Olives
Best song/group: "Thick as a Brick," Jethro Tull
Book I'd recommend: 100 Years of Solitude by Gabriel Garcia Márquez
Coolest gadget: Coffee grinder
Best invention: Mud flaps for bicycles
Worst invention: Wi-Fi on airplanes
On my bucket list: Backpacking in the North Cascades in Washington
Person I'd most like to meet (living or dead): Bertrand Russell, a British philosopher, logician, essayist and social critic, and a founder of the philosophy of language
Best trip/vacation: Car trip around the West in 1985
On a Saturday afternoon, you'll likely find me: Daydreaming in my office