Prospective Students
REGARDLESS OF POLITICS, THE ECONOMY, OR TECHNOLOGICAL TRENDS, PEOPLE HAVE TO EAT.
AND THAT'S WHERE YOU COME IN.
In AFRE, you'll get a solid base of business, economics, and finance knowledge, layered with opportunities to apply your learning to positively impact people around the globe. Everyone eats, and there are so many ways you can improve food access and human and animal welfare.
95 percent of AFRE undergraduates get industry-relevant jobs or attend graduate school after graduation. Our students have access to professional advisors and an industry relations specialist, whose entire role is devoted to finding students internships, jobs, and other opportunities outside of the classroom.
As an alternative route to business and economics careers, AFRE programs set graduates up for great starting salaries in careers with room for improvement and growth within the industry.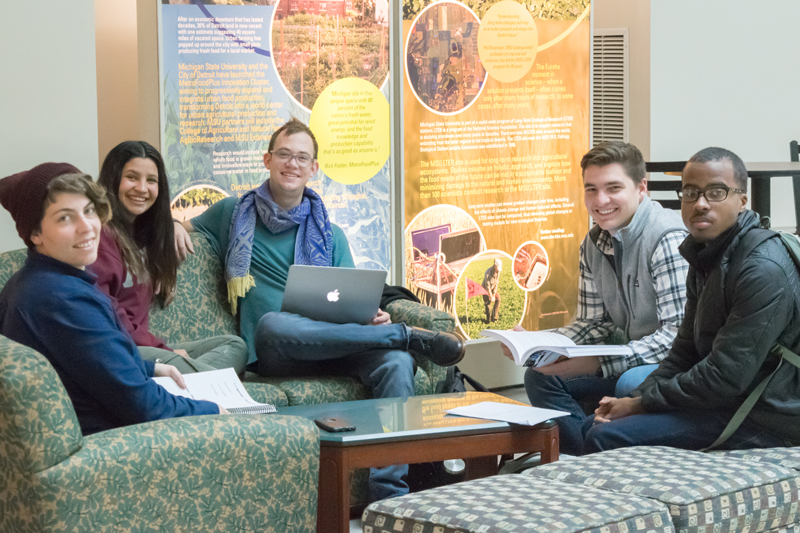 There are three majors in the AFRE undergraduate program:
The Environmental Economics Management major is designed to prepare students for the growing number of environmental and sustainability management positions in business, government and the non-profit sector. This major also offers students the opportunity to prepare for graduate study in environmental policy or business management.
This major is great for students who have a strong interest in environmental and natural resources issues and want to incorporate business analysis skills and environmental science knowledge with these issues.

Agribusiness Management is for you if you're interested in the managerial functions performed by organizations throughout the agribusiness sector, provides a system–wide perspective of managerial problems confronting such organizations. Faculty members associated with the program maintain close relationships with agribusiness companies.
The US Department of Agriculture estimates that many more agribusiness careers are available than there are qualified people to fill them — that's more jobs than people. The shortage will be greatest for managers, financial specialists and marketing/sales representatives, which happen to be the careers upon which our program focuses.

Food Industry Management is an amazing alternative route to business careers, as you'll get an economics-based degree, focused on food, hunger, and sustainability, but applicable to any industry and field around the world. Students will explore decision-making, data analysis, and strategic planning, and have the option to take classes related to their individual interests.
Students gain practical industry experience in their required professional internship, where previous students have worked across the globe at food and beverage companies, but also organizations like Amazon, Kohl's and Target.
What Students Are Saying
"I knew I enjoyed the field of economics and to know that I could utilize economic tools to help preserve the environment made me beyond excited that I found this small but important major." – Chris Semrinec, EEM alumnus
"When I received a chance to come to US from Kenya, I wanted to learn how I could positively impact the hunger cycle. I found ABM and knew it would be a great place to start." – Hepsiba Chepngeno, ABM alumna
The faculty and staff truly care about you, not only as a student but as a person, and set you up for career success — people will always need to eat and there will always be a demand for FIM." – Sarah Lokey, FIM student
Learn More
Interested in becoming an AFRE undergraduate? Go here to learn more about AFRE career opportunities and resources.