Bosques + Gente: A Peruvian collaboration bridging development and conservation
Good for forests, good for people? Enabling conditions for scalable success in Peru's Conditional Direct Transfers (TDC)
Peru holds the second largest share of Amazon forest and communal landholders make decisions over more than 65%. As part of their ambitious target to conserve 54 million hectares of Peru's tropical forest, the Peruvian Ministry of the Environment (MINAM) uses the Conditional Direct Transfer (TDC in Spanish) to promote conservation in forest communities. The TDC is a Payment for Environmental Services (PES) strategy which provides funds for sustainable development alongside community-based conservation plans which ensure the protection of forests in indigenous communities.
In the past 10 years of implementation, some communities exemplify success while others refuse to participate or are suspended for non-compliance. We ask: How can the TDC be improved to achieve long-term conservation and development objectives with repeated engagements and scaling? The goal of this research will be to identify enabling conditions for success across contexts of TDC implementation. Our analysis included governance and inter-institutional relationships, community engagement strategies and compliance assurances, and the gendered and social effects of this innovative PES program.
This proposal emerges from direct collaboration between MINAM and two universities: Michigan State University (MSU) and Pontificia Universidad Católica del Perú (PUCP). As the TDC mechanism has been renewed for another 10 years, this timely research will identify practical, measurable, and actionable strategies for adoption by the TDC team. A main outcome will be the enabling condition criteria that MINAM and similar programs can apply and adapt, strengthening conservation interventions with indigenous communities in ways that mutually benefit forestry outcomes and indigenous wellbeing. For example, our research introduces the inclusion of gender and women's issues as explicit focus areas for MINAM projects. We will also work with MINAM to improve TDC training materials, community engagement, monitoring tools of the program with research results.
Longer-term, enabling conditions criteria will allow MINAM to re-engage communities that graduated and dropped out of the TDC mechanism with new strategies in the future. With a special work session planned to share findings across ministries, another long-term impact will be to share information more effectively on development and conservation initiatives across ministries, reducing competing incentives and conflicting development narratives.
Team
The lead institution on this proposal is Michigan State University (MSU) and Pontificia Universidad Católica del Perú (PUCP).
Lauren Cooper (M.S., M.U.P., Forestry)
Rowenn Kalman (Ph.D., Anthropology)
Deborah Delgado (Ph.D., Sociology)
Cristina Miranda Beas (M.A., Political Science and Government)
Anne Larson (CIFOR)
News + Resources:
Images
Short Description (Spanish)
¿Bueno para los bosques, bueno para las personas? Condiciones propicias para el éxito escalable en las transferencias directas condicionadas (TDC) de Perú
Perú tiene la segunda parte más grande de la selva amazónica y los propietarios de tierras comunales toman decisiones en más del 65%. Como parte de su ambicioso objetivo de conservar 54 millones de hectáreas de bosque tropical de Perú, el Ministerio del Ambiente de Perú (MINAM) utiliza Transferencia Directa Condicional (TDC) para promover la conservación en las comunidades forestales. El TDC es una estrategia de Pago por Servicios Ambientales (PSA) que proporciona fondos para el desarrollo sostenible junto con planes de conservación basados ​​en la comunidad que garantizan la protección de los bosques en las comunidades indígenas.
En los últimos 10 años de implementación, algunas comunidades ejemplifican el éxito, mientras que otras se niegan a participar o son suspendidas por incumplimiento. Preguntamos: ¿Cómo se puede mejorar el TDC para lograr los objetivos de conservación y desarrollo a largo plazo con compromisos repetidos y escalado? El objetivo de esta investigación será identificar las condiciones propicias para el éxito en todos los contextos de implementación de TDC. Nuestro análisis incluyó la gobernanza y las relaciones interinstitucionales, estrategias de participación comunitaria y garantías de cumplimiento, y los efectos sociales y de género de este innovador programa de PSA.
Esta propuesta surge de la colaboración directa entre el MINAM y dos universidades: Michigan State University (MSU) y Pontificia Universidad Católica del Perú (PUCP). Dado que mechanismos TDC se ha renovado por otros 10 años, esta investigación oportuna identificará estrategias prácticas, medibles y procesables para su adopción por parte del equipo de TDC. Un resultado principal serán los criterios de condición habilitante que el MINAM y programas similares pueden aplicar y adaptar, fortaleciendo las intervenciones de conservación con las comunidades indígenas de manera que se beneficien mutuamente los resultados forestales y el bienestar indígena. Por ejemplo, nuestra investigación introduce la inclusión de cuestiones de género y de mujeres como áreas de enfoque explícitas para los proyectos del MINAM. También trabajaremos con el MINAM para mejorar los materiales de capacitación de TDC, la participación comunitaria, las herramientas de monitoreo del programa con los resultados de la investigación.
Los criterios de condiciones favorables a más largo plazo permitirán al MINAM volver a involucrar a las comunidades que se graduaron y abandonaron mechanismos TDC con nuevas estrategias en el futuro. Con una sesión de trabajo especial planeada para compartir hallazgos entre ministerios, otro impacto a largo plazo será compartir información de manera más efectiva sobre iniciativas de desarrollo y conservación entre ministerios, reduciendo incentivos en competencia y narrativas de desarrollo conflictivas.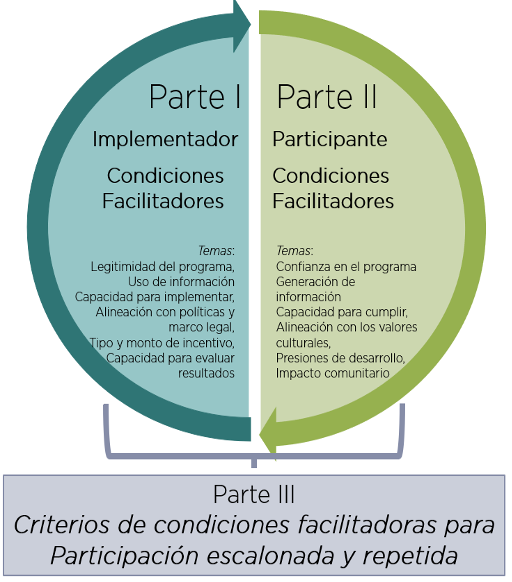 Partners