Packaging Equipment

Double Chamber Vacuum Packer (Minipack America):
The VacSmart MV830 can vacuum pack and/or gas flush small pouches up to large bags and dry to liquid products. The unit is equipped with advanced software HACCP features, a data logger and a labeler.
SidePouchRBagger (Doug Brown Packaging):
The FAS Sprint Revolution SidePouchR Bagger can accommodate pouches/bags W 2 to 20" and H 3 to 18.75", and material thicknesses up to 4 mil. It is a high-speed machine with easy wash down features, though it can be operated in batch and intermittent modes as well. The machine uses preformed bags, including recloseable and perforated for easy opening.
Band Sealer (APM, Doug Brown Packaging):
The APM Table Top band sealer comes equipped with a continuous package conveyor and grip jaws to hold the pouch/bag in place during sealing. It has the capacity to seal a variety of pouch sizes and material types. The crank handle adjustment allow for sealing of pouches 2" – 12" off the conveyor.
Induction Sealer (Enercon Industries, Formula Packaging):
The Super Seal Touch 500 is equipped with a universal flat sealing head. The adjustable sealing mount allows for a wide range of container heights. The sealer is compact and portable and accommodates induction seal closures of different sizes, complexities and designs.
Tray Packer (Raque Packaging):
The tray packer can be operated in vacuum, vacuum shrink and gas flush modes. Multiple tooling is available to allow for different tray sizes and designs. It works with a variety of material types and thicknesses.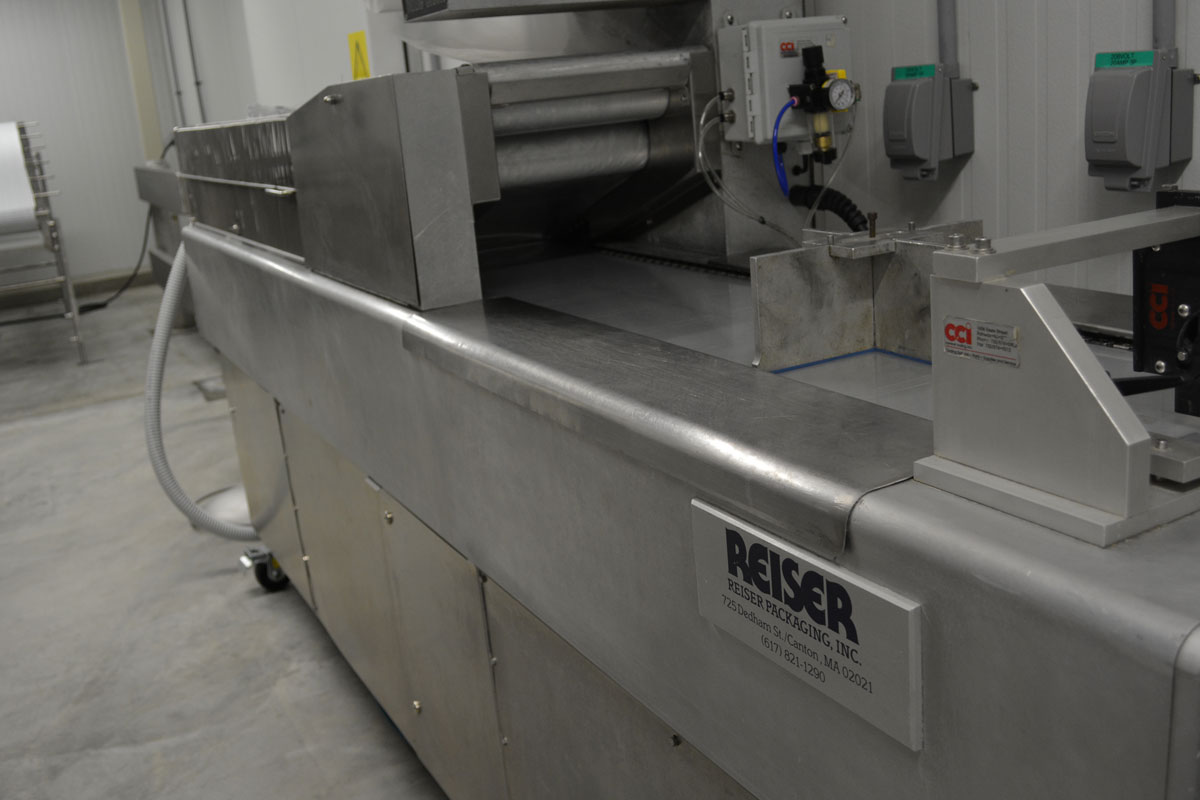 Thermoform HFFS (DB 50-Reiser):
The Dixie DB 50 can be used to package one or several food items depending on the tooling cavity. The bottom web is thermoformed to fit the contours of the product and the top web sealed to complete the package. The horizontal form fill and seal machine runs in a continuous fashion.
Check Weigher/Metal Detector Combo (Mettler-Toledo):
The HI Speed Model CM 3352 checkweigher/metal detector system is compact and portable and provides for weight control and metal detection in one pass thru. It can be used to do weight checking of open products like jars, trays and cans and metal detection of all non-metal containing containers. It has a throughput of up to 300 packages/min and a weighing range of up to 7,500 grams.
Shrink Tunnel-L Sealer Combo (Clamco, Audion Automation):
The 4C Combo machine includes the package former/sealer and shrink tunnel. The tunnel opening (9"H x 15.5"W x 26.5"L) allows for a wide range of package sizes. It is equipped with a trim take up reel and is compact and portable.
Pallet Stretch Wrapper (HighLight Industries):
The Predator XS Stretch Wrapper utilizes a power pre-stretch to achieve a tight fit of the stretch film to the pallet-loaded containers. Several different film pre-stretches can be used.
Equipment Details