Processing, Forming and Filling Equipment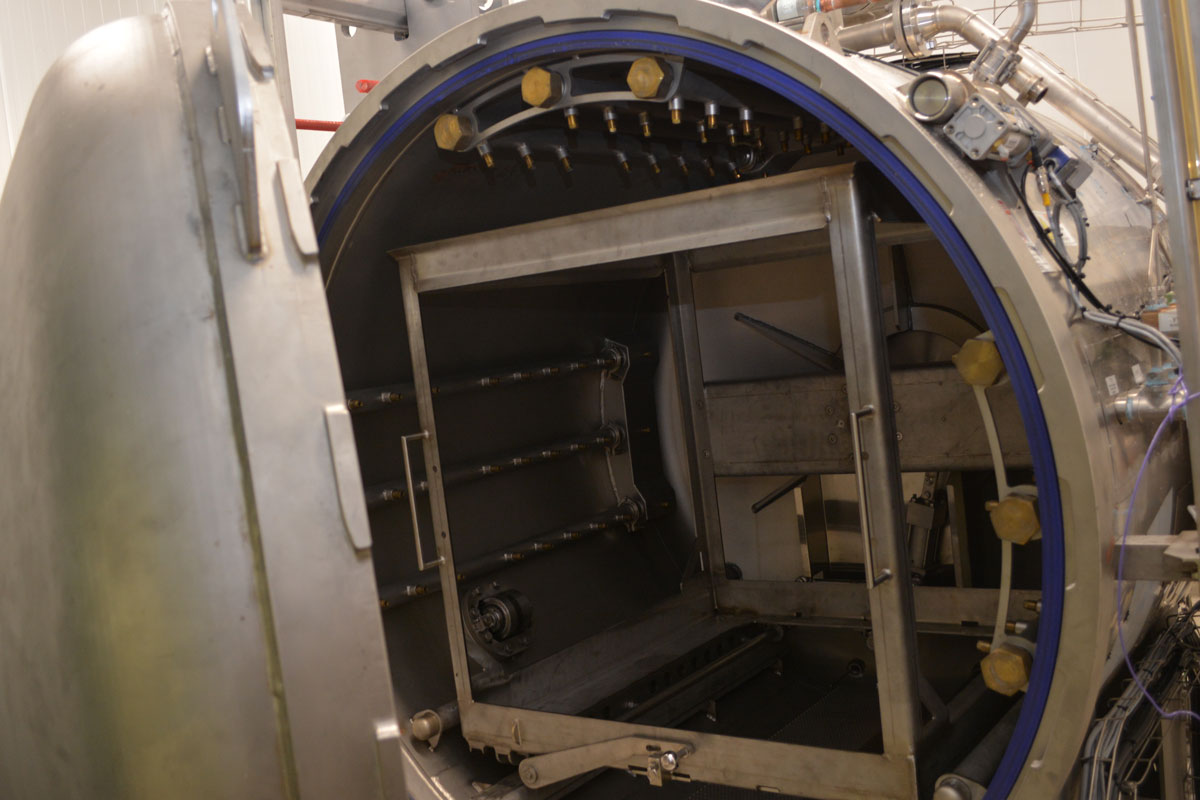 Retort (Allpax Products):
The Versatort retort is unique among retorts as it is equipped with both rotational and gentle motion drives. Thus, it can be used to thermally process (sterilize) food products in all container types including cans, bottles, jars, cups, tubs, pouches and trays. It is equipped with a 1300 mm rotary basket and a 1400 mm horizontal agitation basket. It can operate in saturated steam, water spray and water immersion. Whatever the food, it can be retorted in the Versatort.
Steam Blancher-Cooler (Dixie Canner):
The M-6 unit can steam and cool. The steam blancher is used to blanch cut fresh fruit and vegetables prior to retorting or freezing. It automatically moves product trays from the steam tank to the cooling tank.
Can Seamer, Closing Machine (Silgan Containers):
The Continental 2006 Rotary Closing Machine is a high output, six head-closing machine that has a capacity of 600 cans/min. The machine can do a wide variety of can sizes, via tooling changes. It can also run light to heavy weight materials (plastics, composite, metals) and a variety of closure types including easy open. The unit comes equipped with a steam nozzle to force air from the can headspace prior to closing.
Spiral Oven (Unitherm):
The Micro Spiral Oven (gas) cooks, roasts, grills and/or steams by transporting product upwards on a continuous belt drive through a series of temperature zones, including impingement heating. Product temperature is controlled by time-temperature adjustment of the thermal zones and by the belt speed. Any food product (not packaged) that fits on the belt (12 in wide) and through the oven opening can be cooked in the spiral oven.
Stein Fryer (JBT):
The Fryer (Model F 5 Electric Conveyorized deep fat fryer) is a compact, portable unit that can be used to fry bakery, tempura, appetizers, meats and other foods in a continuous fashion. Cooking oil is heated directly in the fryer tank by electric immersion tubes. A conveyor system (16 in wide) submerges product in the oil to maximize product quality while the sedimentation trap and oil circulation pump allows for continuous oil filtering. The machine is equipped with a hang-on infeed conveyor.
Steam Kettles (AccuTemp):
These steam jacketed kettles (40 & 80 gal, Model ACDL-40, ACDL-80); can be used to cook liquid, viscous and particulate based food products in a controlled heating environment. The units are equipped with 2" draw off disks/flanges to allow for easy product transfer and each contains a triple basket assembly.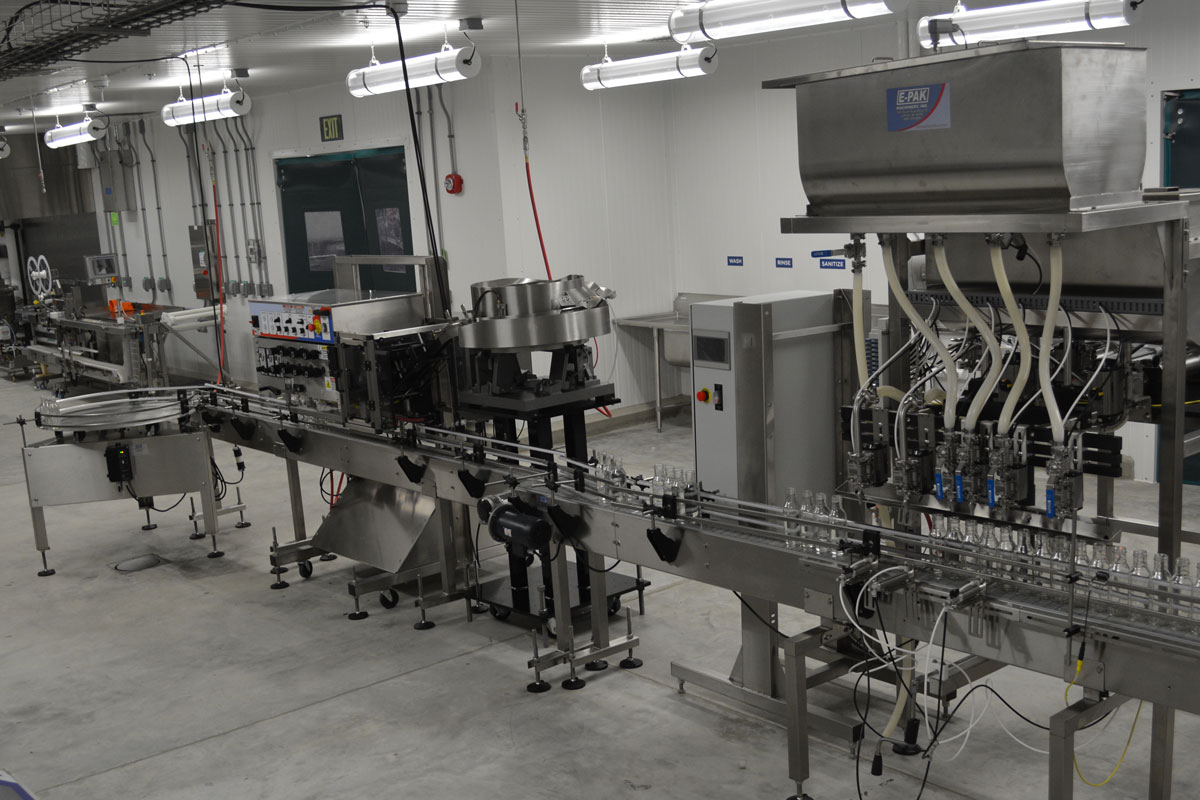 Spiral freezer (JBT) (Frigoscandia GYRoCompact, Model GC 40-10-20 NS CCR):
This freezer has the capacity to freeze product within as little as 15 minutes at -40F0 by moving product on a continuous belt upwards thru a series of evaporator coils. The freezer has the ability to IQF peas, blueberries, appetizers, and other small, individual foods. It can also be used to freeze whole pies, raw and cooked foods, and packaged products. Conveyor belt speed can be adjusted to accommodate desired product temperature.
Chopper/Dicer (Deville Technologies):
The FAM CMD.2 is a high speed, high capacity dicer designed to cut 3 dimensional slices, strips and dices. It is mainly used with meat and cheeses. The size of the cut is controllable by varying number of blades and the distance between blades. The RPM is also easily changed.
Dicer (CES FoodLogistiks):
The DicR Classic 90+ dicer is a semi-automatic machine that can slice/dice (among others) fresh produce, fresh and processed meats and chesses. It can be used with a variety of attachments and disks to provide the final cut desired. The dicer is compact and portable.
30' Automatic Liquid Filler line (4 head gravity & 2 head piston) and capper (E- Pak):
This customized packaging line includes a 4 head gravity filler, a 2 head piston filler, a 4 station spindle capper, a 15' filler conveyor, a 15 ' capper conveyor and a 40" accumulation turntable. Liquid to viscous products can be filled into a wide volume (5 ml – 1 gal) and configuration of bottles and cap sizes. Both ambient and hot products can be filled. This customized unit includes shared framing, controls and indexing.
Mixer (Hobart):
The HL Legacy 800 mixer (and bowl) has a capacity of 80 quarts and can be used to mix dry and wet ingredients, bakery doughs and other fresh and processed foods. Many different paddles, whips and hooks are available for the variety of products that it can help to create. The machine can be operated at different of speeds to accommodate the application.
Patty Former (Hollymatic):
The R2200 is a semi-automatic patty former that can be adjusted to provide different size patties. Proteins from different sources (beef, pork, fish, seafood, chicken) are formable using this machine. It is easy to operate and clean.
Dry Filler (ALL-FILL Inc.):
The Model B-600 semi-automatic filler is capable of filling a wide variety of ingredients and products (free flowing to semi free flowing) in pouches/bags and rigid containers. Fill weights can vary from a few grams to several pounds. Fill accuracy (+/- .5%) is controlled by a 2-stage fill and set point process.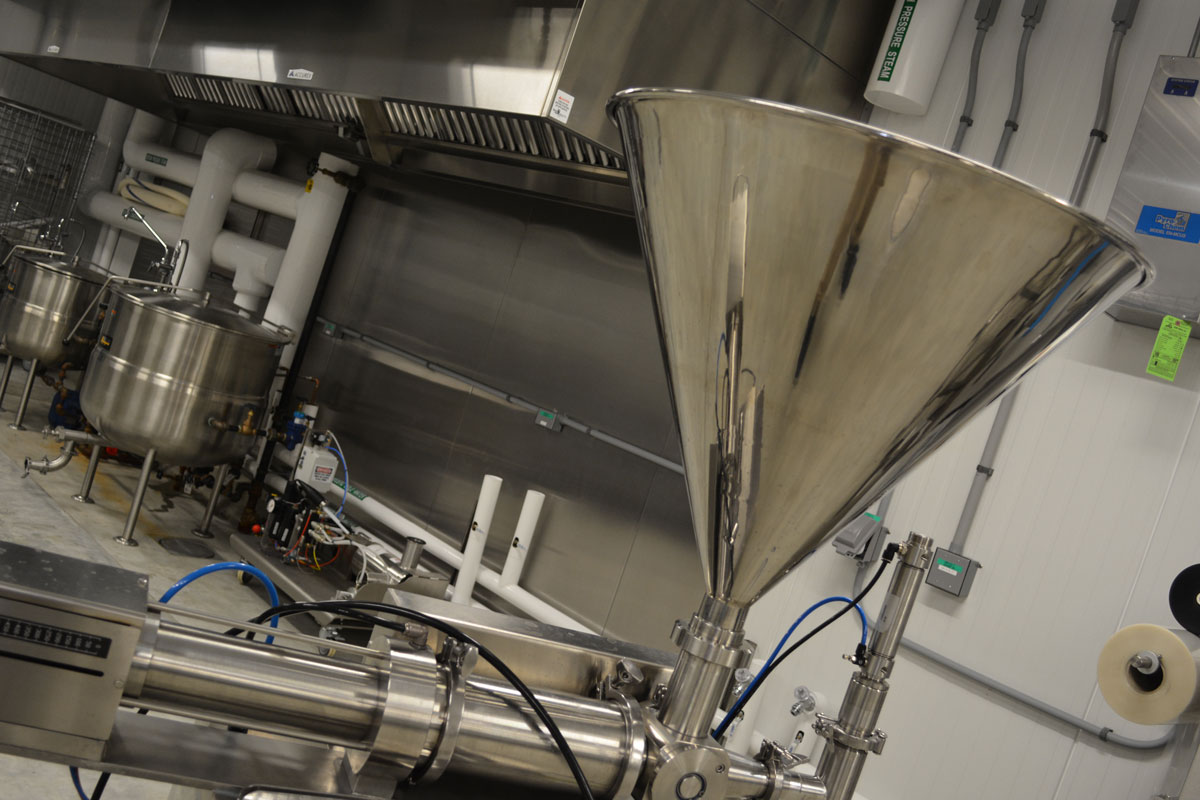 Single head piston filler (GS Italia TVR40):
Point 5 Packaging-Shelf Life Solutions): This 1000cc filler can be operated at variable speeds depending on the product to be filled. It can be used with viscous products such as hummus, nut butters, ketchup, fruit purees among others.
Batter and Breader System (Mainca USA):
The Compact Batter and Breading machine is a tabletop version of much larger equipment. It has the capacity to bread/coat a variety of foods (appetizers) with different batters/breading mixtures.
Transfer Pump (Hinds Bock):
The Model P-128 piston transfer pump can be used to pump liquid, liquids with particulates and viscous products. It has a stroke volume up to one gallon and up to 40 cycles per minute. The transfer pump is also equipped with a dairy metal product valve for hot service over 1200F.