A community garden/urban farm in Flint achieves MAEAP verification
The edible flint Demonstration (Community) Garden was verified by the Michigan Agriculture Environmental Assurance Program (MAEAP) in June.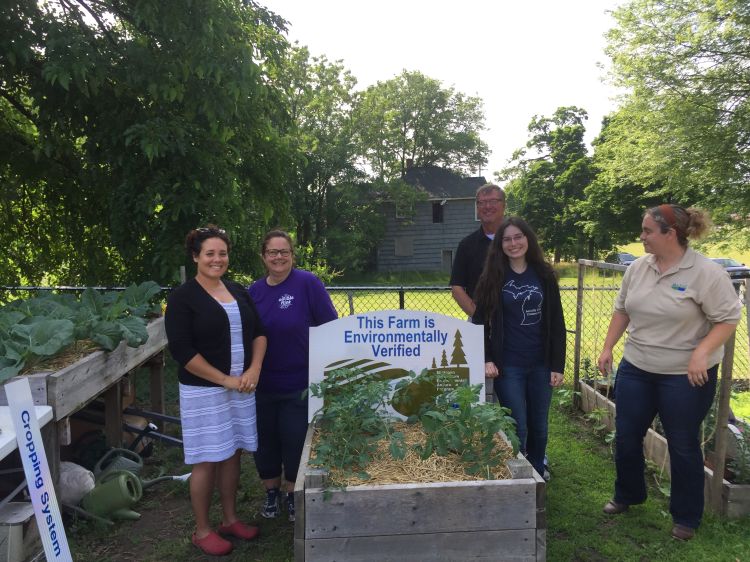 Edible Flint is a nonprofit organization co-located with MSU Extension in Flint whose mission is to support Flint residents in growing and accessing healthy food in order to reconnect with the land and each other. In 2013, the Edible Flint organization took over the management of a community garden located directly across the street from Hurley Hospital in Flint, when key Hurley employees responsible for supporting the garden retired. Edible Flint staff envisioned the possibilities for outreach and education for Flint's food gardeners and urban farmers that this highly visible location could provide. Located on the corner of Fifth Avenue and Begole Street in Flint, the Edible Flint Demonstration Garden provides a great opportunity to share gardening techniques, resources, and healthy food with neighborhood residents, managed by dedicated edible flint volunteers. Community members and volunteer groups are welcomed into the garden, working with volunteers to learn more about planting, maintenance, and harvesting. In 2017, the Edible Flint Demonstration Garden produced 1,987 pounds of produce, donated to the community – to individual residents and to participants in Hurley Hospital's Food Farmacy.
Becoming MAEAP verified was the next chapter in the Edible Flint Demonstration Garden story. The MAEAP program is an innovative, proactive program that helps farms of all sizes and all commodities voluntarily prevent or minimize agricultural pollution risks. The MAEAP mission "is to develop and implement a proactive environmental assurance program ensuring that Michigan farmers are engaging in cost-effective pollution prevention practices and working to comply with state and federal environmental regulations". Farms are verified in one or more of the following systems: cropping, livestock, farmstead, and forest, wetlands, and habitat. The Edible Flint Demonstration Garden was verified in cropping systems on June 13. The fact that this community garden/urban farm achieved the cropping verification, despite its relatively small size and with its educational outreach purpose, highlights how the MAEAP program can be used as a credential to promote environmental stewardship, healthy food access, and food safety.
In the summer of 2017, Edible Flint began the process of MAEAP verification, which requires three phases. Phase one involves attending an educational meeting with required information, so the training coordinator from the Edible Flint Demonstration Garden chose to attend an in-person meeting. An alternative option is to watch qualifying videos. Phase two was an on-farm assessment. A MAEAP technician from the Genesee Conservation District came to the Demonstration Garden to assess its MAEAP eligibility and provide information for implementation. The MAEAP technician created an Action Plan for the garden based on the MAEAP standards to obtain verification. These requirements were written using State Laws, Federal Laws, and the Generally Accepted Agriculture and Management Practices (GAAMPS) from Michigan's Right to Farm Act. The third phase involved the garden completing its Action Plan, and receiving its confirmation by a MAEAP representative.
On June 13, 2018, the Edible Flint Demonstration Garden was verified in cropping systems by MAEAP representative. The Edible Flint Demonstration garden is one of more than 2,300 MAEAP verifications in Michigan. Benefits of becoming MAEAP verified include the use of environmentally sound practices, an emergency plan, protection of the Great Lakes, safe storage of chemicals, maximizing resources, and connecting farms and gardens to their communities.
A MAEAP sign has been installed in the demonstration garden. Photo by Terry McLean, MSU Extension.