A changing perspective in farm land rental rates
For more than 20 years, farm land values have continued to move higher, mirroring the changes in commodity prices and interest rates. These double digit increases will need to slow.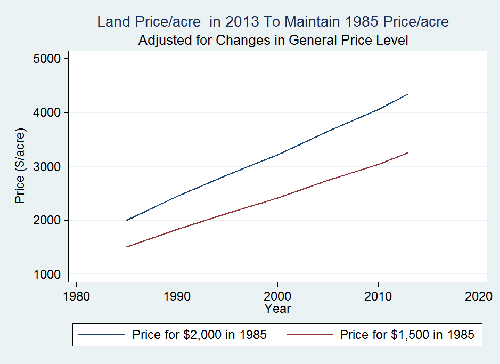 Compiled by; Roy Black, AFRE, MSU
Over the past five years, land values in the thumb of Michigan have increased rapidly for highly productive properties (Table 1). The most productive land located in areas with mixed cash crops and livestock operation has had the most rapid increases in prices. This is a result of a combination of several economic factors. Some of the changes in these factors during the past few months should influence the changes in land values to balance out the increases that have taken place over the past few years. Below are a few of the economic factors to consider:
With the very rapid changes in commodity market prices, farms have in most cases seen major decreases in their working capital making less cash available for operations and capital investments.
Interest rates are inching higher with a 25 percent increase from the record lows seen just a couple of years ago. This makes that cost of borrowed funds higher, making the affordable price that can be paid for land lower than in the past few years.
The continued price increases for inputs necessary for production. One short term exception is fertilizer, which is priced much lower than in prior years. Most other inputs continue to increase in cost.
Alternative investments may be more attractive as investments like the stock market. Over the past few months, it has recorded new record high prices and provided substantial gains during 2013 for investors.
Table 2 is a summary of resent year's values for farm land reported in Michigan Land Values and Rental Survey conducted by Michigan State University Extension FIRM team. This report shows that on an average land values have increased by over 90 percent over the past six years. It has been clear that over in the past two years, those prices increased rapidly. As we closed out 2013, it was clear that land value increases have stalled for now.
Table 2

Michigan Thumb area market value of land

year

tiled

non-tiled

2013

$5,592

$4,515

2012

$4,872

$3,652

2011

$4,237

$3,795

2010

$3,176

$2,544

2009

$3,425

$2,656

2008

$3,376

$2,800

2007

$2,941

$2,513

* Land Value survey Reports for 2007 - 2013, information obtained from state wide survey conducted by Michigan State University Extension and Agriculture Food & Resource Economics