"This trip gave us a preview of what we can expect and what we can do to better ourselves when applying for jobs in the agribusiness and food retail industries," said Emily Stevenson, a sophomore in the Department of Agricultural Food and Resource Economics (AFRE).
A group of AFRE undergraduates representing students from all three of AFRE's majors, Agribusiness Management (ABM), Food Industry Management (FIM), and Environmental Economics and Management (EEM) along with students from Biosystems Engineering, and Packaging, recently toured food industry businesses in the Grand Rapids area. The students visited FairLife, makers of value-added dairy products, Butterball Farms, makers of value-added butter products, and Adams Plastics, one of the nation's largest producers of foam plates. Each visit included walking tours of the production facilities and opportunities for the students to meet with and discuss the marketing and sales of these businesses with industry professionals, many of whom were Spartan alumni themselves.
The trip was organized by Larry Zink, AFRE's Industrial Relations and Outreach Coordinator. Zink said, "I organized this trip for the students for three reasons. First, it's important for our students to realize the wealth of opportunities that are available to them right here in Michigan. Second, if these students are looking for internships or their first jobs after graduating, these visits give them one foot in the door. Lastly, I want our students to realize just how powerful the network of Spartan alumni is and that they should be leveraging this to their advantage when looking for career opportunities."
At Fairlife the students donned lab coats and hair nets as they traversed a labyrinth of steel pipes, gauges, and production lines to learn how the innovative start-up has found success in the struggling dairy industry. The students were guided through the facility by Spartan Biosystem Engineering Alumni Phil Lamothe and Robert Munro. Lamothe told the students, "when we are looking to hire new employees, we look out for Spartans because as MSU graduates we know how well prepared MSU students are when they enter the workforce."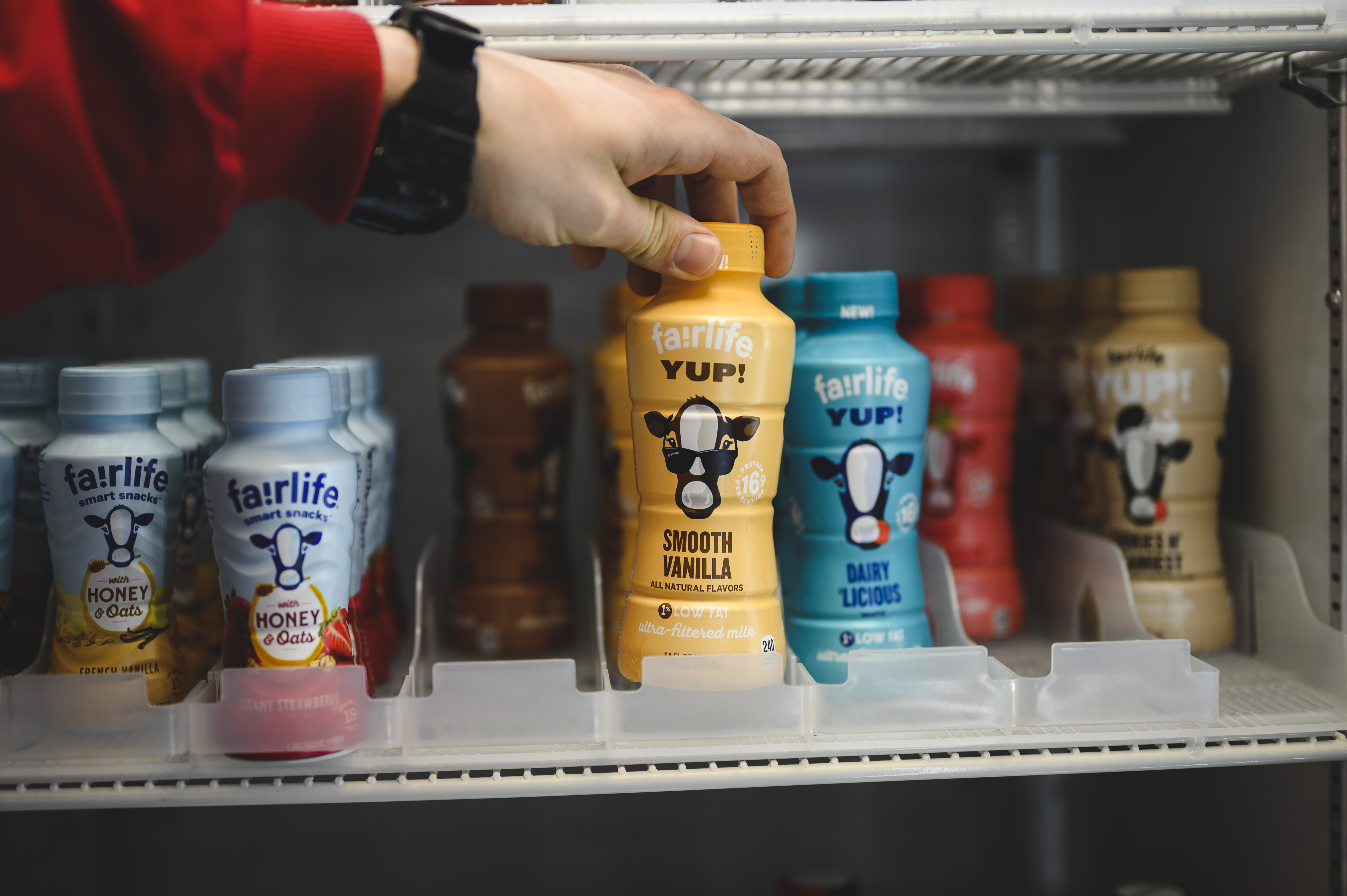 After visiting FairLife, Anthony Amoroso, an FIM junior, said, "For me, as someone who is going into the food retail industry, it was very informative to see all the work that goes into creating these products."
On the tours second stop, Butterball Farms, the students saw how a relatively small production space can be optimized to turn butter into a value-added product that reaches a national market. Students also spoke with a panel of current employees in the company's boardroom. Students heard first-hand about the challenges and the keys to running a successful food industry business for over 60 years.
Butterball Farms new Director of Business Development, Corey Williams, AFRE '13 offered students some advice based on his own experience as a graduate of the program, "The connections that I maintained with MSU and Larry [Zink] were instrumental in my recent job search, and ultimately led me to this position at Butterball Farms. MSU offers students a wealth of opportunities, so make sure you take advantage of them."
For FIM Junior, Matthew Mauer who is interested in operations management, "just seeing how these businesses work in person gives me a better sense of what I can accomplish when I graduate."
The last stop on the industry tour was to R.L. Adam's Plastics, where the students were guided through the facilities sprawling warehouse and production space by Bryan Sinner, AFRE '89. Sinner emphasized to the students that you never know where your career will take you, adding, "When I was your age, I certainly didn't imagine myself selling foam plates, but it's been a very nice career for me. When you look at the warehouse and you see these towering stacks of boxes that are getting readied to be shipped around the country, that's a good feeling."
Tala Abolibdeh, an ABM and EEM junior, said, "What I found most helpful was getting to hear from both new businesses and established business about what worked for them. All of these businesses said they were looking to hire employees who were hard working and had good communication skills."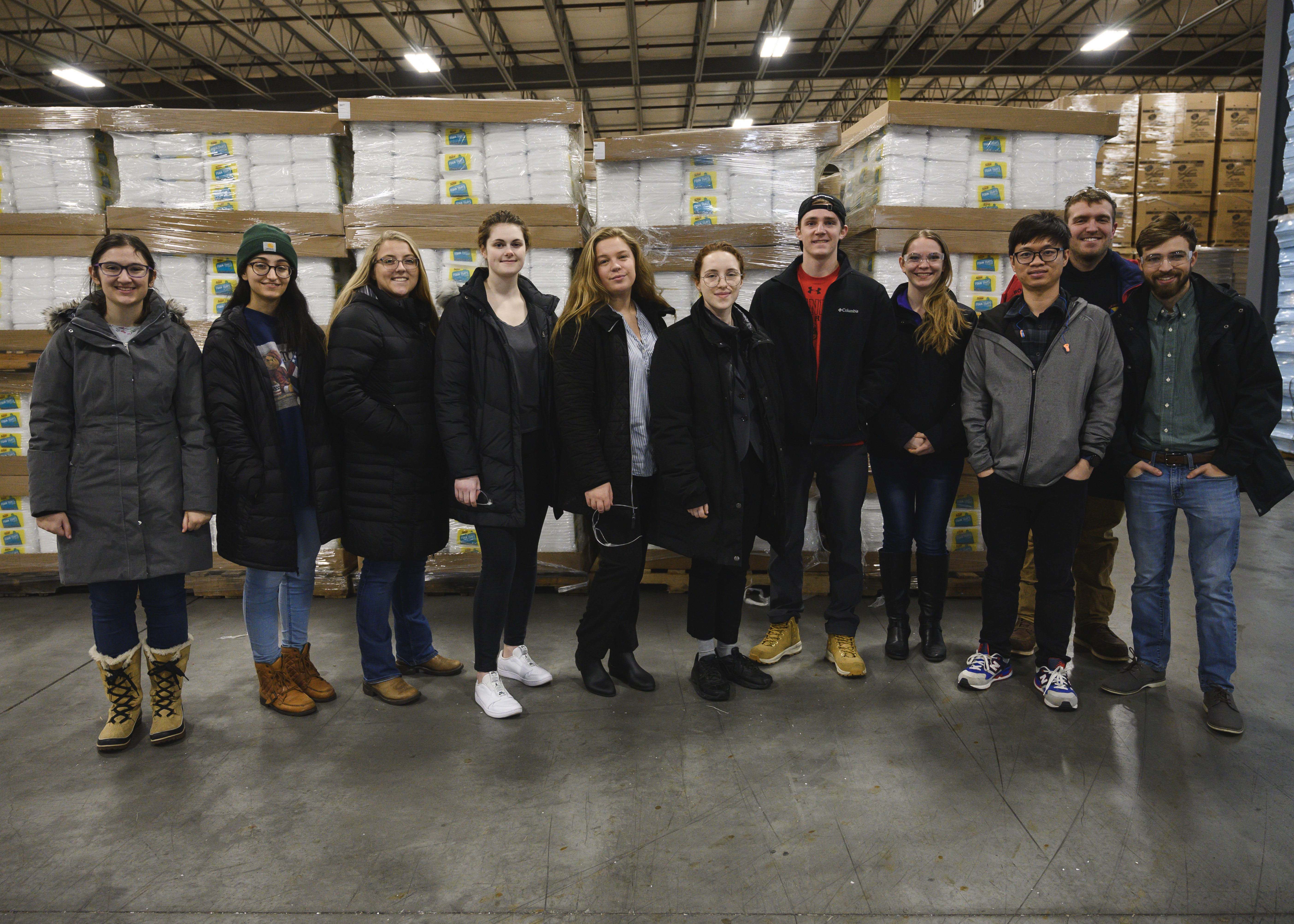 When the tour was over the students continued on to a local restaurant for a meet and greet with nearly 20 alumni from the Grand Rapids area.
For Titus Awokuse, Professor and Chair of AFRE, "Experiences and opportunities like this for our undergraduate students are part of what make AFRE so special. Not only is our program committed to providing students with the knowledge they need to find meaningful employment in the agribusiness and food industry, but we connect our students with our vast network of alumni to make their job search that much easier. We're proud to say that about 90% of our undergraduate students are employed within six months of graduating."