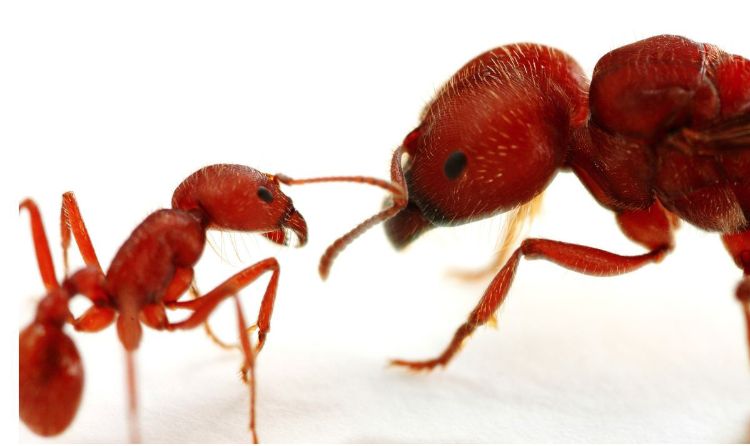 With its location at Michigan State University, a major research institution, the Eli and Edythe Broad Art Museum is well positioned to bring together the creative forces of art and science. Through its "Bridging research in the arts and sciences" 2018-19 exhibit, artists and their collaborators are addressing a wide range of phenomena through interdisciplinary approaches to research, experimentation and knowledge production.
This month, the exhibit has an entomological flair. Exhibition artist Kuia Shen is exploring the functioning and communication within ant colonies as metaphors for human society. In developing the exhibit, Brian McLean, manager of museum programs, wanted to find a speaker with knowledge of the science behind chemical communication and ants. He reached out to MSU assistant professor of entomology Henry Chung, whose research includes chemical ecology. Chung doesn't work with ants but knew an expert for this opportunity, Adrian Smith from the North Carolina Museum of Natural Sciences. Chung heard Smith speak at a national chemical ecology conference a couple of years ago and agreed to contact Smith and represent MSU Entomology in hosting an "Altered Tour" event at the Broad museum.
The result is a unique opportunity to explore human and ant communication in a mashup of art and science on Thursday, Feb. 28, 2019 at 7 p.m. In Altered Tour: Communicating with Ants, artist Shen will present the inner workings of ant colonies and how he relates them to human society, focusing on how ants are able to mimic responses to certain human technologies. Entomologist Smith will provide insight into his specialized field of social insect chemical communication to shed light on interactions within an ant colony. After Smith's talk, composer Charlie Cooper will experiment with Shen's notion of interspecies communication in a live musical performance with the ants.
This event is free and open to the public. RSVP on Facebook.
You can get familiar with Adrian Smith by visiting his Ant Lab YouTube channel. Over 260,000 people have viewed his video of "The Fastest Animal on Earth: the Snap-Jaw Ant." Or, enjoy his discussion explaining his work to his mom in "Ant Queen Chemicals with Mom."