Alumni Updates Fall 2019
Forestry alumni let us know where they are and what they have been up to lately.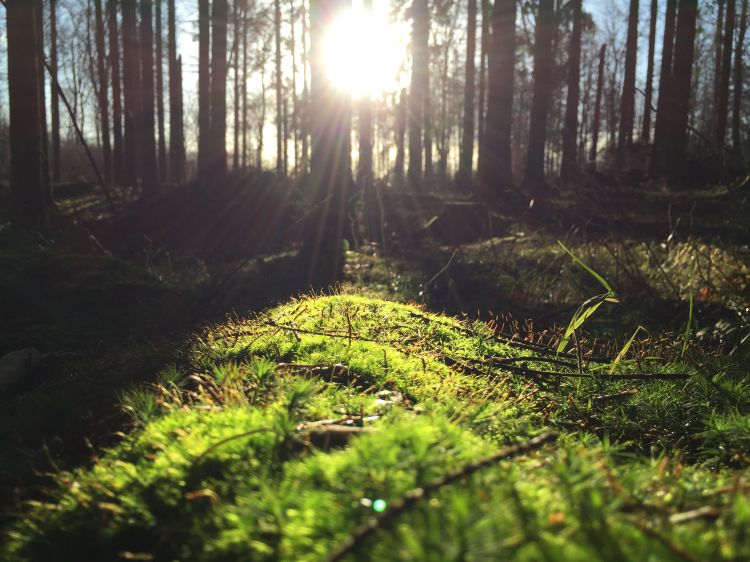 WILLIAM D STRIFFLER | BS '52
I knew I wanted to go into forestry, so when I graduated from high school in 1947, I applied to Michigan State College (MSC). I was not accepted, as MSC was being swamped with veterans on the GI bill. My first year of college was at Kent State in Ohio. I applied again in 1948 and this time was accepted. MSC had constructed a Quonset village composed of surplus Quonset huts. I was assigned to hut 95, the last one in the village. Each hut held 14 students.
The summer of 1950 I attended the Dunbar forestry camp in the UP. When I began, the forestry program was a five-year program, but later switched to four years, but I went ahead and completed the five year requirements. At commencement, I was surprised to receive two diplomas, a BS and a BSF. After three years of military service, I completed MS and PhD degrees at MSU, worked six years in Northern Michigan with Lake States Forest Research Station, three years in Eastern Kentucky with Central States FRES before joining the faculty at Colorado State University in its new Watershed Management Program. I retired in 1995.
ROBERT J. (JACK) GOULD | BS '55
I graduated in Dec. 1955, and was immediately drafted into the U.S. Army. I served at Redstone Arsenal (Huntsville, AL) in the Ordnance Guided Missile Section teaching NATO Officers. I was discharged in Dec. 1957, and by April 1958 was employed by the South Carolina Forestry Commission. Experience was gained in both piedmont and coastal plain timber types, and both forest management and fire control procedures. I began working within the Headquarters Administration of the agency in 1972, and worked within all areas of the agency. In 1989, I was selected to become State Forester, the Director of the Agency, a state agency employing 615 employees.
My first year as State Forester was when Hurricane Hugo struck South Carolina and created the most severe forest damage ever witnessed anywhere in the U.S. I retired in 1993, and still live on Lake Murray, a large lake located in the central part of the state that hosts some famous fishing tournaments. After retiring, time was spent fly fishing locally and out west, and touring Europe and the US with my beautiful nurse wife,
Mary Ann.
In 2012, leukemia ended our nearly 54 years of marriage. However, I am still, at an active 87, residing here on Lake Murray, and welcome any classmates that may still be "hanging on" to call or text me at 803-608-5499.
LEON ERBE | BS '59
Leon Erbe is now a 60-year member of the Society of American Foresters. Leon graduated in 1959 with his BS in Forestry. Soon after, he began working for the State of Michigan in the Department of Agriculture. After six years in MDA, he then joined the Department of Natural Resources as a Service Forester, covering a large area of Northern Lower Michigan. He retired from the DNR in 1984 and entered the forestry consulting business. He became active in the Michigan Forest Association and served several years on the Board of Directors, and remains a member today. Now retired from forestry, Leon is still an active outdoorsman. He is an avid deer hunter and still puts on the snowshoes to hunt hares with Oscoda County friends every winter.
PAUL BIGFORD | '72
Paul and family have been named 2019 Michigan Outstanding Tree Farmers of the Year by the Michigan Forest Association and the Michigan Tree Farm Program.
The tree farm is co-owned by Paul, brother Doug and son Kyle, also MSU grads. The 150 acre property has been home to five generations, not counting a new generation of eight grandchildren.
Paul lives on the property, has served 40 years as Sweetwater Township Supervisor, 10 years as president of the Pere Marquette Watershed Council, chairperson of the Mason-Lake Conservation District, chair of the MDNR Zoning Review Board for the Pere Marquette Natural River and VP of the Baldwin Promise Zone. 231-898-2633.
paulbigford@hotmail.com
CARL WORKING | BS '72
Now retired in Owensboro, KY with farm/forest as a back yard. Large oaks, tulip, ash and sweet gum (and poisonous ivy BlackBerry, etc on forest floor!) Sub teacher and recruiter for 2020 census. Looking forward to winter trip to NZ, Australia and Figi January (their summer) to see southern hemisphere fauna/flora. (Dendrology lesson?) New cell phone: 270-231-3466. Visited campus last month...wow, the changes!
-Carl Working "72" Old Forester (like the whiskey)
MARC ABRAMS | PhD '82
Forest ecology and physiology professor and recent winner of a lifetime achievement award at Penn State. I received my Ph. D. in 1982 with Don Dickmann. Don, I hope you are well.
COLLIN WASSINK | BS '08
After 10 years working as a Forester for the Colorado State Forest Service, I have taken a position with the USDA Forest Service. I am now the Assistant Airtanker Base Manager at the Jeffco Airtanker Base. My wife Nia and I still reside in Longmont, CO.
IN MEMORIUM
ROBERT J. GIBBS | BS '51
Robert James Gibbs passed away, Oct. 23, 2019 at age 101. Robert worked for and retired from the Michigan Department of Natural Resources. His 25-year career in the Parks Division coincided with the State's expansion of the state park system, many of which he helped design and build. Through his long life, he gathered around himself an enormous community of friends, family and admirers who appreciated and loved him. He will be missed by all. View the full obituary.