Amazing Myanmar Asian Cuisine launches new line of grocery meals
Support from the Michigan State University Product Center and the Wege Foundation enabled this minority-owned business to expand during the pandemic.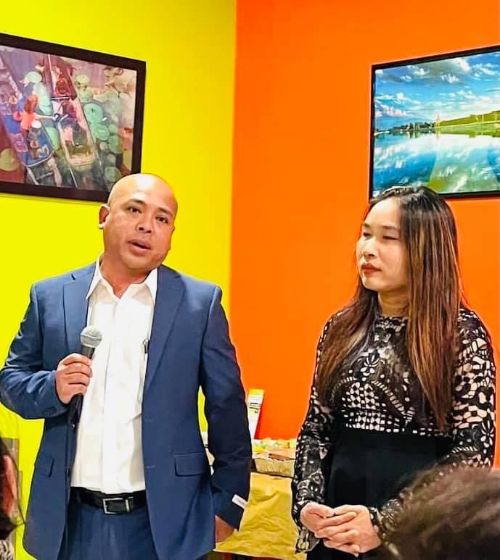 Min Min Tun and his wife, Aye Soe, are refugees from Myanmar. They immigrated to the United States in 2008. Their first U.S. home was in Lansing, Michigan, where Min worked at a non-profit to support other refugees coming to the area. Min and his family opened an Asian grocery store in Lansing to provide Asian foods and cuisine to the community.
In 2012, Min and his growing family moved to Grand Rapids. Min began working with Meijer to source sushi for many of their stores. In July 2020, amidst the global pandemic, Min and his wife opened the Amazing Myanmar Asian Cuisine restaurant at the intersection of 28th Street and Lake Eastbrook in Kentwood.
"We wanted to open a restaurant to build a business to support our family and to give back to our community. We hope to create jobs and invest in community projects and programs," said Min Min Tun at a celebration at his restaurant, hosted by the Grand Rapids Asian-Pacific Foundation.
Many restaurants were diversifying to sell products in grocery stores during the pandemic. Using his expertise in grocery retail, Min worked to develop heat-and-serve Asian dishes like veggie tempura, veggie samosa, fried rice, tofu pad thai, tea leaf salad, egg rolls, and spring rolls. These products will be available at Bridge Street Market as well as the Knapp and Cascade Meijer stores in the Grand Rapids metro region in December 2021.
"I came to the Michigan State University Product Center to learn about the licensing and labeling requirements for my packaged meals. I was able to connect with a counselor about my products and develop Nutrition Facts labels," commented Min.
Min received a scholarship to join Michigan State University (MSU) Extension's Product Center through a grant from the Wege Foundation. This three-year grant to MSU Extension in Kent County has supported over 30 minority-owned businesses and entrepreneurs to join the MSU Product Center at no cost and to access specialized services (such as Nutrition Facts labeling and product shelf-stability analysis) at reduced pricing.
As a result of the pandemic, support for minority-owned business may be more important than ever. According to a 2021 report by the Federal Reserve Bank analyzing business owner survey results, declines in revenue and employment between 2019 and 2020 were most severe for firms owned by people of color. Ninety percent (90%) of Asian-owned firms reported a decrease in revenue, the most of any group of business owners. Moreover, the majority of Asian-owned firms (54%) also reported a decrease in employment during the same period. Sixty-seven percent of Asian- and Black-owned firms reported reducing their operations, followed by 63% of Hispanic-owned firms and 54% of white-owned firms.
"I would encourage other minority-owned food businesses thinking about selling a packaged food product to contact the Michigan State University Product Center. I look forward to launching my products in Meijer stores and I know others can do this too," said Min.
For more information about MSU Extension and the MSU Product Center, visit canr.msu.edu/productcenter.