It's easier than ever to attend the 2020 Michigan Greenhouse Growers Expo
Virtual education schedule features sessions on greenhouse plant production, specialty cut flowers, retail and marketing, integrated pest management, and a whole lot more!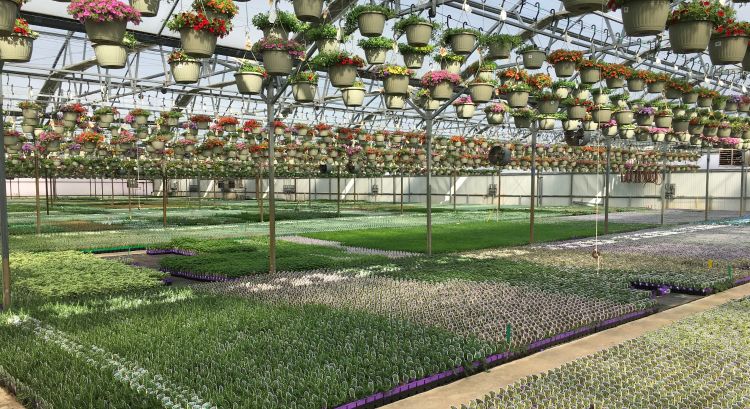 The Michigan Greenhouse Growers Expo, in partnership with the Great Lakes Fruit, Vegetable and Farm Market Expo, will be held Dec. 8-10, 2020, in an exclusively online format. The floriculture and greenhouse production team from Michigan State University Extension under advisement from the Western Michigan Greenhouse Association and the Metro Detroit Flower Growers Association has developed an educational program consisting of 18 virtual sessions covering a broad range of topics. The selected schedule includes retail sales and marketing, new plant varieties and landscape performance, specialty cut flowers, and a strong set of plant production and integrated pest management (IPM) topics. These programs, featuring a healthy mix of university researchers, greenhouse growers, Extension educators and technical consultants, are designed for target audiences across the organizational spectrum from entry-level employees to operations managers.
The retail, marketing and variety sessions cover current issues as well as some classic topics that include remote sales, new varieties and strategies to boost consumer demand. The speakers this year are a fun group of Michigan greenhouse growers and industry representatives, including:
A panel consisting of Mike Fernandez from Danziger, Nathan Sell from Dummen-Orange, Jerry Gorchels from PanAmerican Seed, Kevin Hurd from Proven Winners and Jennifer Barnes from Syngenta Flower to showcase some of the newest varieties.
A group conversation on remote sales with Mike Ouding from Kalamazoo Specialty Plants, Dirk Jonker from Jonker's Garden and Bridget Behe from MSU.
A grower review panel on landscape performance with Josh Miller from Four Star Greenhouses, Greg Michalak from Raker-Roberta's Young Plants, Daedre McGrath the MSU Annual Trial Garden Manager, Laura Robles from Walters Gardens and Brian Weesies from Mast Young Plants.
Both new and experienced growers will benefit from presentations on floriculture crop production. Rick Yates from the GGSPro Technical Support Team discusses the finer points of plant growth regulators, while Paul Fisher from the University of Florida provides insight on how to optimize the cutting sticking process. Royal Heins, MSU professor emeritus, returns to deliver a seminar on reducing inputs and shifting labor to increase profits. Rounding out this tremendous lineup is a discussion panel on the current state and near-term outlook on LED lighting in the greenhouse with Tam Serrage from Revolution Farms, Drew Koschmann from Walters Gardens, Wayne Blades from Wenke Greenhouse and Tom Gallager from Consumers Energy.
In addition to the perennially popular disease management updates by Mary Hausbeck from MSU, we are pleased to have nationally renowned insect management expert Raymond Cloyd from Kanas State University back for two sessions on biological control. Rick Yates, technical support manager from GGSPro, joins us again to share some of his thoughts on IPM practices for retail environments.
Have you been thinking about growing specialty cut flowers but not sure where to start? Highly-acclaimed grower and educator Dave Dowling from Ednie Flower Bulb will share his thoughts on taking a practical approach to starting a new cut flower farm. Proven Winners shrub specialist Stacey Hirvela walks us through the process of selecting, growing and harvesting flowering woody perennials for cut flower sale. In addition to her session on cut flower production tips, local favorite Adrianne Gammie from Marilla Field and Flora will be leading a virtual workshop on creating beautiful market bouquets. Floriculture production specialist Roberto Lopez from MSU discusses how the timing, yield and quality of a wide variety of specialty cuts are influenced by a high tunnel environment when compared to field production.
Rounding out the schedule, Allison Justice walks us through the ins-and-outs of greenhouse hemp production while Melissa Millerick-May shows how the MSU Extension CHAMP e-Tool can help agricultural producers protect their workers by minimizing the spread of COVID-19 at their operations.
The annual MSU Floriculture Research Update highlights grower supported projects and will feature reports by Daedre McGrath, Erik Runkle, Roberto Lopez, Debalina Saha and Nikki Lukasko from MSU. Sessions include:
Greenhouse and Controlled Environment Hemp Production
The MSU Extension COVID-19 Hazard Assessment and Mitigation Plan (CHAMP) e-Tool
Latest and Greatest from MSU Floriculture Researchers
Online registration is now open! Attendees and exhibitors can find the full session schedule and trade show information at the Great Lakes Expo website.