Biosystems engineering student uses research, academic experiences to land internship at Nestlé
Andrew Kearney performed data analysis to help the global food company reduce its environmental impact.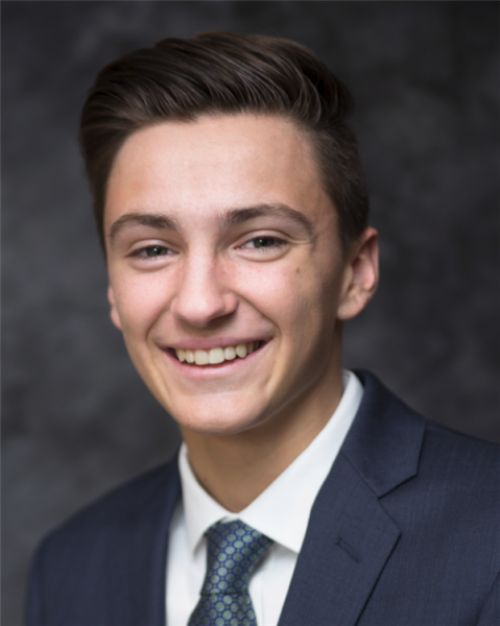 Michigan State University (MSU) junior Andrew Kearney remembers the moment when he knew biosystems engineering was the right major for him.
During his senior year of high school Kearney, a Flushing, Michigan native, visited MSU's campus for the Honors College's Alumni Distinguished Scholarship (ADS) competition. ADS is an event for high-achieving students that includes tours and information sessions for different majors.
While at ADS, he attended an information session on biosystems engineering hosted by Bradley Marks, current chair and professor in the Department of Biosystems and Agricultural Engineering. As part of the session, Marks gave a tour of his food processing research lab.
"I thought I wanted to be a pediatrician, but I wanted to choose a major that I could fall back on if I decided I wanted to pursue something different," Kearney said. "When I saw biosystems engineering, I was like, 'wow, this is awesome. This sounds perfect.' I was even more interested after listening to Dr. Marks talk and seeing his lab."
Kearney, who has since shifted his focus to food engineering, is now an undergraduate researcher in Marks' lab.
Along with his lab team, Kearney worked on a project that involved measuring amount of Salmonella in different sugars — brown, granulated, powder and liquid — over a three-year storage period. He is currently writing a paper on this research, which will appear in the Journal of Food Protection, an important academic publication on food safety. He also presented a poster on the research on Salmonella and sugar storage at the International Association of Food Protection virtual conference in 2020.
"It was super nerve-wracking and crazy to present on my research, but it was awesome," Kearney said. "I'm really proud of the work I did."
Applying academics and research to real-world settings
Kearney's experience working in Marks' lab led him to an internship with Nestlé in 2021. During his eight-month internship, Kearney worked for the materials and recipe management team for Gerber, a Nestlé-owned brand.
"Nestlé is obviously a name brand, so that and the length of the internship appealed to me. Because I had some credits out of the way, I was able to take the eight-month internship and not worry about graduating late," he said. "It's just good for getting a lot done while you're there and really learning."
Although Kearney's internship was based in Fremont, Michigan, he did most of his work virtually due to the novel coronavirus pandemic.
"I really think that after COVID-19, a lot of companies will go with a hybrid work environment," he said. "This whole internship helped me get used to a remote environment."
As a materials and recipe management intern, Kearney performed data analysis to examine the carbon impact of the ingredients in Gerber recipes in order to meet Nestlé's goal of going completely carbon neutral by 2035. This means that the company's carbon outputs to the environment would be offset by its carbon inputs.
"I think the work I did at Nestlé was important, especially with climate change being an important issue now and in the future," he said. "It's cool that I can be part of making a big change in the world."
Kearney said his biosystems engineering classes prepared him for success in his internship, which involved independently learning data analytics and coding tools.
"My classes at MSU have helped me work through a problem effectively," he said. "Having those critical thinking skills helped me learn to apply my knowledge in an effective way to help the company."
Big university, small community
Kearney said what he appreciates most about the biosystems engineering is the versatility the degree offers and the community the program provides.
"You can do so many different things with a biosystems engineering degree," he said. "You can go, environment, energy, food and medical. Plus, since it's so small, professors are really looking out for you and trying to do their best to help you. Even with students, it's a super collaborative environment because it's a small group."
Kearney is currently the diversity, equity and inclusion chair for MSU's Biosystems Engineering (BE) Club, which organizes social, educational and networking opportunities for undergraduate students. He was formerly BE Club's Industry Advisory Board chair and representative for the College of Agriculture and Natural Resources (CANR) Student Senate. He encourages students to get involved in clubs and organizations to meet new people.
"Michigan State, because it's so large, has a ton of opportunities for students. Literally, endless," Kearney said. "You could just go on websites and find all these different opportunities for students of any major."
Although MSU has about 39,000 undergrads and 98 majors, Kearney doesn't feel overwhelmed by the size, due to the biosystems engineering community.
"I feel like MSU does a really good job of making every student feel important within your major. I know biosystems does a really good job of that," he said. "At MSU, you get one of the biggest universities in the U.S. feel, but you get the personal connections of a smaller university within your college."