Breaking ground July 30 for Veterans Therapy Garden Project in Kalamazoo
Three-year project to create garden respite and educational opportunities for area veterans.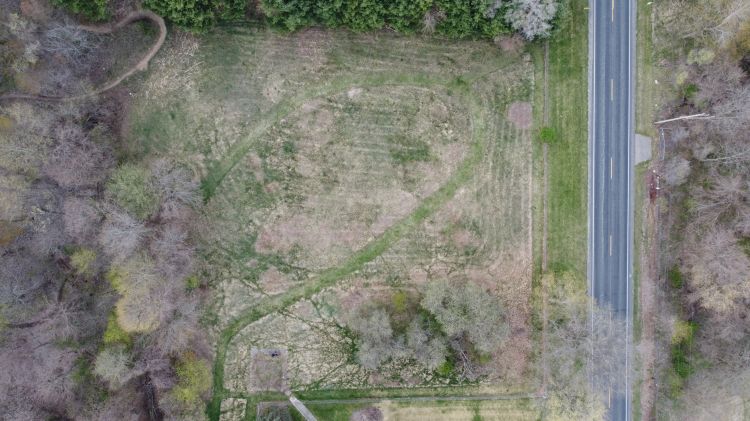 Due to unfortunate and unforeseen circumstances, the breaking ground ceremony scheduled for Friday, July 30, 6 p.m., will be temporarily postponed with a new date to be determined. Thank you for your patience and continued support while we are hard at work to make Kalamazoo's first Veterans Therapy Garden a reality.
Along the northern stretch of Westnedge Avenue in Kalamazoo County, a one-acre field is about to become Michigan's first veterans therapy garden. When completed, the Veterans Therapy Garden Project will serve the public as a therapeutic space for veterans and others to experience the many ways spending time in nature improves physical wellbeing.
The gently sloping land is part of the Markin Glen County Park and is located across the street from Markin Glen's main entrance. Kalamazoo County Parks & Expo Center has allowed Michigan State University Extension to steward the parcel and MSU Extension's horticulture educator and veterans liaison, Christopher Imler, is the project's curator.
"My hope is that everybody uses it – all walks of life come to appreciate the benefits of horticulture therapy; especially in the context of these last two years," Imler said.
In early 2021, Kalamazoo County Parks & Expo Center director David Rachowicz invited Imler to survey the various properties they manage to come up with some options for where to put the therapy garden. The County Parks Commission ultimately decided to support this idea by allowing MSU Extension to use their one-acre property adjacent to the Markin Glen County Park. The creation of the Veterans Therapy Garden Project along N Westnedge Avenue is also historically significant - Colonel Joseph Burchnall Westnedge, the road's namesake, was a veteran of the Spanish-American War and World War I.
For Imler, the Veterans Therapy Garden Project is an amalgamation of ideas that have been tried in the past. Imler explains how in the last 15 years, there have been at least three major clinical studies concerning the therapeutic effects of horticulture practices on veterans. The studies focused on gardening activities but what Imler hopes to achieve are the restorative benefits of creating a therapeutic space for veterans.
In 2010, Imler, a native of Guam, enlisted in active-duty U.S. Air Force, was stationed in Europe and deployed to the Middle East as a mechanic for construction machinery. In the middle of the desert, he decided to become a lifelong learner of plants. Today, he's combining his three horticulture degrees and armed forces experience to help fellow veterans experience the benefits of a well-planned horticulture therapy garden.
According to the American Horticultural Therapy Association, "therapeutic horticulture is the process through which participants enhance their wellbeing through active or passive involvement in plant and plant-related activities." Healing gardens have been created for centuries and historians have found descriptions of what they believe to be the first hospice garden in the 12th century, located at a monastery in Clairvaux, France.
"Horticulture therapy is to emotional and mental self-care, what going to the gym is for physical self-care, although there are some physical health benefits to horticulture therapy as well," Imler said. "Elements of horticulture therapy activity can include things like repetition in planting, activities with emphasis on attention to detail, and tasks that capture some measure of a metaphor for life – removing dead things so others can thrive. The biggest activity involved in horticulture therapy is the act of just existing in a planted space."
The Veterans Therapy Garden Project will take three years to complete with a goal of raising $112,000. Additional goals include:
To create and maintain community partnerships to build the garden and create a proof of concept so we can invite people to copy it as a model.
Help reduce the nationwide stigma surrounding mental health and the various forms of mental health treatment.
To objectively prove what we already know – that life is better when you are in the garden and surrounded by nature.
Phase one commencing in July 2021 will begin the creation of a 5,000 square foot garden. Phases two and three will include several wheelchair accessible raised garden beds, ADA compliant entries and garden paths, annual and perennial flower beds, a pavilion-covered meditation area with accessible benches, sensory plantings, memorial garden, cutting garden, and a propagation bed. All areas of the garden will be accessible to people of all abilities. As soon as Extension Master Gardeners and Trainees can safely return to in-person volunteer activities, their help will be instrumental in planting the various gardens within the project.
By fall 2024, the project will be completed. In addition to the various gardens and meditation areas, the Veterans Therapy Garden Project will also be a living classroom where MSU Extension professionals will teach classes such as stress management, techniques to relieve PTSD systems, navigating life changes due to traumatic brain injury (TBI), and alleviating symptoms of depression and anxiet
For financial contributions, follow this link: MSU Extension Veterans Therapy Garden | Giving to Michigan State University. For material donations, volunteer opportunities, and more information contact Chris Imler imlerchr@msu.edu or 269-779-8750.