From her family farm to currently serving as a Legislative Aide/Executive Assistant with the U.S. Senate Committee on Agriculture, Nutrition, and Forestry, AFRE alumna Rosalyn Brummette has focused on agriculture her whole life.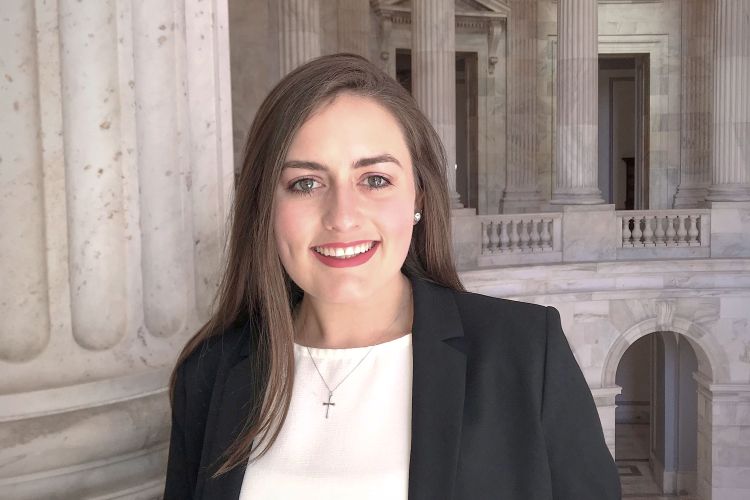 Growing up on a third generation family farm evoked a passion for agriculture in AFRE alumna Rosalyn Brummette. Since, agriculture has been the driving force behind her academic life and early career. Currently serving as a Legislative Aide/Executive Assistant with the U.S. Senate Committee on Agriculture, Nutrition, and Forestry for Ranking Member Debbie Stabenow, who is Michigan's senior U.S. Senator and a MSU alumna, Brummette is taking steps toward her ultimate goals of bridging the environmental and agricultural communities, to find common ground, real solutions, and powerful impacts.
"I joke now that my life has been and still is 'all ag, all the time,' — I grew up in agriculture, studied it, and now work in it," said Brummette. "But I wouldn't trade that decision for anything."
In addition to helping on the family farm, Brummette participated in the Michigan 4-H program for 15 years as a member of the Golddigger's 4-H club in Eaton County, which served as the foundation of her career in Agriculture, especially in Washington D.C.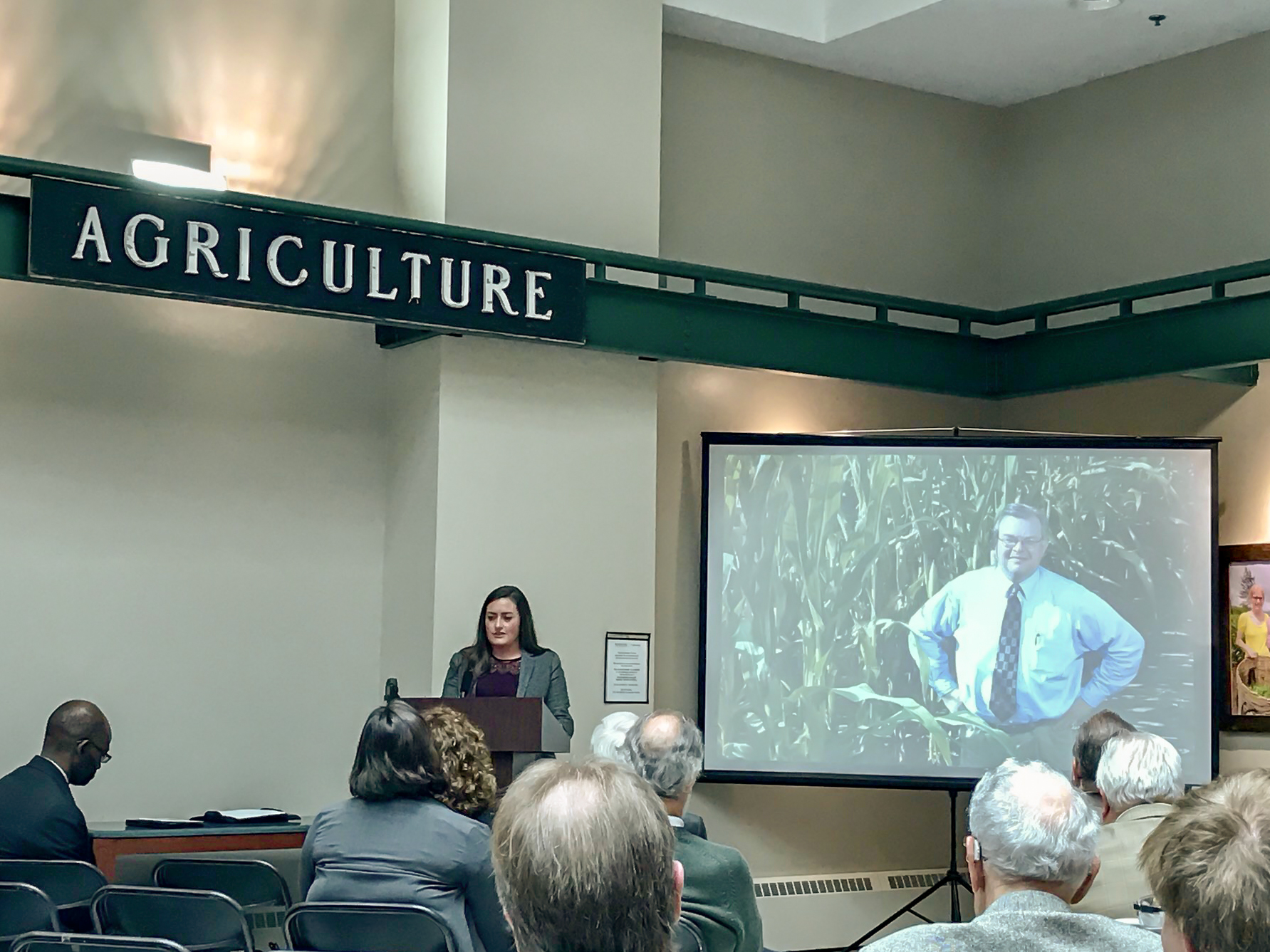 Brummette speaking at AFRE professor David Schweikhardt's memorial service at MSU in 2017.
"My first trip to DC was through the National 4-H's Citizenship Washington Focus summer program," said Brummette. "I cherish that first trip as it nurtured my love for Washington, D.C. I remember walking through the U.S. Capitol Rotunda and feeling awestruck by the history and beauty of such a place. Now I'm lucky enough to work there!"
Building on those experiences, Brummette made sure her high school education was tailored to agriculture as much as possible. As a student at Grand Ledge Public Schools she dual enrolled to be a member of the Charlotte FFA, where she was able to build out leadership abilities, learn more about potential agriculture career opportunities, and participate in important vocational education programs.
"Then in college, I hit the ground running," said Brummette. "I knew that I had four short years to meet as many people in my field and learn as much as possible." While at Michigan State, Brummette majored in Agribusiness Management, minored in Environmental Economics and Policy, was a member of the Block and Bridle, Collegiate Farm Bureau, National Agri-Marketing Association, and Sigma Alpha Professional Agricultural Sorority, serving in leadership roles in almost every organization.

Brummette speaking with a U.S. Cattleman.
Brummette also participated in the MSU Demmer Scholars program, where she lived in Washington D.C. for a summer to work on natural resources and agricultural policy. "This program reinforced my passion for conservation policy and the drive to move back to DC after graduation," said Brummette. Before venturing back to D.C., Brummette took a trip to Japan and participated in the International Student Summit (ISS) on Agriculture, Food, and the Environment through the Tokyo University of Agriculture. "Participating in ISS pulled me out of my mindset of looking at agriculture through a U.S. only lens. It expanded my thought process to evaluate the challenges faced on a global level," said Brummette.
With an impressive portfolio of experiences, Brummette landed her current position as Legislative Aide/Executive Assistant at the U.S. Senate Committee on Agriculture, Nutrition, and Forestry after graduating in 2016.
"I love my job and I often tell people that I have my dream young-person job. I have the honor to work for an amazing champion for Michigan agriculture, Senator Stabenow."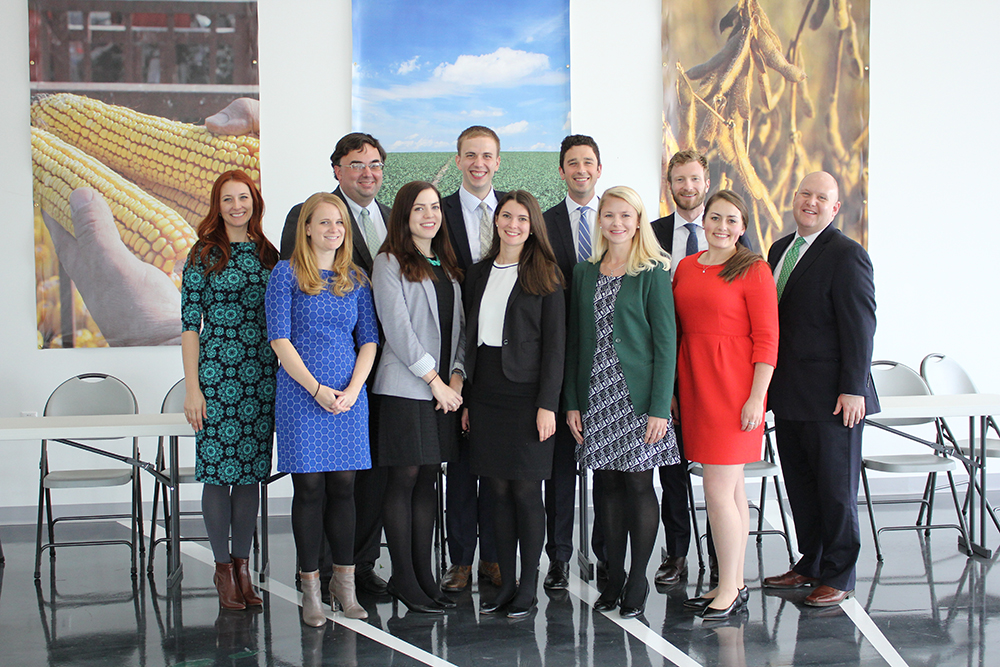 Brummette and members of the Stabenow team in Frankenmuth at the Michigan Farm Bill Field Hearing.
Currently, Brummette is supporting Senator Stabenow's work towards reauthorization of the Farm Bill, specifically working on Title II, Conservation policy. "We made history in the Senate passing the most bipartisan Farm Bill ever, by 86-11 in June," said Brummette. "We're now in a part of the legislative process called 'Conference,' working out the differences between the House and Senate bills."
"Working on the national level is exhilarating, yet extremely serious," said Brummette. "When working on Federal policy you must understand that even the slightest changes to policy will have a significant impact across the country."
That weight and potential impact only motivates Brummette further, propelling her toward her goals, and keeping her close to her agricultural roots.
"The Japanese have a term called ikigai which translates to 'a reason for being.' One's ikigai is the synergy of four components; your passion, your skills, career opportunities, and the needs of others or the world," said Brummette. "I firmly believe that my ikigai is to work on conservation agricultural policy. I want to bridge the gap between the environmental and agricultural worlds — because we've seen extremely successful outcomes take place when these two worlds partner together."
Learn more about the U.S. Senate Committee on Agriculture, Nutrition, and Forestry, and CANR alumni.