AFRE profs tackling climate change through global partnerships
Successful Stakeholder Outreach Event to Address Climate Change Adaptation and mitigation held by CACCI-Ghana
Accra, Ghana — The Comprehensive Action for Climate Change Initiative (CACCI), part of the Innovation Lab for Food Security Policy Research, Capacity, and Influence (PRCI) through the Department of Agriculture Food and Resource Economics (AFRE), successfully organized a stakeholder outreach event in collaboration with the Institute of Statistical, Social and Economic Research (ISSER) at the University of Ghana on April 25, 2023. The event, held both virtually and in person, aimed to foster discussions on supporting the implementation of Nationally Determined Contributions (NDCs) and National Adaptation Plans (NAPs) in Africa under the Paris Agreement on Climate Change.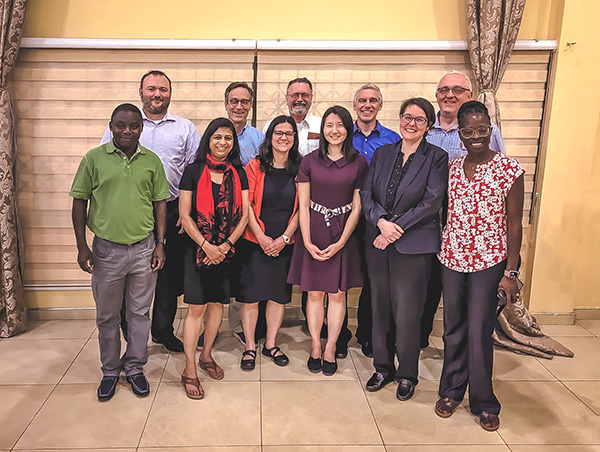 The event was part of a gathering of international development research institutions from across Africa, Asia, and the United States, including a number of AFRE faculty: PRCI director David Tschirley, FSG Interim Co-Director Mywish Meredia, MSU Foundation Professor Saweda Liverpool-Tasie, and professor Duncan Boughton, as well as associate professor Véronique Thériault, and associate professors William Burke and Milu Muyanga who currently support MwAPATA, a policy research institute in Malawi.
AFRE faculty, through PRCI and CACCI, continue to build international bridges rooted in the fundamentals of the land grant mission of Michigan State University. By building coalitions and capacities with partners across Africa and Asia, we strengthen agricultural outreach globally as well as here at home in Michigan.
A panel of esteemed researchers, experts, and policymakers facilitated a dynamic discussion on the specific climate change issues that Ghana is currently encountering in implementing robust climate change adaptation and mitigation strategies. The participants engaged in a productive dialogue, exploring innovative approaches, best practices, and actionable solutions to enhance Ghana's resilience to the impacts of climate change.
In response to questions about how CACCI will support stakeholders to do the work themselves, Chinenyo Kangara emphasized the broad coordination efforts, "What CACCI is doing is to actually set these baselines that enable stronger engagement in-country by putting to task the various mandated multi-sectoral coordination platforms that the countries themselves have actually articulated. But again, we're looking at home-grown solutions that CACCI can put on the table by working closely with think tanks that already exist."
At the event, Dr. Antony Chapoto, a distinguished researcher from the Indaba Agricultural Policy Research Institute (IAPRI) and PRCI partner, delivered a compelling presentation titled "Support for the Implementation of NDCs and NAPs in Africa Under the Paris Agreement on Climate Change Through CACCI." Dr. Chapoto shared valuable insights and expertise, highlighting the importance of collaboration between stakeholders, researchers, and policymakers in addressing climate change challenges effectively.
CACCI-Ghana's stakeholder outreach event brought together a diverse group of participants from various sectors across the country. Stakeholders included representatives from government agencies, academic institutions, non-governmental organizations, private sector entities, and community leaders. The hybrid format of the event had 39 virtual participants and 49 in person participants, ensuring broader accessibility and maximizing engagement.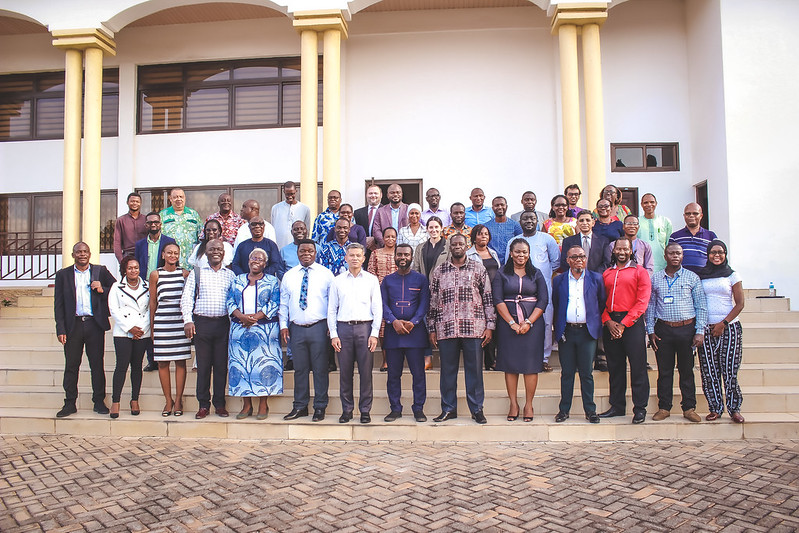 CACCI, in partnership with key stakeholders, researchers, and policymakers at the country level, is dedicated to developing and implementing actionable programs and policies that mitigate and adapt to climate change. By fostering collaboration and knowledge exchange, CACCI aims to drive sustainable development and build resilient communities in the face of the evolving climate crisis in alignment with the goals and mission of our land grand university. As CACCI continues to expand its initiatives and engagements, events like the CACCI-Ghana Stakeholder Outreach provide critical platforms for knowledge sharing, fostering partnerships, and catalyzing collective action to address climate change challenges effectively so that we can grapple with these challenges on local, national, and international levels.

The Comprehensive Action for Climate Change Initiative (CACCI) launched at the 2021 United Nations Climate Change Conference (COP26). The project is a CACCI partners with key stakeholders, researchers, and policymakers at the country level to create actionable programs and policies to mitigate and adapt to climate change. By fostering collaboration and promoting sustainable development, CACCI aims to address the challenges of climate change and build resilient communities worldwide.
View the recording of the event.