Cattle grazing in May: Moove 'em quick!
May grazing requires fast moves and increased management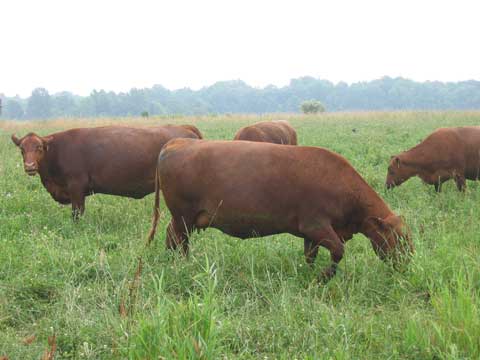 Late-April and early May is a welcomed time for grazers. The dry lot animals are ready to move and management is critical to effectively manage early season forage growth. Here are a few rules of thumb to increase productivity of your management intensive grazing systems.
Turn out when forages are 6-8 inches in height if weather conditions are favorable
Watch soil moisture to prevent excessive plant damage in wet conditions
Use the 'harvest half and leave half' rule
Time on the paddock should be about 2/3 of the normal grazing time
Your first rotation across all paddocks should be done in 18-22 days
Be ready to pull animals back to dry lot if weather conditions deteriorate
Observe animals for health issues especially when frost occurs on legume pastures
ALWAYS FOCUS ON MANAGEMENT!
Providing free-choice dry mineral and access to fresh water will also increase animal performance.
Mineral may need to be diluted with salt the first 2-4 weeks on pasture to prevent overconsumption due to high water content in the new feed source. Generally diluting the mineral with 1/3 trace mineral salt will allow the animal to better balance salt requirement and not over consume more expensive mineral mixes. Watch you systems closely especially in May as weather conditions often require immediate management decisions. Good luck and enjoy the spring grazing!
For additional cattle management resources, vist MSU Beef Team website or MSU Forage Information Systems website.