Changes to Ractopamine usage for pigs at several county fairs and exhibitions part 1
Understanding the rules and regulations for the county for exhibition event that you participate in is key to a successful project.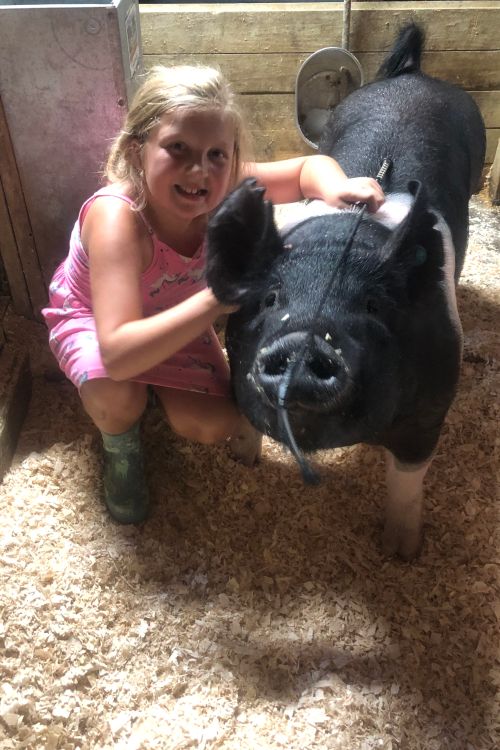 In early 2020 we have seen several county fairs take steps to eliminate or ban the use of ractopamine at their events. Ractopamine is a beta-agonist feed additive used in production swine diets to promote lean muscle growth. It has been approved for use in swine diets in the United States. In recent years, the use of ractopamine has been prohibited in many countries around the world because of concerns about the possible health effects when used improperly.
Several commercial pork processing plants have announced that they will no longer purchase pigs that have been fed ractopamine. The restrictions placed on pork products destined for export markets drove this decision. With export pork sales accounting for over 25% of the markets, commercial processors need to reduce the risk of distributing a product that does not meet export market guidelines. Eliminating the use of ractopamine products in swine diets for the pigs that are sent to their plants will reduce that risk.
These recent announcements will have an impact on county fairs and exhibitions that utilize resale markets as a service to their livestock auction buyers. Commercial processors may not accept animals that originate from sources with unknown ractopamine status. Fairs and exhibitions will need to consider various requirements and marketing options to continue their market swine show. Some buyers and commercial processors may elect to eliminate the purchase of exhibition pigs entirely even if a fair or exhibition adopts policies that remove the option of using ractopamine as a feed additive. If a fair or exhibition utilizes a commercial market as a destination for their pigs, they either have or will be having a conversation regarding requirements and availability with the market that they work with. For many of the county fairs and other swine shows in Michigan this conversation has already happened and several have decided to eliminate its use in hogs exhibited at their events to protect their market for these animals following the fair or exhibition.
Due to these new rules being put in place, one of the first steps that exhibitors need to take is to have a proper understanding of the rules from the specific county fair or exhibition that you will be participating in. Not all county fairs, shows and exhibitions are eliminating the use of ractopamine; these decisions are made on a show-by-show basis. Each year, you'll need to check the rules of any county fair, show or exhibition you plan to exhibit at, so you know about any rule changes. If you plan on exhibiting at an event that has put into place a rule that eliminates ractopamine from the diet of your swine project animal, you will need to take precautionary steps to avoid accidentally exposing the animal to this product.
For more information on how to avoid secondary contamination of ractopamine continue reading 2020 Swine Exhibition season changes and adjustments series Part 2: Important conversations to have with your feed supplier and Part 3: Reducing the risk of secondary contamination from Ractopamine. Other resources including information and frequently asked questions about ractopamine have been developed by MSU Extension and are available for exhibitors, parents, county fair staff and exhibitions that are considering or have implemented a ban on this product.
If you have any questions or would like more suggestions on this topic, please feel free to reach out to Nick Babcock MSU Extension 4-H Livestock and Veterinary Science Program Educator at 517-432-1626 or by email at babco116@msu.edu or Beth Ferry MSU Extension Pork Educator at 269-876-2745 or 269-927-5674 or by email at franzeli@msu.edu.
Related Articles