Commodity executive retiring after more than three-decade career
Phil Korson, a stalwart of the Michigan tree fruit industry for more than 30 years, is retiring effective Jan. 1, 2020.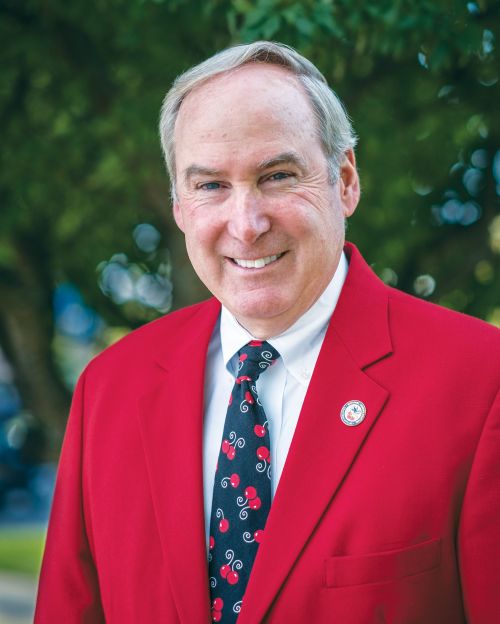 Phil Korson, a stalwart of the Michigan tree fruit industry for more than 30 years, is retiring effective Jan. 1, 2020.
As executive director of the Michigan Cherry Committee and president of the Cherry Marketing Institute, Korson has helped to shape policy and form partnerships that advance the cherry industry. He's also been a leader and advocate for plant agriculture across the state.
"Since I joined MSU, Phil has been a wonderful partner and resource," said Doug Buhler, the director of Michigan State University AgBioResearch. "You simply can't replace his wealth of knowledge and passion for working on behalf of the cherry industry and the plant agriculture industry as a whole. He has a deep understanding of research and has valued the role that MSU plays in that regard."
Korson has longstanding ties to MSU as a graduate with a degree in dairy science and management. After a brief post-graduation stint running a dairy operation, he took a job with Michigan Farm Bureau in the Michigan Agricultural Cooperative Marketing Association's Red Tart Cherry Division. Once he joined the tree fruit world, he never looked back.
Among Korson's numerous career contributions is Project GREEEN, an initiative he helped to create and one he believes has been an invaluable tool for Michigan's plant agriculture community.
"Project GREEEN has been unbelievable for our industry, and it's been supported so well by MSU, growers, commodity organizations and the state of Michigan," Korson said. "I've told a lot of people that I'd like to think we were really smart when we designed Project GREEEN, but the fact is that we are lucky to have a bunch of great people involved.
"The unique thing is that Project GREEEN was built on trust. It takes all of the partners working together to focus on the most relevant topics. We didn't put specifics in the legislative language. Every year we update our research priorities. It means that were addressing the top issues every year, and that's been critically important."
Of MSU AgBioResearch's 14 off-campus research centers, four are geared heavily toward tree fruit research: the Clarksville Research Center in Clarksville, the Northwest Michigan Horticulture Research Center in Traverse City, the Southwest Michigan Research and Extension Center in Benton Harbor, and the Trevor Nichols Research Center in Fennville.
When years of declining funding at MSU forced leaders to consider consolidation in 2013, Korson was part of a meeting convened by Buhler. The team quickly learned that each center plays a pivotal role in some aspect of tree fruit research.
Building on the success of Project GREEEN, a proposal was developed for a program based on Public Act 232, which allows commodity organizations to form and collect grower funding to advance the industry.
The Michigan Tree Fruit Commission was created in 2014, with a particular focus on upgrading research center infrastructure. Because the partner commodities — apple, cherry, peach and plum — and other collaborating organizations already perform administrative services, every dollar goes toward advancing research capacity and technology. The program helped keep all four research centers open and enabled critical infrastructure and planting updates.
After its first five years, grower approval of a new referendum was needed to continue the program. It passed with overwhelming support.
"Even during challenging economic times, the partners continue to praise programs such as Project GREEEN and the Michigan Tree Fruit Commission," Korson said. "It's a great example of the value of these programs, which are set up to flourish long into the future."