Creating a morning of beef production literacy
Organizing a Breakfast on the Farm event is a committee and community effort.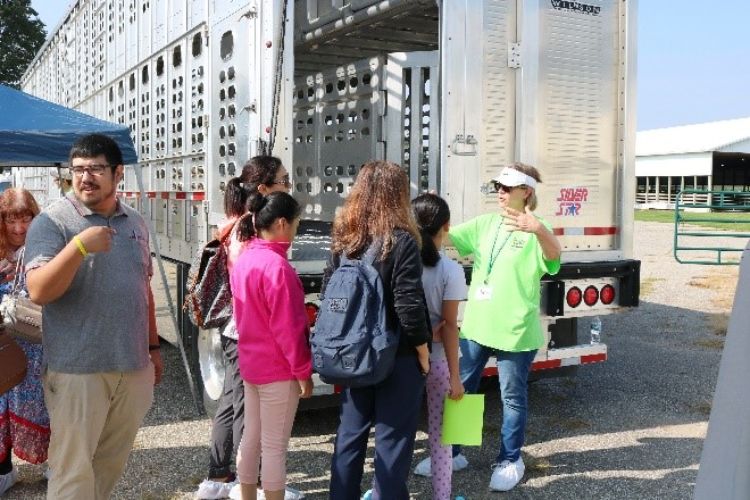 Michigan State University Extension partnered with industry to create the Breakfast on the Farm (BOTF) program in 2009, coordinating 40 events with the most recent at the Michigan State University (MSU) Beef Center, on September 15, 2018. This was just the fourth event held at a beef farm, and the first to be held in Ingham County. The goal of BOTF is to connect local consumers to farms and farmers, giving families a behind-the-scenes look at how their food is grown and raised. Previous events have been held on dairy, apple, potato and field crop farms throughout Michigan and have attracted a total of more than 88,000 visitors. Key to the program's success are the farms who open their doors to the public to emphasize the importance of environmental stewardship, food safety, and animal care practices. By all accounts, the MSU Beef Center BOTF was a success, and was able to leave a positive impression of modern beef production on 2,181 visitors and volunteers.
The MSU Beef Center was chosen to host an event, in part, because of its unique ability to showcase three segments of the beef supply chain in one location – Angus cow-calf herd (seedstock), Angus × Simmental cow-calf herd (commercial), and feedlot. The event made it possible for the public to take a self-guided, walking tour, and gain a personal look at how cattle are cared for and how wholesome beef products are created.
Event Development
The BOTF program is led by Ashley Kuschel, MSU Extension BOTF Program Coordinator, and Mary Dunckel, MSU Extension Agriculture Literacy Educator. There is a statewide BOTF program council that consists of ag commodity and ag support organizations and gives guidance to the program. In cooperation with farm personnel, the coordinators help to assemble and direct a local planning committee. In the case of the MSU Beef Center, the committee consisted of 17 people who represented the Center, MSU Department of Animal Science, MSU College of Agriculture, MSU College of Veterinary
Medicine, MSU Extension, Michigan Farm Bureau, Michigan Cattlemen's Association, Michigan Beef Industry Commission, beef farmers, and allied industry.
Financial Support
Significant financial support is crucial to host these successful events, which are backed by statewide sponsorships. In addition to this statewide support, the local planning committee was charged with raising monetary and in-kind donations to cover specific event costs. These expenses were primarily related to food and catering, tent and table/chairs rentals, and educational display signage.
Beef for Breakfast
The event was free for participants, but tickets were required for the breakfast. Prior to the event, tickets were obtained online or picked up by request at Extension offices, banks, libraries, and local businesses. Following a welcome and registration, guests were served a breakfast beef burger with egg and cheese, apple, and choice of milk. Breakfast was served from 9 a.m. to noon.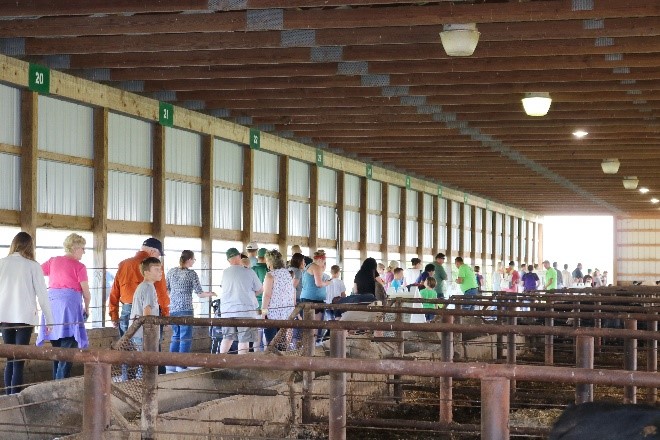 Photo by Ashley Kuschel. MSU Extension.
Beef Education
A 2018 National Cattlemen's Beef Association State Dashboard Survey comparing Michigan consumers to national averages showed that Michiganders were less convinced that beef is: part of a healthy diet; extremely safe to eat; sustainably and responsibly raised; and good for young children. Compared to the national average, Michiganders also had greater concerns regarding: trust in people that raise beef; responsible use of antibiotics; responsible use of hormones; humane treatment of animals; and greenhouse gas emissions. Therefore, the desired learning outcomes for participants of the MSU Beef Center BOTF were that participants would be able to understand and explain to others that:
Beef producers treat their animals humanely
Beef producers are concerned with environmental sustainability (including GHG) and responsibly raising cattle
Beef producers responsibly use antibiotics and hormones
Beef is extremely safe to eat, and is part of a healthy diet, particularly for young children
Beef producers can be trusted to raise sustainable, wholesome, and nutritious beef
After development of these learning outcomes, resource people and materials were created for the following areas as part of the tour:
| | | |
| --- | --- | --- |
| Biosecurity | Feedlot Nutrition | Cattle Genetics |
| Cattle Transportation | What Bugs Us | Beef Product |
| Cattle Handling and Health | Genetically Modified Organisms | Carcass Ultrasound |
| Cattle Research | Grazing/Rainfall Simulator | Reproductive Ultrasound |
| Hormone Growth Promotants | Cow/Calf Production | Farm Equipment |
| Slatted-floor Housing System | Breeding | Kids Activities |
| Environmental Stewardship | Hall of Breeds | Survey/Kid's Quiz |
| Beef Center History | Calf Health Care | |

Nearly two-hundred volunteers assisted with breakfast and directing the tour. Many volunteers were educational resource people, including numerous beef producers and undergraduate students, as well as, 22 MSU faculty, educators, and graduate students. Resource people were posted at 23 designated educational and activity areas throughout the walking tour.
Posted throughout the tour were more than 70 signs, displaying details about the farm and "Did You Know" facts about beef production. A kid's quiz, distributed to young participants, encouraged guardians to engage in reading signage as well. There were also several large displays around the farmstead where participants could interact, including a semi with pot-belly livestock trailer, rainfall simulator, retail beef case, carcass ultrasound machine, and numerous farm implements.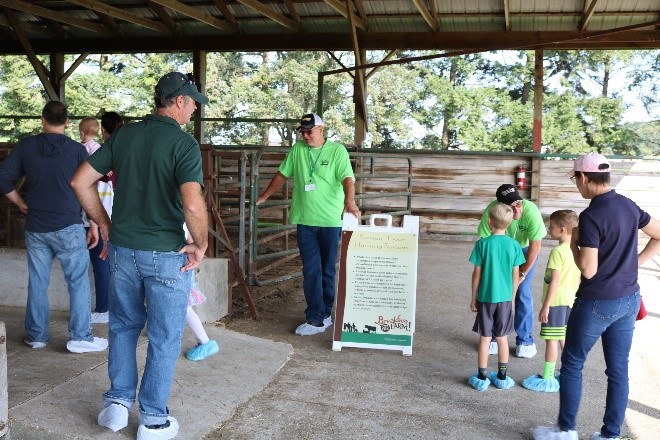 Photo by Michigan State University Extension.
Participant Reactions
Note cards were available at the end of the tour for writing a thank you note to the farm. In addition to numerous renditions of cow artwork by kids, following are select representative comments from participants:
"Thank you! We had a great deal of fun, and our son gets to meet cows for the first time in his life!"
"This was a FANTASTIC program. I learned so much. Thank you!"
"I was so impressed with the event organization. Everything moved without issue. Kids also enjoyed. The staff were enthusiastic helpers. Thanks so much. Had a great time. Loved the animals."
"You all have done a great service in teaching the community about farming."
"Thank you! For putting on this great event. It was an incredible learning experience."
"This experience was beyond what we expected. It was really fun and super informative. It makes me want to eat more BEEF! Thanks too, to all the friendly faces."