Cultivating sustainable leadership in agriculture, food, and natural resources education and beyond
Dr. Aaron McKim shares about his research, teaching, and outreach in the Department of Community Sustainability.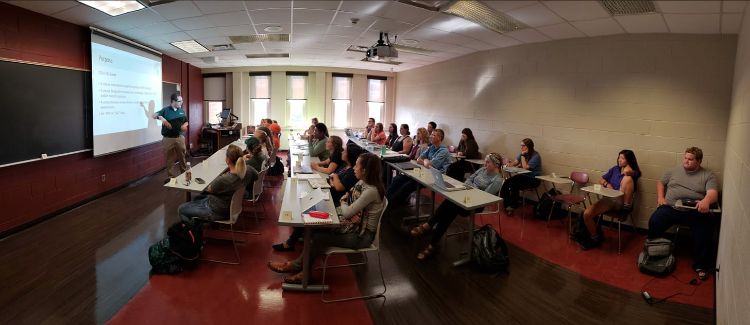 Sustainability is critically important in many industries, but the way people lead sustainable change matters just as much as the ultimate outcome. What do models for sustainable leadership look like?
Dr. Aaron McKim, assistant professor in the Department of Community Sustainability, has an idea.
Part of McKim's work focuses on a concept called "leadership for sustainability." This approach to leadership suggests that all individuals within a system are needed to lead positive and sustainable change. Rather than focusing on top-down approaches to leadership, getting everyone involved in decision making and power sharing creates more sustainable systems where all can meaningfully participate.
This area of McKim's work intersects with his work in agriculture, food, and natural resources (AFNR) education. Helping AFNR teachers become better educators and leaders is one way that McKim is impacting the lives of his students through his interdisciplinary teaching and research.
Finding new ways to connect with students and AFNR educators virtually during the COVID-19 pandemic has offered one particularly exciting opportunity to Dr. McKim.
Early in 2020, the MSU AFNR Education team – led by Mark Forbush, state director of AFNR education – responded to the pandemic by offering a multitude of online professional development sessions for teachers. About 50-80% of Michigan AFNR teachers attended these sessions! This inspired McKim and the AFNR education team to create another virtual offering: a podcast mini-series.
"We saw this mini-series as a chance to celebrate the resilience, leadership, and impact of AFNR educators throughout Michigan. We completed four episodes through the mini-series, which were seen by over 4,500 people," says McKim.
"I want to give a shout out to Dr. Buddy McKendree, assistant professor in AFNR education, who led two podcast sessions focused on diversity, equity, and inclusion in AFNR education. These sessions were really well done and catalyzed positive action in Michigan and beyond."
You can check out the podcasts – and more – on the Michigan Teach Ag page on Facebook.
Read below to learn more about CSUS professor Aaron McKim.
---
Q&A: Aaron McKim
Title:
Assistant Professor, Department of Community Sustainability
Joined MSU:
Fall 2016
Education:
B.S. Agricultural Education from Purdue University (2010); M.S. Agricultural Education from Oregon State (2013); Ph.D. Science Education from Oregon State (2016)
Hometown:
Lanesville, Indiana
What is your field of study?
I work in two spaces. First, agriculture, food, and natural resources (AFNR) education where I train future educators and conduct research on how to enhance the quality of teaching and learning in secondary school AFNR classrooms by making them more interdisciplinary. I also teach and conduct research in leadership. My work in leadership focuses on a concept called "leadership for sustainability" which suggests traditional, top-down approaches to leadership must be replaced with emergent leadership in which all individuals within a system lead positive change to increase the sustainability of the system.
Why did you choose to pursue your field of study?
My work in leadership is compelled by a continual frustration with leadership being reserved for the few. Instead, our world needs everyone to recognize their leadership potential and responsibility. My work in AFNR education is motivated by my experience as a student finding my "home" in a brand new AFNR education program, led by Mr. Gary Geswein, at Lanesville High School. I want all students with an interest in AFNR and leadership to have access to a place to call home in their academic journey just like I did.
What is one exciting thing you're currently working on?
I recently had a theoretical manuscript accepted in the Journal of Leadership Studies – a premier journal in leadership research – which introduces the concept of "leadership for sustainability." It is exciting to think about the potential impact of a new perspective on leadership being introduced and how my work can continue to evolve and transform the way we think about, and enact, leadership.
What's the best part about your job?
I get to work with individuals committed to becoming better teachers and leaders. To see their dedication to excellence and to be a part of their journey is why I love my job.
If you weren't a faculty member, what type of career would you pursue?
Before transitioning to graduate school, I taught AFNR at the middle school and high school levels in Indiana. If I wasn't a faculty member, I would enjoy getting back into the secondary school classroom as an AFNR educator.
What do you like most about MSU?
When I was nine or ten, my older brother coached my little league baseball team. Before one season, he came to me and asked what our team name should be, and I responded "the Spartans" because I loved watching Michigan State's gritty, hardworking basketball team. While I didn't grow up in Michigan, I have always been a Spartan. Therefore, I am extremely grateful to have the opportunity to work at Michigan State.
What is something many people don't know about you?
One thing my family is known for is doing handmade wood carvings. My maternal grandfather, Floyd Hicks, was an expert wood carver who taught my parents (Denzil and Shirley McKim), myself, and my siblings (Seth, Simon, and Rebekah) how to carve. As the "Hicks Family Carvers," three generations of the family attend festivals demonstrating traditional approaches to hand carving wooden chains, pocketknives, puzzles, pliers, and other items. I don't carve as much as other family members, but I enjoy attending a festival each year to reconnect to the craft.
What's the best advice you've ever received?
It doesn't matter where you are from, what you've been through, or that you've failed in the past, with effort and commitment, you can be successful.
How would you want your students to remember you or describe you after they graduated from MSU?
As I mentioned, the students I work with are poised to change the lives of others and the world through teaching and leadership. I am just a small part of their journey but, I hope, they remember me as someone who gave them a few tools to reach their full potential for positive impact.