Detroit Serves as Classroom to Students
Over the summer, 60 MSU students & faculty lived, worked, played and learned in Detroit as part of DETxMSU, a program that immersed students from six colleges into the city. They partnered with stakeholders to work on real-life creative problem-solving.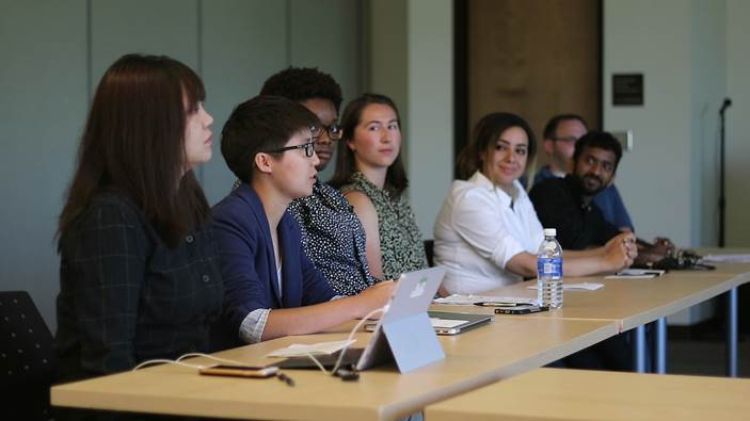 Last summer 60 MSU students and faculty lived, worked, played and learned in Detroit as part of DETxMSU[MH1] , a pilot program that immersed students from six colleges throughout the city, where they partnered with stakeholders to work on projects ranging from entrepreneurship and business to urban design and media production.
"The problems we are facing today cannot be solved by one discipline or one way of thinking. It takes bringing many different people together to create solutions that bridge ways of thinking and seeing the world," said Pat Crawford, associate professor, School of Planning, Design and Construction and DETxMSU coordinator. "By immersing the students in the realities of Detroit, we provided an opportune environment for them to practice and learn in collaboration with community partners."
The program, made up of seven separate groups of students from different colleges and majors across MSU, worked on a variety of projects. The colleges included the Residential College in the Arts and Humanities (RCAH), the College of Communication Arts and Sciences, the Broad College of Business, the College of Arts and Letters and the College of Engineering. Students from the College of Agriculture and Natural Resources' (CANR) School of Planning, Design and Construction participated, too.
DesignThink, the CANR group, teamed up with the Michigan Department of Natural Resources to create a plan for transforming Belle Isle's landscape into a prominent feature of the city.
The students also participated in discussion groups, networking opportunities, and several discovery events. The experience helped students narrow their career interests[MH2] .
Students from across MSU also participated in InnovateGov. They were placed within Detroit's core public or nonprofit policy making institutions and became involved in the design and implementation of innovative approaches to an intensely challenging public problem: the looming foreclosure of an estimated 60,000 properties.
"The MSU interns were critical to substantially decreasing the number of foreclosed properties. On their first day, they hit the ground running and with their assistance, we were able to reach 8,000 taxpayers," said Eric Sabree, treasurer, Wayne County. "These enthusiastic, creative and dedicated students also met with a variety of nonprofit and public entities to develop a best practices plan for future foreclosure prevention communication. I greatly appreciate the partnership with MSU and the opportunity to work with this amazing group of future leaders."
DETxMSU was a collaborative effort. Students were housed in Wayne State University residence halls, and the overall program received financial support from the Quicken Loans Family of Companies to introduce students to Detroit, in hope that they consider working there one day.
"I truly learned and witnessed the adage 'the whole is greater than the sum of its parts.' When working in such a cohesive group, it is not your individual product that shines but the abilities and contributions of the group," said Rachel Wilke, a junior in the landscape architecture program. "My time in Detroit enhanced my education and allowed me to see solutions through multiple viewpoints and consider strategies I may not otherwise have in a traditional classroom.
LEARN MORE
canr.msu.edu/inthefield
This article was published in In the Field, a yearly magazine produced by the College of Agriculture and Natural Resources at Michigan State University. To view past issues of In the Field, visit www.canr.msu.edu/inthefield. For more information, email Holly Whetstone, editor, at whetst11@msu.edu or call 517-355-0123.