East Michigan fruit update – June 4, 2019
Strong thunderstorms on Saturday afternoon brought scattered hail across the region, along with another batch of heavy rains. Early thinning sprays in apples are working well.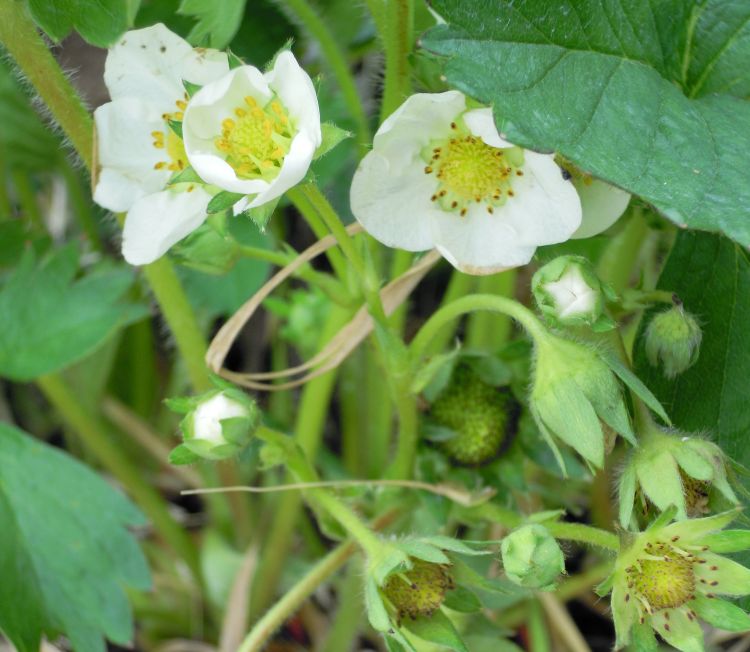 Weather
The never-ending precipitation of the last week continues to be a challenge for fruit growers. Most areas of east Michigan have received another 0.5 to 2.2 inches of precipitation in the last week. Many for our MSU Enviroweather stations across the region received measurable precipitation in 4 to 6 of the last 7 days. This was the third to forth week in a row for growers receiving measurable rain fall over so many days.
I have had several reports from growers of pea-sized hail on Saturday afternoon (June 1), reports are scattered across the entire region. Most of the hail was round, but a few growers reported sharp hail, which causes more damage. I have seen hail damage mostly in sweet and tart cherries.
While last week was not as warm as the week before, we still saw big additions to our growing degree day (GDD) totals for the week. Many of our MSU Enviroweather stations across the region added nearly 75 base 50 GDD in the last week alone. With this continued warming, growth in all of our fruit crops is lush and has final taken off.
Even with warmer temperatures, our season is still running between 3 to 7 days behind normal when looking at both flowering stages and growing degree day totals for region.
Several areas of east Michigan saw cold temperatures yesterday morning that bordered on frost conditions. Orchard frost fans turned on at many farms and many strawberry growers were awake early in the morning to check temperatures in fields. Most strawberry growers did not need to frost protect. I have not seen any damage to fruit crops due to this cold event.
Our soil moisture conditions are still very wet. In traveling for grower visits yesterday, it appears that the further south one travels, the wetter the soils are. Most fields in Monroe and Lenawee counties have large pools of standing water. Many tree fruit blocks are badly rutted due spraying operations that needed to done when our soils were so wet. There is still planting of tree and small fruits that needs to be done yet this spring. This has been one of the latest years growers can remember to get fruit crops planted.
With the extensive rains of this spring, weed growth has been lush, especially perennial and vine type weeds. Many preemergent herbicides have been washed to deeply into the soil profile to be effective any longer.
East Michigan Growing Degree Day Totals for March 1st to June 3rd, 2019

Location

GDD42

GDD45

GDD50

Commerce (Oakland County)

685

533

330

Deerfield (Monroe County)

820

648

417

Emmett (St Clair County)

503

373

207

Flint (Genesee County)

741

584

368

Freeland (Saginaw County)

643

501

306

Lapeer (Lapeer County)

667

520

325

Pigeon (Huron County)

518

387

221

Romeo (Macomb County)

702

548

340
Tree fruits
Apples in the southern part of the region are mostly between 14 to 22 mm and in the mid parts of our region (Ann Arbor through Flint) are mostly at 12 to 18 mm in size. Growth has continued to be rapid over the past two weeks, with many new leaves developing and a good amount of new terminal growth.
Most apple varieties have had a good amount of thinners applied in the last week, and to date the results appear to be fairly good. Thinning was even more challenging this season than most years due to the inconsistency of bloom from tree to tree. Some trees have too much fruit, while neighboring trees have little to no fruit. Overall, most growers have good fruit set at this time. Looking over the entire region, there are three or four varieties that have short crop; Honeycrisp, Crispin or Mutsu and Northern Spy, and some Golden Delicious and Golden strains.
Insect pest pressure has continued to pick up again this week. A new apple pest to report this week is the first sightings of tarnished plant bug adults and damage. Last week I had the first catches of codling moths in traps, with some growers biofixing late last week to early this week. If I had to set a regional biofix date it would be May 31. I am seeing more plum curculio adults and damage this week in apples and other tree fruit crops. Two weeks ago I reported the start of San Jose scale male trap catch, their numbers are dropping back now. I continue to see a few green apple aphids and potato leafhopper adults. Higher numbers of oriental fruit moth adults are being caught in traps in apples and other tree fruits. A few obliquebanded leafroller larvae continue to be found in apple terminals at most farms. I expect to find the first signs of wooly apple aphids in the next week. I found a few green lacewing adults in apples yesterday; this is the first of the beneficials I have found this season.
I received rain showers on Sunday, June 2, at my apple scab spore trapping location, with no spores being found on spore rods. Thus, I called an end to primary apple scab for the season. A few apple scab lesions continue to be found on leaves. Lesions were first seen on leaves on May 17 and 18. Many apple growers have had two to five more apple scab wetting events in the past week, with most growers having two to four infection periods. This has been a tough apple scab season.
No fire blight strikes have been seen yet this season. There has been some streptomycin burn showing up on more sensitive varieties. Most apple growers have applied four to five fire blight control sprays this season. Ragtag bloom has ended in most apple blocks. I confirmed powdery mildew infected branches in a few apple blocks late last week.
Pears are at 12 to 14 mm in size. Pear psylla adult flight continues.
Peaches are mostly at late shuck split to 10 to 12 mm in size. A few green peach aphids started to be found yesterday. Peach leaf curl symptoms are very common this season at many orchards.
Sweet cherries are at 10 to 13 mm in size for the largest fruits, they are at pit hardening. A few growers had hail damage in both sweet and tart cherries from thunderstorms on Saturday afternoon. Most growers have a good crop of sweets coming along.
Tart cherries are at 8 to 12 mm in size for the largest fruits. A few growers had hail damage in both sweet and tart cherries from thunderstorms on Saturday afternoon.
Plums are at 9 to 10 mm in diameter European varieties and Japanese varieties are at 11 to 12 mm in diameter. Many Japanese varieties have seen excessive fruit drop in the past week.
Small fruits
Strawberry bloom continues at most farms across the region. There are a good number of thimble and larger-sized berries in many varieties. Leaf growth has continued to improve. A few growers saw close to frost-protecting low temperatures on Monday, June 3, in the morning. It will be late start of harvest this season. There are two new pests to report in strawberries this week, a few tarnished plant bugs and spittle bugs are being found. Last week I found a few flower petals that were fed on by strawberry clipper before the flower was open. Most growers have not been able to apply all of the cover sprays this season for gray mold control due to wet soils.
This Thursday afternoon, June 6, I have a preharvest strawberry meeting planned, look for an announcement with details in this week's MSUE News Fruit Digest.
Raspberry canes continue to emerge from the soil for both summer and fall raspberries, most summer raspberries have newly emerging canes that are 18 to 24" long and fall raspberries have the longest canes approaching 15 to 20" in length. Summer raspberries have flower buds that opened late last week. Fall bearing blackberries have been very slow to emerge from the ground this season. Some of this might be due to winter injury.
Blueberries are at late bloom to fruit set for Jersey.
Saskatoons are at 6 to 7 mm in size, with a nice crop coming along this season.
Grapes are at early shoot growth to prebloom, most have 12 to 15" of new growth.