East Michigan vegetable update – July 24, 2019
Main season vegetable harvests are starting to pick up and stands are open for business.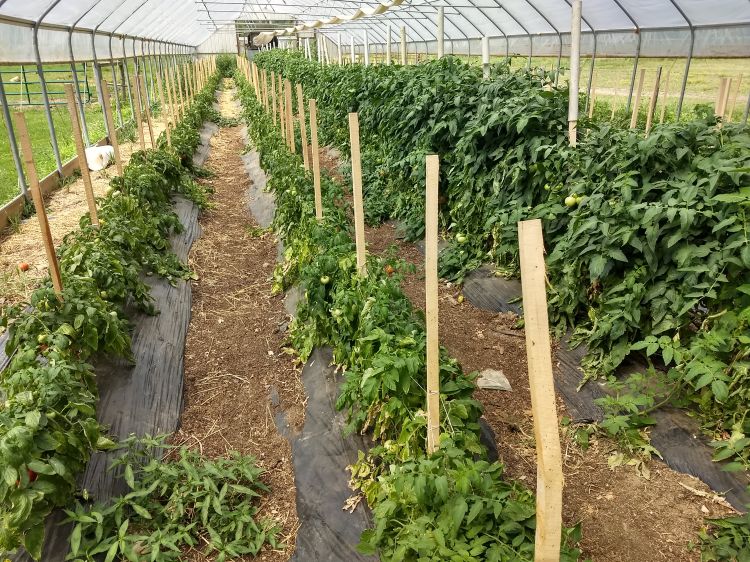 Weather
Over the last few years I have been called out to help diagnose what might be freeze damage or herbicide drift on vegetables. One factor that can help diagnose freeze damage and herbicide drifts are temperature inversions. Sometimes these can be seen as fog or smoke ceilings. Other times they are invisible and can only be measured with a thermometer placed at ground level, and another one higher up.
Michigan State University Enviroweather has just outfitted seven weather stations with these paired thermometers in order to help track and log temperature inversions for your reference. Unfortunately, they are not a standard feature at every weather station, but perhaps more will be installed with time. If you think your area would benefit from this added measurement, contact your commodity groups and the MSU Enviroweather coordinator, Keith Mason (masonk@msu.edu), about funding one.
The inversion live-map is updated every 5 minutes. You can find the logged data at the Enviroweather Automated Weather Station Network page. For more information, read the MSU Extension article "Enviroweather stations detect low level inversions to help reduce pesticide drift."
Growers can also register with Driftwatch to help commercial applicators reference sensitive fields in proximity to their assigned treatment fields. They are required to survey neighboring fields or check a specialty crop registry. Growers who utilize custom application services have told me they have witnessed a high turnover of commercial applicators operating high-clearance sprayers. Not all of them are well-versed in the identification of sensitive specialty crops, and the turnover rate makes it hard to predict what a given operator knows, but the registry can help them.
Pollination
Last week's heat wave will probably manifest as a small harvest gap from flower abortions, fruit drop or uneven pollination due to heat stress and bees staying home to cool the hive. Impacted crops will be tomatoes, peppers, eggplants and all vine crops.
You can find more detailed weather information for your area by visiting the MSU Enviroweather station closest to you.
Here is a table that summarizes European corn borer activity, based on growing degree day (GDD) models. I used Lapeer as an example. I removed the seed and root maggot data because those pests are not much of a threat going forward.
Current degree days (Lapeer)

1,241 GDD

Overwintering generation start to emerge and lay eggs

450 GDD (occurred June 11)

Peak flight and egg laying of overwintering generation

700 GDD (occurred June 28)

Peak flight and egg laying of first generation

1,700 GDD

Peak flight and egg laying of second generation

2,450 GDD
Crops
Potatoes are being harvested. Late blight has been confirmed in potatoes in Wood County, Wisconsin, and spores are being trapped in a spore trap in Kent County, Ontario. The weather conditions present a medium risk (yellow pins) for late blight in Michigan and can be referenced on the Late Blight Disease Forecast map. Protectant fungicides, like Bravo or Mancozeb, should be applied on a weekly basis now. The strain of late blight is US23, which can be treated with mefenoxam (Ridomil) if disease pressure overcomes protectant fungicides.
In cole crops, the first plantings are being harvested this week and final plantings have been in the ground for about three weeks with a goal to be wrapped up by late July to draw down swede midge through late summer and fall. Other growers, delayed by the spring rains, were able to get their first transplantings in right around July 4.
Onion growers should be scouting for thrips. If the population has crept up on you, Radiant is the best product for trying to reign in a runaway infestation.
Sweet corn is being picked in Bay County in low volumes that sell out quick. Some lodging occurred from the weekend storm system. Earworms were caught in Tuscola County traps at less than 10 moths per night during a migration on July 18 and 19. Remember to be thankful that earworms do not overwinter here. They must be blown in on the weather. This migration can be seen at Insect Forecast, which uses standard forecasting tools to anticipate insect movement. Sprays should begin on corn with green silks at a five- to seven-day interval, or until another weather event deposits moths from the south.
Once the population reaches 50 or more moths per night, the spray schedule tightens to three days. This is because the moths lay their eggs on fresh green silks and the silks grow fast. Once a spray has been applied to a half inch of green silk, another 1 inch of silk grows out and is unprotected. Once the silks are totally brown, earworm moths are not interested in laying eggs on them. The second flight of European corn borer is predicted to begin this week. So, there is more than one worm to consider spraying for.
Peas are being harvested. Beans that are flowering are at risk of white mold with current weather conditions.
Pickling cucumber machine harvest has begun. Downy mildew has not been found yet in Michigan. The most recent reports are from New Jersey.
Melons are being harvested in Bay County, with watermelons not far off.
Pumpkins and winter squash are just starting to vine out on some farms, and sidedressings are being incorporated with a final cultivation pass. I have gotten a lot of questions about herbicides for pumpkins. I have seen both squash bugs and squash vine borer out and about in low numbers. Summer squashes are being harvested. One grower has reported seeing powdery mildew and has started his control program for that pathogen.
Hoophouse tomatoes are still being harvested and field tomatoes are just picking up. I had the opportunity to attend the International Symposium on Vegetable Grafting last week and learned about some of the uses of that technique for Michigan growers. In particular, I think there is a lot of potential value for hoophouse growers who are planting tomatoes in the soil every year. The buildup of salts and soil diseases will limit yield after a few years.
There are about 70 rootstocks on the market now that can be used to make plants more resistant to those soil pressures and can increase yields. Foliar disease resistance is not necessarily improved with grafting, and I can see situations where it could be worse large vigorous plants and high humidity. There was a lot to cover, and I will summarize what I learned in another article sometime!
Strawberry picking continues in Tuscola County with a very late June-bearing variety called Malwinda. The grower is experimenting with another variety, called Dickens, to bridge the gap between Jewel, AC Valley Sunset and Malwinda.
Get-togethers
The 2019 MSU Agriculture Innovation Day on July 26 will feature a theme of "Focus on Precision Technology That Pays," where experts will detail how implementing technology that aids in decision-making can improve yields, increase profit margins and reduce environmental impacts. The free event, which runs from 8:30 a.m. to 5 p.m., features nine field-based sessions focused on specific issues and includes lunch. Meet us at MSU Farms, 3750 College Rd, Lansing, MI 48910!
It is never too early to make accommodations to attend the Great Lakes Fruit, Vegetable and Greenhouse Growers EXPO, Dec. 10-12 in Grand Rapids, Michigan. Hotel blocks are open and tend to go fast. The combination of grower-focused, research-backed presentations and an exhibit hall featuring a diverse set of vendors make it a can't-miss event.
Please contact me at phill406@msu.edu or 616-901-7513 with questions or concerns or to schedule a farm visit. You can also send plant materials to MSU Diagnostic Services.