East Michigan vegetable update – July 8, 2020
Dry weather is showing its effects on some crops.
Weather
A few growers got some popup rain yesterday, but there is a better chance of widespread rain Friday, July 10, through Monday, along with more seasonable temperatures. Next week is expected to get back into the 90s.
You can find more detailed weather information for your area by visiting the Michigan State University Enviroweather station closest to you:
Here is a table that summarizes European corn borer activity, based on growing degree day models. I used Lapeer as an example. I removed the seed and root maggot data because those pests are not much of a threat going forward.
| | |
| --- | --- |
| Current degree days (Lapeer) | 1062 |
| Overwintering generation start to emerge and lay eggs | 450 (occurred June 11) |
| Peak flight and egg laying of overwintering generation | 700 (occurred June 28) |
| Peak flight and egg laying of first generation | 1,700 |
| Peak flight and egg laying of second generation | 2,450 |
Crops and pests
I can find thrips in pretty much every vegetable crop right now.
Pickling cucumbers are slated for first harvest next week. Slicers have been picked for a few weeks now. I found downy mildew on organic slicing cucumbers in Sanilac county last Friday, July 3. Time to ramp up preventative controls. I would recommend before the weekend chance of rain.
Zucchini picking is just getting going in a big way. I sent suspected virus and bacterial infections to the MSU Plant & Pest Diagnostics lab on Friday.
Sweet corn harvest has begun on one farm in Linden, Michigan. The next earliest that I am aware of is slated for next week. Corn earworm traps are catching one to two moths per night. This is under threshold.
Tomato picking in the field is not quite there yet. I am seeing Alternaria early blight in some plantings. Twospotted spider mites are being reported. These can be worse in edges and rows that get dusty.
Broccoli, cabbage and cauliflower harvest is underway. Plantings are in all stages. Broccoli heads are breaking up with the heat, with curd stems elongating unevenly. Kale is being picked too. One kale planting in Genesee County has been picked down and forgotten about and swede midges have moved in. This is not good. Timely crop destruction is super important for preventing this pest from taking hold. Especially in organic systems.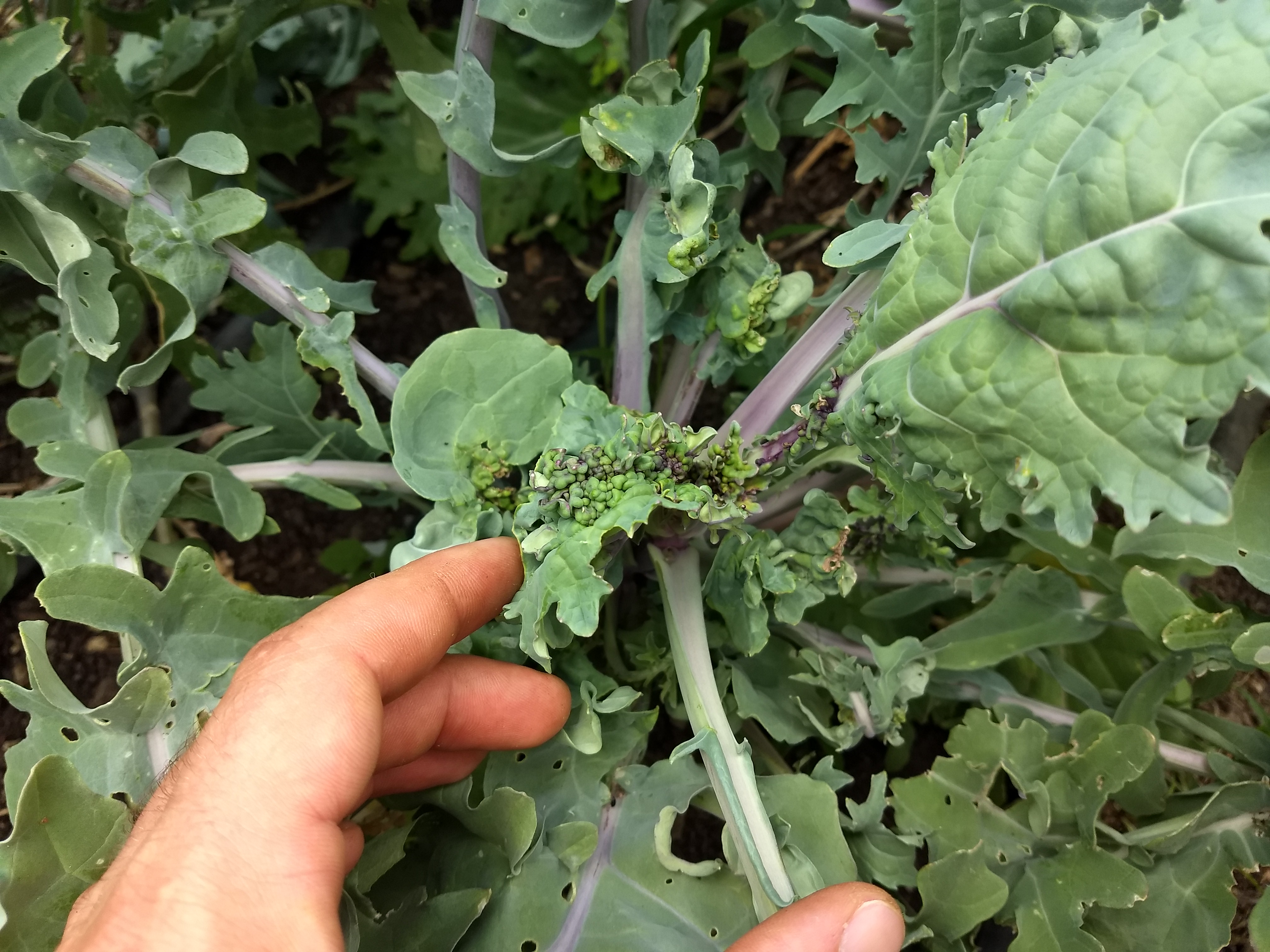 Beans are being picked. Potatoes are getting close to harvest for "new" fresh market potatoes. In both crops, hopper burn can be found from potato leafhoppers.
Deer and groundhog damage is especially high across farms this last few weeks.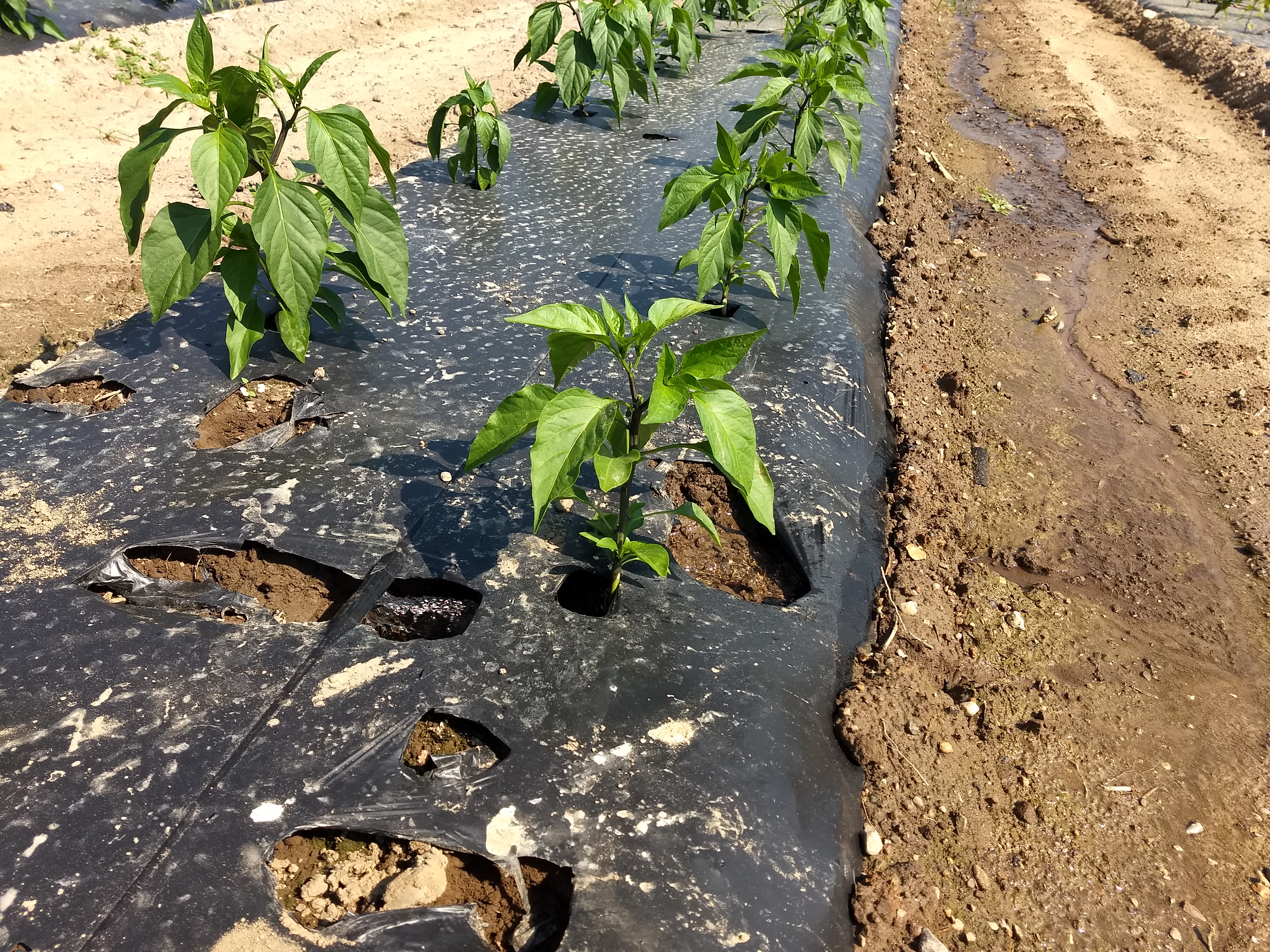 I was convinced that all sweet onion transplants were trash this year until I came upon an organic four-row bed, irrigated plasticulture planting last week. What a sight for sore eyes.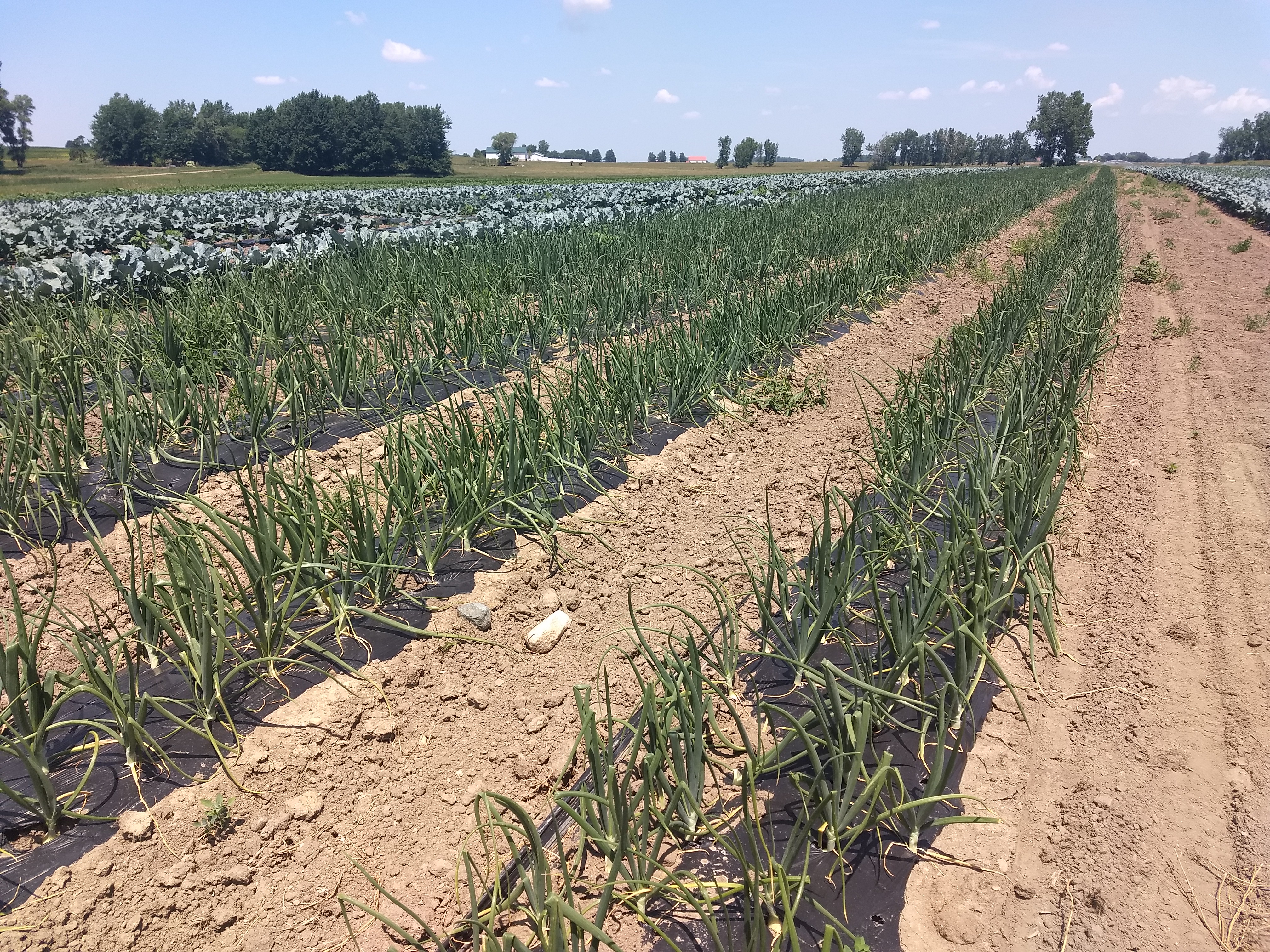 Heat stress, heat stress and more heat stress
Most of the questions I'm getting right now seem to be rooted from heat and moisture stress. Most of the problems are on black plastic beds with small or young transplants wilting away. Roots look fine but a constriction appears at about the level of the plastic layer that looks like someone pinched and crushed the stem. Some conversations among other extension people and growers in the region have centered on a "heat chimney" effect of the holes passing super-heated air from between the soil and the plastic and somehow causing this constriction or pinching.
The mechanism is not yet well understood. Is it wilting down the tissues of the stem like spinach in a pan? Why do the larger plants seem to withstand it? We are learning more about this phenomenon and hope to investigate it more with a trial at Forgotten Harvest farm this summer where we will transplant cabbage into white plastic and black plastic with a soil "seal" around the hole and without.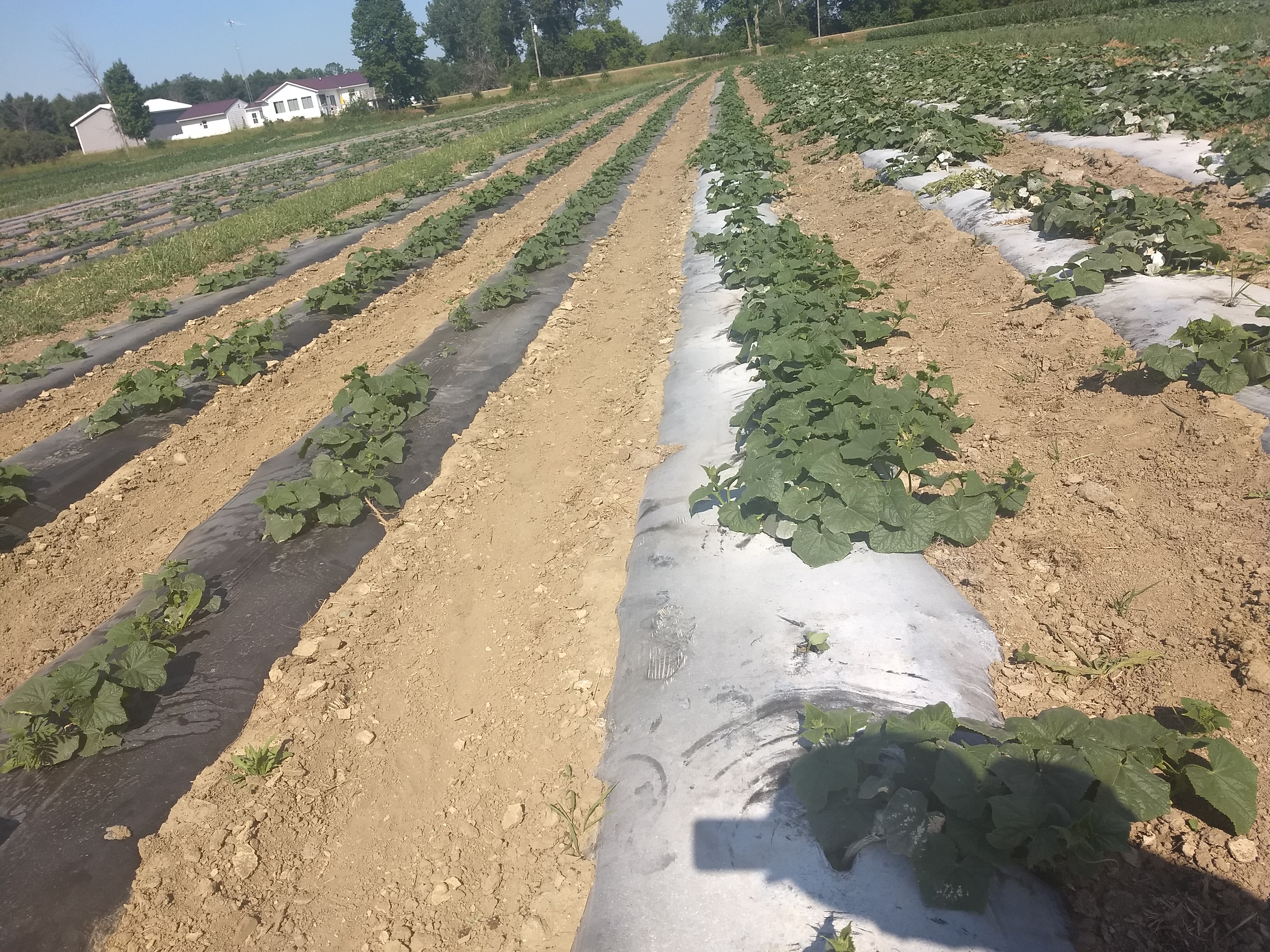 Great Lakes Vegetable Producer's Network
MSU Extension is participating in a live, weekly roundtable discussion during the growing season for commercial vegetable producers in the Great Lakes and Midwest region. Join us! We broadcast live via Zoom at 12:30 p.m. ET/11:30 a.m. CT every Wednesday from the first week of May to the first week of September. Listen live or later. If you have a pressing vegetable production issue that you would like discussed, simply email it, along with your phone number, to greatlakesvegwg@gmail.com.
Next week, July 15: Irrigation Setups for Vegetables
Held July 17 from 12-1 p.m. via Zoom, the goal of this program is to help farmers who do not have a good recordkeeping system in place but are not ready to buy an accounting software, or hate computers, or love spreadsheets. Want to take the next step beyond keeping records in a shoebox and get your records straight using something like the farm records book in preparation for the next tax season? Then register for this program at: Prepare Your Farm For Tax Season Now - Online Workshop.
Please contact me at phill406@msu.edu or 616-901-7513 with questions, concerns, or to schedule a farm visit. You can also send plant materials to MSU Plant & Pest Diagnostics.