East Michigan vegetable update – June 17, 2020
High temperatures and transpiration rates could stress plants this week.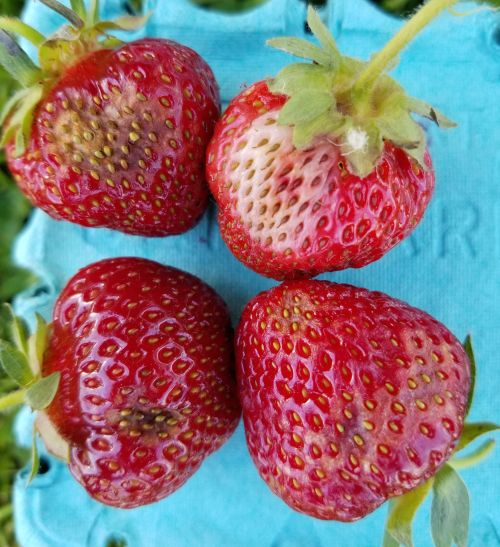 Weather
The hot and dry weather this week is likely to cause some moisture stress in unirrigated vegetable crops. The evapotranspiration rate (amount of water leaving plants through their leaves) is about 1.5-1.75 inches per week. Normally, we irrigate to match this. However, shorting the number of inches of water we deliver per week to be a little under the evapotranspiration rate early in the season is one technique to guide plants to seek soil moisture at deeper levels and grow a nice, big root system that will require less water later.
Going into Saturday nighttime, June 20, humidity will be over 90% and temperatures will be in the 70s. Great disease conditions! By next week we are expected to cool down and have more chances of rain. We may get 0.5 inches between now and next week over the weekend.
You can find more detailed weather information for your area by visiting the Michigan State University Enviroweather station closest to you:
Here is a table that summarizes seed and root maggots and European corn borer activity, based on growing degree day models. I used Lapeer as an example. The onion maggot model is from NEWA.
| | | | | |
| --- | --- | --- | --- | --- |
| Current degree days (Lapeer) | 1,206 | 1,114 | 990 | 600 |
| Overwintering generation start to emerge and lay eggs | 201 (occurred April 10) | 390 (occurred May 18) | 298 (occurred May 13) | 450 (occurred June 6) |
| Peak flight and egg laying of overwintering generation | 342 (occurred May 1) | 735 (occurred June 1) | 565 (occurred May 27) | 700 (predicted for this week) |
| Peak flight and egg laying of first generation | 1,235 (occurred June 15) | 1,752 | 1,476 | 1,700 |
Pest updates
Nutsedge is already regrowing following Dual Magnum applications applied a few weeks ago. In vine crops, Sandea (halosulfuron) is a post-emergent herbicide that can help with nutsedge, but it will set your vine crops back a bit and is best applied if you can direct it between the rows.
Cucurbit downy mildew has been detected in spore traps in southwest Michigan at low levels. This is pretty early. No field symptoms have been found yet. If you click the link above, and then click on "Spore trapping results 2020" this will open a PDF showing the trapping results at five locations. "P. cu" is the downy mildew that infects cucurbits.
Late blight risk in potatoes and tomatoes is low to moderate right now.
Leather rot caused by Phytophthora and anthracnose caused by Colletotrichum are both showing up in strawberries right now after last week's rains and warm and humid conditions. These symptoms show up on fruit as they begin to ripen and soften. Straw mulch helps reduce soil splashing that spreads these diseases.
If your mulch blew away last week from the remnants of Cristobal, the next best thing to do is to avoid touching those fruit while picking so you don't spread it around. It is hard to tell if there is a spot on the back side of a berry as it is being picked. Try to pick rows or areas with these berries last if you can. Either method is a challenge in u-pick markets.
There are several fungicides that work well on both pathogens, with a zero-day preharvest interval (PHI) and 12-hour restricted entry interval (REI), including Cabrio (pyraclostrobin), Inspire Super (difenoconazole plus cyprodinil), Quadris Top (azoxystrobin plus difenoconazole) and Quilt Xcel (azoxystrobin plus propiconazole).
True armyworms and climbing cutworms are being reported on the west side of the state. Most vegetable crops can tolerate upwards of 40% infestation from these insects without treatment.
Tomato spotted wilt virus (TSWV) has been showing up in tomato and pepper transplants that were sent to Michigan State University Plant & Pest Diagnostics Laboratory over the last couple weeks. This is absolutely a greenhouse management problem when vegetables are grown under or near flowers that are brought in as cuttings with thrips as free-loading insects that transfer the virus to vegetables. It happens every year, and it absolutely kills the yield potential of tomatoes and peppers. The plants will never outgrow it or perform well after transplanting. However, the risk of spread to other plants in the field is low, and a small percentage of infected plants could be left or replaced without much risk to healthy plants around them.
Gray mold caused by Botrytis is showing up in hoop houses with tightly spaced vegetables.
Leafminer damage is starting to show up on transplanted spinach, chard and beet.
Crops
The earliest cole crops are just now forming small heads.
Sweet corn from early plantings are about shin high. More plantings are continuing.
Zucchini and cucumbers grown under low tunnels and hoop houses are being harvested. Field-planted crops are still going in.
Pumpkins are still going in. I've gotten a lot of questions about "what is too late?" In our area, a good rule of thumb for a last plant date is July 4 for seeding and July 11 for transplanting.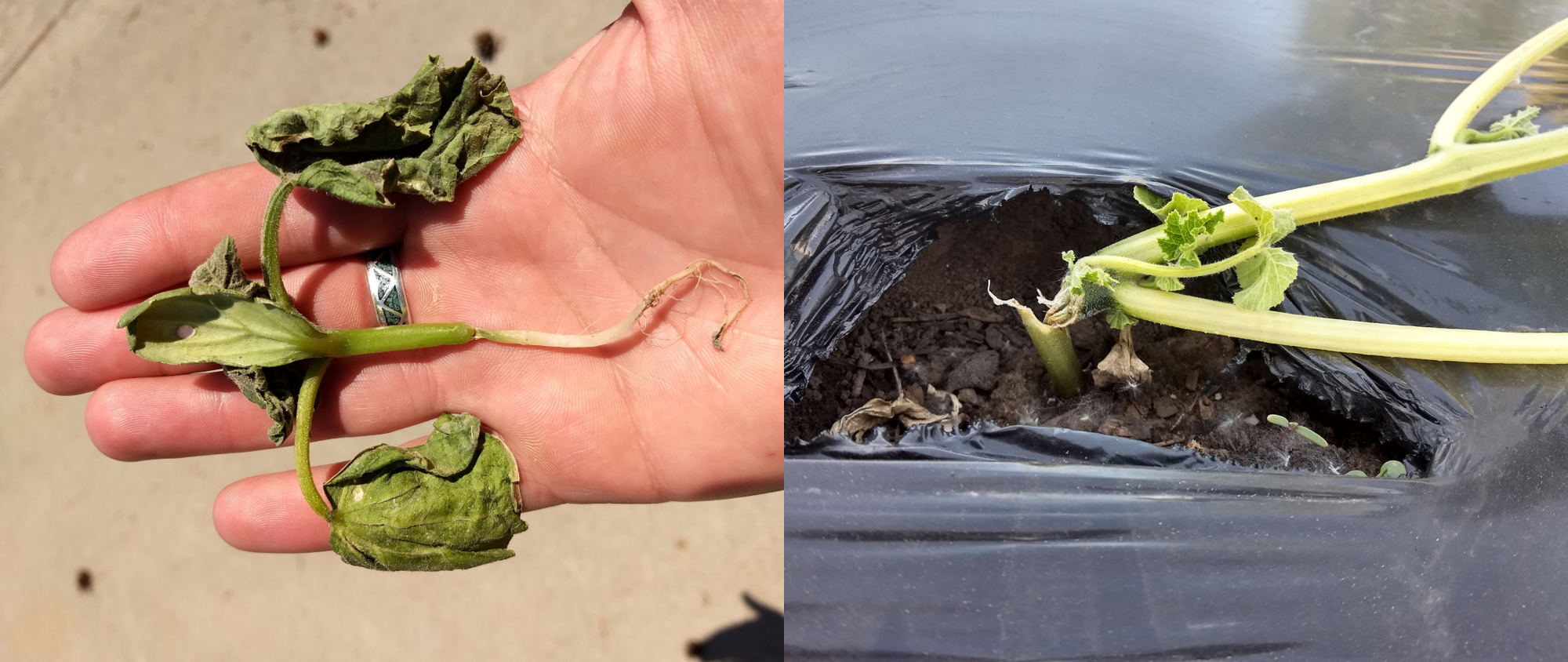 Potatoes are in many stages of growth. Some growers are going to plant this week and others were in full flower with in-row canopies closed and last hilling completed.
Asparagus picking is strong right now.
Strawberries are on the brink of full swing. U-pick operations are maxing out their picking reservations faster than tickets for an Eagles reunion tour.
Drift
A new series of fact sheets on dicamba and 2,4-D drift is now available online. Written for specialty crop growers and funded through the North Central Integrated Pest Management Center, the series provides detailed information on steps a grower can take to prevent and prepare for drift damage as well as tips on documenting and reacting to damage.
Great Lakes Vegetable Producer's Network
MSU Extension is participating in a live, weekly roundtable discussion during the growing season for commercial vegetable producers in the Great Lakes and Midwest region. Join us! We broadcast live via Zoom at 12:30 p.m. ET/11:30 a.m. CT every Wednesday from the first week of May to the first week of September. Listen live or later. If you have a pressing vegetable production issue that you would like discussed, simply email it, along with your phone number, to greatlakesvegwg@gmail.com.
Next week, June 24: Powdery mildew blues
Please contact me at phill406@msu.edu or 616-901-7513 with questions, concerns, or to schedule a farm visit. You can also send plant materials to MSU Plant & Pest Diagnostics.