East Michigan vegetable update – May 6, 2020
Planting continues and a freeze threat looms for emerged and transplanted crops.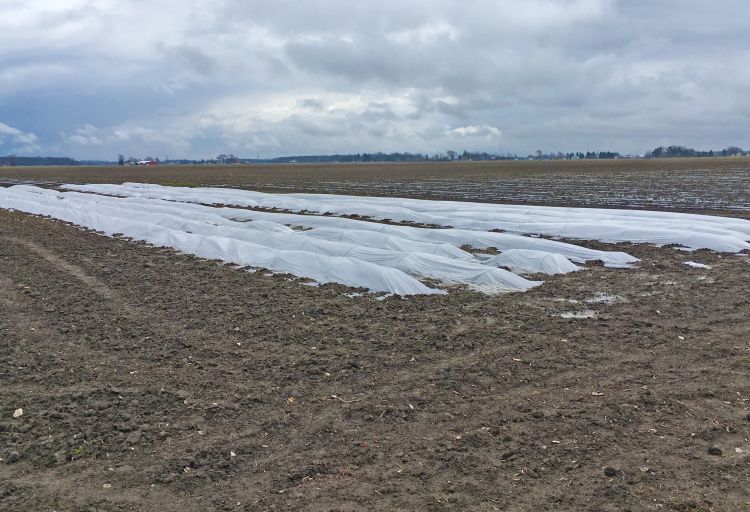 Weather
There are freezing temperatures in the forecast on four of the next five days with the lowest temperature forecasted to be in the mid-20s Friday night, May 8, into Saturday morning, along with 8-10 mile per hour winds. It does not look like it will create frost. The accumulation of frost on leaf surfaces is usually less damaging than no frost at all. The wind can make it worse and low places that gather cold air. So, damage may occur on some emerged crops.
In the range of options for preparing for a freeze event, wetting the rows a day in advance sounds like the easiest. Especially if you have already got the tape or sprinklers set up. Basically, you make a heat battery at the base of your plants that stores and radiates heat accumulated from the sun overnight. This will not work on freshly disturbed soil. So, do not cultivate around plants you wish to protect this way.
There is no rain in the forecast, so you will need to add the water yourself. Water to saturation the morning before an expected frost to allow the sun to warm the moistened soil for an entire day. The temperature of a wet and packed soil can be 1 to 5 degrees Fahrenheit higher than a dry soil all through the night and into the next morning if it is not too windy.
Other methods to protect freeze-sensitive plants are more labor intensive. For just one night of protection single and multi-row fabric covers and straw mulch can be a headache.
Overhead irrigation is another option to coat plants in a water, which then freezes. The process of freezing actually generates a small amount of heat, which protects the plant. This method requires water application at the point of freezing until it ends. So, you will be up at the pump in the early morning and timing it manually.
You can find more detailed weather information for your area by visiting the Michigan State University Enviroweather station closest to you:
Here is a table that summarizes some of our overwintering insect activity based on growing degree day accumulations after March 1 using the Lapeer Enviroweather station. The onion maggot model is from NEWA with different calculation methods starting Jan. 1.
| | | | | |
| --- | --- | --- | --- | --- |
| Current degree days (Lapeer) | 404 | 290 | 272 | 118 |
| Overwintering generation start to emerge and lay eggs | 200 (occurred April 10) | 390 | 300 (probably by May 12) | 450 |
| Peak flight and egg laying of overwintering generation | 342 | 735 | 565 | 700 |
| Peak flight and egg laying of first generation | 1,234 | 1,752 | 1,476 | 1,700 |
| Peak flight and egg laying of second generation | - | 2,975 | 2,652 | 2,450 |
Markets
While I can't travel for work, I can travel for personal shopping. One market visit this week impressed me with their conversion to directed traffic, plexiglass screening for their cash register staff, credit card sanitation and curbside service orders over the phone. I have seen other's posting pictures and customer communication on Facebook. Keep that up!
How to send a plant disease sample
I had a grower send a disease sample to MSU Plant & Pest Diagnostics last week and was not clear about how to do that. They were individual leaves plucked and stuffed into a soil sample paper bag. They dried out and crumbled to ash on the way. This wastes about a week of time to get the problem diagnosed. So, let me be clear here.
Take as much of the plant as possible. If the leaf, fruit or root is symptomatic, take as much of the stem as possible along with it and leave it all attached. This preserves some of the plant's shipping life. Just like leaving some of the stem and leaves on cauliflower at market!
Put that sample into a plastic bag and add some paper. The plastic stops it from drying out and the paper absorbs any moisture seepage from pooling where the plant might sit and stew in while in-transit.
Box that up and send it, but not on a Friday. It is OK if it's not refrigerated, but if it's sent on a Friday it will sit somewhere longer and might benefit from insulated packaging and some ice.
Drift
I received a call from a hoop house grower who was drawn from his home by an overpowering smell. His neighbor was using Barrage HF "low volatile herbicide" to kill his alfalfa field for a new crop and the wind was blowing it right at his hoop house. This is 2,4-D and tomatoes are very sensitive to it. Unfortunately, Barrage is an ester formulation of 2,4-D and is the most volatile version, despite what marketing materials will say.
A study by Sosnoskie et. al in 2015 showed that of the 2,4-D formulations out there, choline is the least volatile, followed by amine, then ester. The figure below shows how drifty it is. Amine and choline formulations injured less than 5% of sentinel cotton plants at any distance, but ester formulations needed to be up to 48 meters (157 feet) away before injury levels were below 5%. The researchers also placed potted cotton plants under plastic tunnels in the field that was sprayed for 48 hours. Plants in fields sprayed with ester formulations were up to 76% damaged, compared to around 13% in amine fields and less than 5% in choline fields.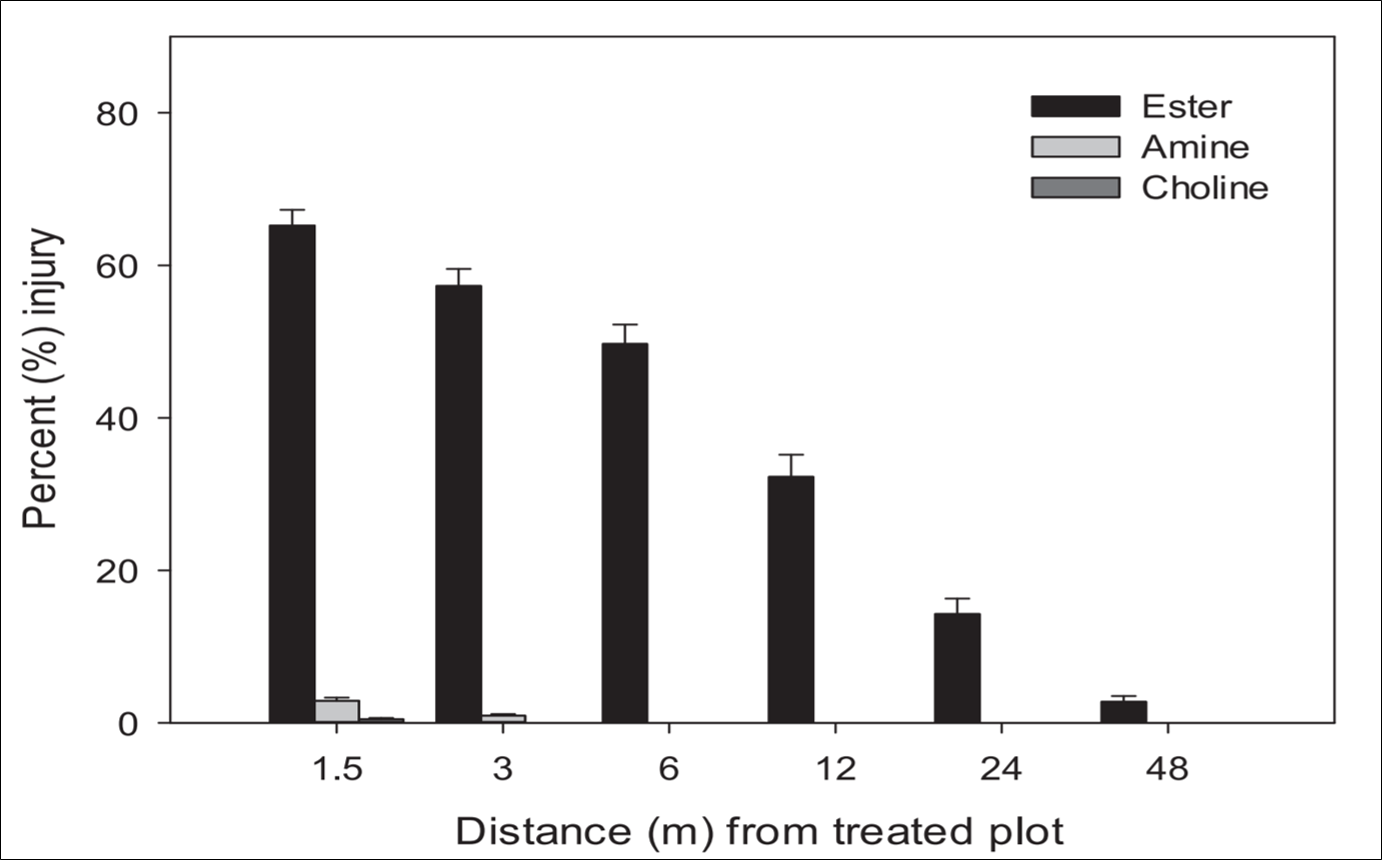 I know it's not a popular option to call in the Michigan Department of Agriculture and Rural Development (MDARD) pesticide inspector, but the mainline for filing complaints is 1-800-292-3939. If you have any inclination to make a complaint, it should be filed promptly. Responding to damage weeks later or yield losses months after the application is not likely to give an inspector much to go on. They need chemical testing of residues as evidence of a drift, and those traces go away eventually.
Vegetable crops
Rhubarb indoor harvest is wrapping up and outdoor growth is around 8 inches.
Sweet corn was going in this week without protection. Some protected seedings have been up for a few weeks, but their covers are still on. Seedcorn maggot has reached the developmental stage for egglaying.
Tomatoes have been going into field rows under row cover protection in the Saginaw, Michigan, area.
Peppers are in the ground in some hoop houses. I received a report of an aphid outbreak in one. There are a few options for greenhouse use pesticides, but also biological controls. Azadirachtin (AzaGuard) and Beauvaria bassiana (BotaniGuard) together work well. Beauvaria is a fungus that attacks insects, but it takes a while to infest them and they can shed the spores during a normal molting process as they grow. Azadirachtin, among other things, is an insect growth regulator that prevents molting, which can kill insects by itself. However, used together this combines two modes of action and works better.
For a biological control approach to aphids in the greenhouse, a mixture of two parasitoid wasps or one parasitoid wasp and a predator is a good idea. For predators, consider purchasing and releasing the predatory midge Aphidoletes aphidimyza, lady beetles Adalia bipunctata and Hippodamia convergens, and lacewings Chrysopa carnea and Chrysoperla ryfilabris. For parasitoids, consider co-releasing Aphidius colemani and Aphidius ervi. Avoid insecticides when deploying natural enemies.
Radish and turnips are going in.
Parsley, dill and cilantro has been planted in some areas.
Transplant sales have been through the roof at some retailers. One retailer reported that their customers are buying flats of ungerminated plants because the two to four leaf product is selling out so fast.
Great Lakes Vegetable Producer's Network
MSU Extension is participating in a live, weekly roundtable discussion during the growing season for commercial vegetable producers in the Great Lakes and Midwest region. Join us! We broadcast live via Zoom at 12:30 p.m. ET/11:30 a.m. CT every Wednesday from the first week of May to the first week of September. You must register to be a part of the live audience. If you have a pressing vegetable production issue that you would like discussed, simply email it, along with your phone number, to greatlakesvegwg@gmail.com.
On-tap for next week, May 13: seedbed preparation plus keeping transplants healthy.
Please contact me at phill406@msu.edu or 616-901-7513 with questions, concerns, or to schedule a farm visit. You can also send plant materials to MSU Plant & Pest Diagnostics.