Entomology student catches serious teaching bug, now Olivet dean and provost
Learn more about how a former MSU student, now Olivet College dean, Maria Davis, flourished under the direction of MSU entomology professor Dave Smitley.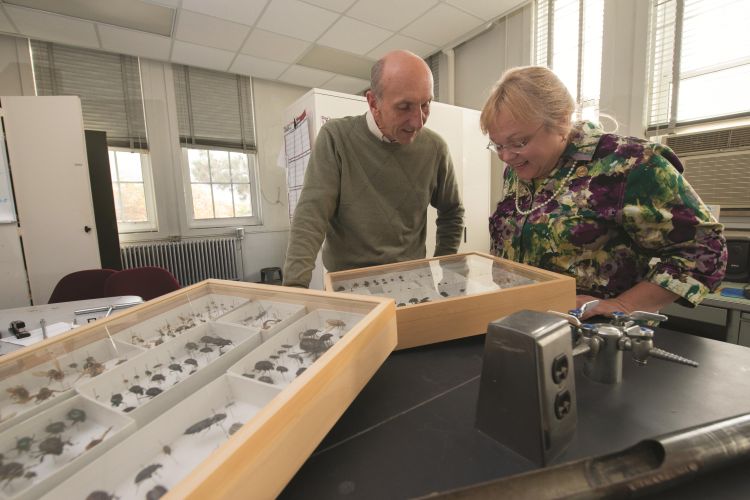 When Maria Davis stepped in to guest lecture for his turfgrass entomology class, Michigan State University (MSU) professor Dave Smitley quickly realized his young protégé had a special gift for teaching.

"The students liked her lecture better than they did mine," said Smitley, who was a new professor at the time. "Maria was a graduate student, and it was one of the first classes she ever taught. I watched what she did and I learned some things. I knew right then that she was going to be a great teacher."
His prognostication was spot on — Davis has had an impressive career in academia, including a 16-year stint as a popular professor at Olivet College. In 2011, she was named dean and provost of the private, four-year liberal arts institution. Despite overseeing a faculty of 92 and a student body of 1,156, Davis remains a teacher at heart.
"I miss teaching very much, but I feel like I still do teaching in terms of working with my faculty colleagues and learning new things every day," she said. "I still get to do some of that — just not in the classroom anymore."
It was Davis' fascination with insects that morphed into much more under the careful guidance of Smitley, her doctoral academic adviser.
"She was a good researcher, but she had even more talent in teaching," said the MSU AgBioResearch scientist. "I just made sure she had plenty of opportunities to get teaching experience, and she took right off."
Davis, who taught in MSU Lyman Briggs College while working on her doctorate, said Smitley made some sacrifices in his research to help her develop into a promising teacher.
"Clearly, what Dave did for me was to hear what my dreams and aspirations were and then help me to fulfill them," she said. "He mentored me in my Ph.D. research, but beyond that, he allowed me to explore teaching and that's no small thing. Teaching takes time away from the research."
But Davis' unique approach in the classroom couldn't be ignored. At a time when most professors spent an hour or longer lecturing in front of a class, Smitley recalls how Davis was utilizing small groups and encouraging dialogue.
The mentor-mentee experience with Smitley helped Davis excel professionally, but it also played a pivotal role in her personal life. It was in Smitley's entomology lab where she met her future husband, Terry. The two began dating, but kept their romance a secret from Smitley until their engagement.
"It's kind of funny because we were worried how Dave would take it, so we didn't tell him we were dating," she said. "Eventually we made an appointment to go into his office and tell him that we were going to get married. He looked rather shocked and announced that he kind of felt sorry for us. I don't know what that meant, but we laugh about that until this day."
Smitley clarifies that he was 'sorry' because they believed it necessary to keep their relationship from him. This year marks the couple's 25th wedding anniversary. Terry continues to work with Smitley as a lab technician, which keeps the line of communication open between mentor and mentee today.
"With my husband continuing to work for him, I sort of feel like Dave and I have this 'transferal
connection,'" she said. "I always know what's going on in his life, and he knows what's going on in
mine."
Reflecting on the guidance that Smitley provided, Davis said one of the most important lessons
was his individual approach to each student.
"I think what we share is our approach to teaching and the philosophy that there is no set
mold that a student is going to be in," she said. "You have to think of that person, their goals and their aspirations. That's something Dave did with me and that I try to do with my students. The attention to the individual has led me to be a very successful instructor and to where I am now in terms of
my leadership. I consider myself very much a servant leader meaning that the people I serve are important to me."
Davis recalls how Smitley's kind, welcoming demeanor became apparent in their initial meeting. She had driven from her home in Ohio to MSU. Her mother, an intensive care unit nurse who had just worked the night shift, tagged along to ensure that her daughter made it safely on her journey. Upon arrival at the school, Davis went in for her interview and her mother napped.
"I left her sleeping in the car, and I'll never forget when Dave said, 'Oh, your mom is here, I'd like to meet her.' So we went outside and there was my mom sleeping with her feet out the window. She was so embarrassed. But that is the kind of person Dave is — he's very personable and genuinely wants to get to know all of his students."
Although it may not have been the ideal start for many relationships, it was the perfect beginning to theirs. From that moment, Davis knew Smitley was the adviser for her.
"He seems to have a very peaceful center and is able to keep his focus, and I struggle with that a bit," she said. "Watching him go through some very difficult things in his life and seeing how he stayed tranquil and centered was an important lesson for me — the need to keep the calm through the storm."
Despite an innate calmness, Davis said Smitley was quite persistent when it came to her research project on chinch bugs and residential lawns.
"He always pushed me sometimes to the point when I'd say, 'Come on already — do I really have to do that experiment? Haven't I already done enough?'" she said. "Constantly pushing at me and saying, 'How do you know, how do you know?' I think that's the job of a good scientist — always pushing the limit and emphasizing the need for good data, testing it, and hoping to support our hypothesis. Always asking, 'Have we done enough to effectively test this hypothesis?'"
Today, Davis serves as an external member on a couple of MSU committees. She reflects fondly on her time working alongside Smitley.
"What a mentor does for a graduate student going through a program doesn't stop after graduation, it continues on," she said. "For good or ill, that's an influence that continues on. It doesn't stop at that one person. "At least 10 of my students from Olivet have gone back to Dave's lab for summer projects," Davis added. "Through his lab, he has mentored some of my students and he has just kept giving back. So if I am his academic child, those are his academic grandchildren."
Through this pairing, the mentor lineage certainly continues strong.
"My life is really about mentoring others," Davis said. "I'm a mentor of students, of colleagues, and now of my faculty and other employees. It really is the framework from upon which I have built my life."