Enviro-weather shows promise for growers of all kinds
A 2011 survey of 1,000 fruit growers indicates that Enviro-weather helped to save at least $1.7 million in grower costs. Growers surveyed also indicated an estimated 7 million pounds in increased crop yield.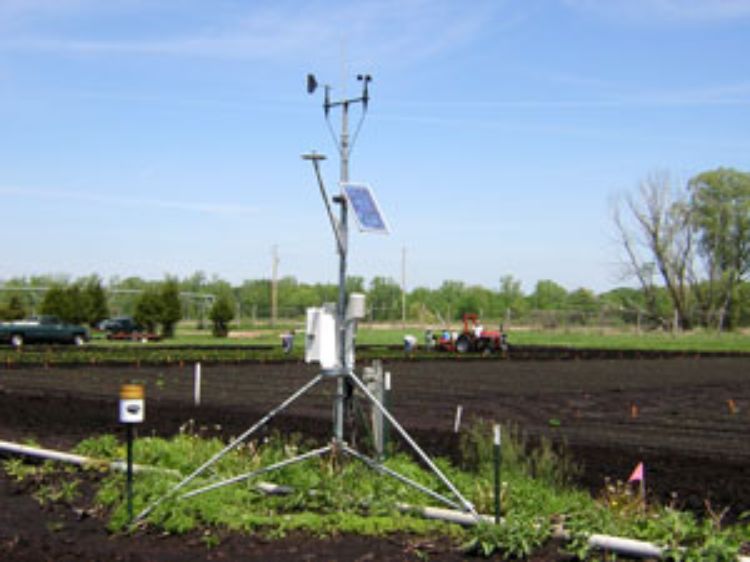 Contact:
Jeff Andresen, Dept. of Geography, 517-432-4756
Beth Bishop, Dept. of Entomology, 517-432-6520
Holly Whetstone, AgBioResearch communications, 517-355-0123

EAST LANSING, Mich. -- Use of the online Enviro-weather information system, driven by a comprehensive network of more than 70 weather stations across Michigan and designed to assist agricultural production, is resulting in reduced pesticide use, increased crop yields and improved crop quality.
A 2011 survey of 1,000 fruit growers indicates that Enviro-weather helped to save at least $1.7 million in grower costs. Savings were largely due to fewer pesticide applications throughout the season. Growers surveyed also indicated an estimated 7 million pounds in increased crop yield.
More than 70 percent of those growers attributed the increased produce quality to use of the Enviro-weather applications. The growers also said they used 50 percent fewer pesticide treatments (saving more than 300,000 pounds of pesticides) to control four major fruit pests.
Enviro-weather co-director Jeff Andresen said that, although the surveys were completed in 2011 by fruit growers, the results suggest potential savings for other crops grown in state as well.
"I believe that as soon as any grower uses Enviro-weather, he or she will see the potential it has for operations," said the MSU professor of geography. "We have over 50 weather-based applications that can be used, and it's just a matter of letting people know that this tool is out there and letting them know what it can do for them."
Data generated by the stations is collected, processed, archived and integrated into programs and applications designed to help Michigan growers with decisions about land and crop management. According to user surveys, Enviro-weather has enabled farmers to more accurately predict weather events, pest outbreaks and atmospheric trends.
The former Michigan Automated Weather Network was joined with the MSU Integrated Pest Management Program to form Enviro-weather in 2006 to broaden the resource use provided by both programs. Since its first full year of operation, Enviro-weather use has grown 500 percent.
In 2012, eight new weather stations were added to the system, thanks to funding from Michigan Sugar, Kalamazoo College, the Ruth Mott Foundation, the Michigan Potato Industry Commission and the U.S. Department of Agriculture and Rural Development (USDARD).
Spring and early summer are times when use is especially high -- the number of product requests can exceed 4,000 per day. During the 2012 calendar year, Enviro-weather data and products were accessed an average of about 1,500 times per day.
"Those numbers are constantly going up as more growers discover the program," Andresen said.
Data are generated from 72 stations across Michigan and six stations in Wisconsin.
"All the stations report detailed information for a number of weather variables. We also cross-reference with weather data and information provided by the National Weather Service, but Enviro-weather monitors variables that the NWS does not monitor routinely – most notably, soil temperature, volumetric soil moisture, leaf wetness and solar radiation," Andresen said.
"With some of our products, we also use forecast guidance data from the National Weather Service to provide estimates of what growers can expect in the future. We also utilize Weather Service operational data to help fill in any missing data or data gaps. Some of our models require complete data series to run properly, so our ability to estimate any missing data has helped us provide growers with better, more reliable products."
Funded in part by Project GREEEN (Generating Research and Extension to meet Economic and Environmental Needs), MSU Extension and MSU AgBioResearch, Enviro-weather was involved in more than 20 conferences, workshops, meetings and symposiums in 2012.
The grower survey was conducted by the Michigan field office of the National Agricultural Statistical Service (NASS) in collaboration with the MSU Center for Economic Analysis.
For more information on Enviro-weather or to subscribe, visit http://www.enviroweather.msu.edu/.
MSU AgBioResearch engages in innovative, leading-edge research that combines scientific expertise with practical experience to generate economic prosperity, sustain natural resources, and enhance the quality of life in Michigan, the nation and the world. It encompasses the work of more than 300 scientists in six MSU colleges -- Agriculture and Natural Resources, Communication Arts and Sciences, Engineering, Natural Science, Social Science and Veterinary Medicine -- and has a network of 13 research centers across the state.
Since its beginning, Michigan State University Extension (MSUE) has focused on bringing knowledge-based educational programs to the people of the state to improve lives and communities. Staff members, in concert with on-campus faculty members, serve Michigan citizens with programming in food and agriculture production, nutrition and food safety, community and natural resources development, youth development and renewable energy.
Project GREEEN , a partnership between MSU, the state's plant-based commodity groups and the Michigan Department of Natural Resources and Rural Development, has forged partnerships to set the standard for integrated research and information delivery to swiftly and efficiently solve grower and processor problems.