FCWG 2020-21 Learning Exchange Series Session: American Carbon Reforestation: The Need, The Challenges, and The Opportunities
In this webinar, Mike Smith of RenewWest and Chandler Van Voorhis of GreenTrees present "American Carbon Reforestation: The Need, The Challenges, and The Opportunities".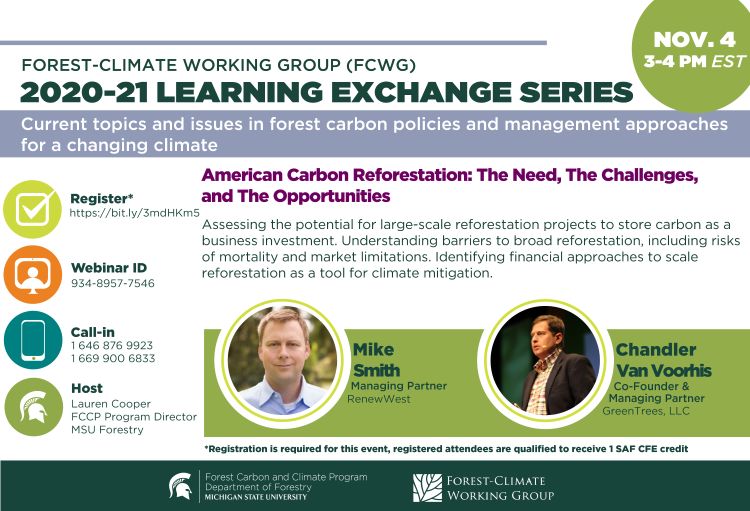 Title
American Carbon Reforestation: The Need, The Challenges, and The Opportunities
Speakers
Mike Smith founded RenewWest in 2015 to bring new capital to western forests. He is a featured expert for the U.S. Climate Alliance, the Colorado Forest Health Advisory Council, the Council of Western State Foresters, and others. Prior to RenewWest, Mike served as an officer in the United States Navy for over twelve years, primarily as a FA-18 pilot. Mike earned his BS from the U.S. Naval Academy in 2002, majoring in Systems Engineering, with a focus on Environmental Engineering and a minor-equivalent in Political Science.
Chandler Van Voorhis, widely acknowledged as a leading expert in the conservation and ecological markets, is the Co-Founder and Managing Partner of GreenTrees, an ACRE Investment Management (ACRE) subsidiary. In partnership with nearly 600 landowners, GreenTrees has over 130,000 acres of carbon reforestation and over 5 million metric tons of verified carbon credits. As a programmatic aggregator, GreenTrees landowners range in size from 7 to 1,700+ acres. The company is scaling its efforts in the Mississippi Delta to meet the demand for carbon removal tons. Chandler is the co-founder of ACRE, and its four subsidiaries, including Big River Nursery, Forest Green, GreenTrees, and Conservation+. ACRE and its subsidiaries have pledged 100m new trees to be planted over the next ten years. Prior to co-founding ACRE, Chandler was co-host of GreenWave Radio; a nationally syndicated radio talk show focused on the environment and business.

In 2002, Chandler and ACRE Co-Founder Carey Crane, were awarded the ChevronTexaco Conservation Award, the nation's most distinguished private conservation award. Chandler is former President of the Alliance for Environmental Education, an international non-profit that played a key role in getting environmental education in K-8 over the last 30 years. Currently, he serves on the advisory boards of IETA Natural Climate Solutions and RenewWest. He is also a member of the Outdoor Writers Association of America.
Description
Assessing the potential for large-scale reforestation projects to store carbon as a business investment. Understanding barriers to broad reforestation, including risks of mortality and market limitations. Identifying financial approaches to scale reforestation as a "carbon removal" technology.
Supplementary Materials
Recording