Featured Entomology undergraduate student Jessica Kalin
Interview with featured Entomology undergraduate student Jessica Kalin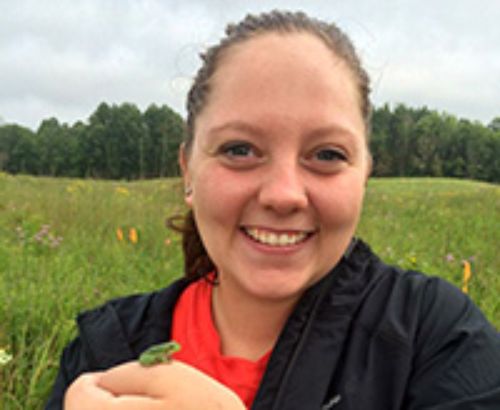 Name: Jessica Kalin
Hometown: Onsted, Michigan
Future study or career plans: Either working with Monarchs at the Kalamazoo Nature Center or going to graduate school to work with invasive species.
What is your major? Fisheries and Wildlife, with a concentration in wildlife biology and management. I'm earning a minor in entomology.
Why add a minor in entomology to your major? Honestly, it was a little late to change my major. But I thought it would be a good addition to my skill set.
Why study entomology? Why not? They're the most diverse group of animals on the planet! It's a very interdisciplinary field, so there's a lot to offer to prospective students.
What or who inspired your interest in entomology? My parents often encouraged me to be interested in nature and science. My earliest memory of being interested in entomology is getting a toy microscope for my birthday and pulling the wings off of flies to look at them!
What has been your best experience with entomology? My position in the Landis Lab has been one of the best opportunities of my undergraduate career. I've met so many wonderful people and been part of a lot of cool projects over the last few years. I actually look forward to going to work!
What is your opinion on entomophagy (eating insects)? I love it! I wish it was a more accepted practice in Western culture because it's a lot more sustainable than other farmed animals. Given the chance, I would definitely try it.
What is your favorite way to spend your time outside of your studies? I try to go camping or hiking as much as possible. I chose my field of study mostly because I love being outside. So even after a long week in the field, I'm probably spending my weekend lost in the woods.