First Impressions Tourism program yields positive results in Marine City
Coastal tourism successes achieved by community leadership taking action based on first-time visitor perspectives.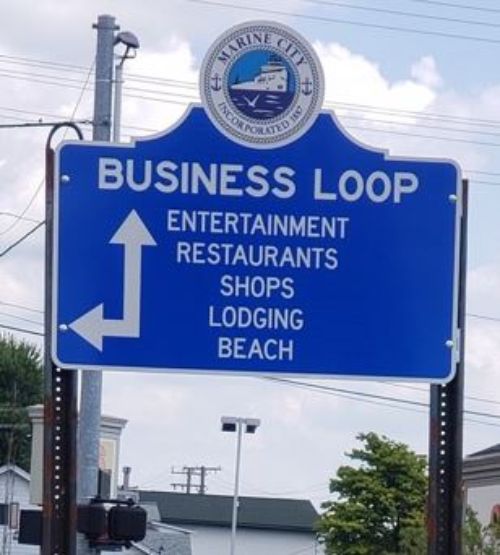 Marine City, MI successfully applied to be a First Impressions Tourism (FIT) recipient community in 2018. As a recipient, Marine City received a team of five outside visitors throughout the year who each assessed the community on various tourism factors. The results of the assessment were shared in a community forum during February 2019, which drew in nearly 60 participants from Marine City/St. Clair County. After receiving their results, the Marine City Community Leadership Team (CLT) was provided with a summary report. This consisted of a collection of presentation slides showcasing data extracted from nearly 80 pages of unedited visitor feedback, and a supplemental tourism report summarizing short-term rental and social media recommendations.
As with nearly all communities that complete FIT, Marine City made improvements based on visitor feedback almost immediately after the 2019 forum, using FIT data to validate several pre-FIT projects in need of community and political support to move forward.As part of the FIT program, MSU Extension Tourism Educators follow up with all communities to assess impacts and actions, typically within a year of completing the program. I followed up with the Marine City CLT in January 2020 with qualitative questions designed to assess everything from growth in leadership and external funding to a range of infrastructure and community improvements.
As a direct result of engaging in the FIT program, Marine City was able to make the following changes.
Launched an Economic Development Board
Chamber of Commerce expanded hours and moved locations
Unveiled eight public art mosaics in the downtown
Downtown business owners made donations to support lighting for the Marine City Lighthouse area.
Approved an ADA accessible kayak launch for at a city riverfront park
Funded a Downtown "Business Loop" marketing effort with signage.
Received $4,000 dollars from the St. Clair County Economic Development Alliance (EDA) and $2,000 dollars from Prosperity Region 6 partnership with MSUE for project implementation.
Future projects include: City and Chamber website updates and city street upgrades.
First Impressions Tourism (FIT) assessment program is a comprehensive community assessment conducted by unannounced visitors in a host community positioned to lead development based on their unique results. FIT involves developing community leadership, assessing the host community, sharing the results in a community forum and providing suggestions to drive community action. Overall, FIT helps communities learn about their strengths and weaknesses through the eyes of first-time visitors evaluating their community in an asset-based manner on multiple tourism-related community metrics. The overriding goal of the program is to support community economic development by facilitating the growth of local and regional tourism economy.