Food product development at MSU: Scale up to retail sales
The MSU Food Processing and Innovation Center (FPIC) supports the development of new food products through research and development, process development, proof of concept, product trials and product launch to retail.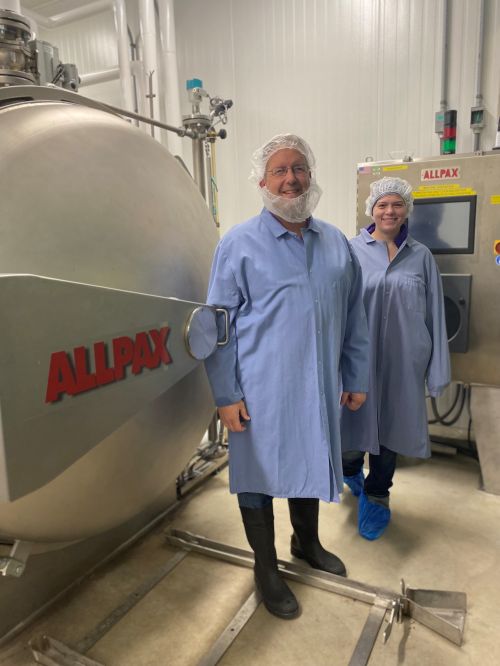 The Food Processing and Innovation Center (FPIC) at Michigan State University is a state-of-the-art facility where food and beverage businesses of all sizes can test new product innovations. The FPIC is a part of the MSU Product Center and MSU Extension. At the FPIC, we support recipe trials, process development, proof of concept work and food product packaging. Staff at the FPIC also work closely with MSU faculty on food product research testing and development, as well as on a very limited basis serving in a toll packer/co-packer capacity.
The FPIC is a dual jurisdiction plant operating with a grant of inspection from the U.S. Department of Agriculture (USDA) and is a registered food facility with the U.S. Food and Drug Administration (FDA). We also maintain a food processor's license with the Michigan Department of Agriculture and Rural Development (MDARD). Finally, the FPIC is a licensed canning facility with commercial retort abilities.
Facility capabilities include the following:
Raw and Ready to Eat (RTE) processing with segregated processing areas
Spiral convection oven and spiral freezer for cook and chill applications
40- and 80-gallon steam kettles
Batter and breading system
Par-fry and frying system
Planetary mixer (80-quart Hobart)
All-purpose slicer/dicer for meats and vegetables/fruit
Dough sheeter
Steam blancher/cooler
Dry fill auger system for mixing and portioning powders/spices
Bottling line (gravity fill 4 head and 2 head piston fill) with cappers for lug and screw type caps and a reduced oxygen pilfer proof (ROPP) capper
Liquid piston fill system
Induction sealer
Band sealer
Swing lid chamber vac with modified atmosphere
Modified atmosphere tray sealer
Allpax commercial batch retort with static and rotary capabilities (saturated steam, water immersion and water spray)
Double seamer for two-piece cans
pH and water activity testing, moisture analysis, residual oxygen sensor for modified atmosphere packaging
Environmental monitoring for ready to eat food processing
FPIC staff work one-on-one with clients to support new product development. A typical project at the FPIC includes several days of production (with many meetings and prep days in advance). During the prep meeting sessions, clients and staff strategize production and processing needs and capabilities, work together on food safety plan development (as needed), coordinate logistics of ingredient and packaging receiving, and determine outbound shipment of finished goods methods. Often, clients return over the course of several months to perfect product formulation, package design and process planning. For many clients, time at the FPIC is their first exposure to scaling up their product and packaging procedures.
Frequently Asked Questions
What are hours of operation at the FPIC and what is the address?
8 a.m. - 5 p.m., Monday through Friday, excluding holidays.
Our address is:
3361 Hulett Road
Okemos, Michigan 48864
Is there a minimum order quantity (MOQ) requirement?
Unlike many toll processors/co-packers, the FPIC does not require minimums on production. However, there is a daily rate to use the FPIC facility which includes use of any equipment (as appropriate and necessary) and support from two staff with food processing experience. We also charge an hourly rate for project planning or design work. Projects are priced on a case-by-case basis. Quotes for pricing are provided during client meetings.
Will my information be confidential?
Yes, all clients and projects are covered by Non-Disclosure Agreements (NDAs) and staff are prohibited from sharing details of your project with anyone outside the production team.
Can I tour the FPIC?
Yes, tours are available and set up as time allows. Due to the confidential nature of our work with clients, tours must be scheduled with staff in advance. Anyone touring the FPIC is required to wear long pants and closed toe shoes, as well as remove jewelry, piercings or anything else staff deem to be a potential hazard. Guests will be provided with appropriate personal protective equipment for tours of processing areas. Guests should reschedule tours if they are feeling ill or unwell.
I want to make a canned coffee or tea beverage…can I make it at the FPIC?
The FPIC is a licensed canning facility and we do have a commercial retort. However, there are many steps required to produce low-acid canned food products. Any development of a processing recipe for low-acid foods should be done with a Process Authority. We are capable of filling and sealing 307 x 407 (3 7/16" x 4 7/16") two-piece cans (comparable to many soup cans on the market). We also have an ROPP capper currently set up to fill 12- and 16-ounce aluminum bottles. Steps to develop a low-acid food product include:
A finalized recipe
Appropriate packaging for the product which must be capable of withstanding retort processing (temps of 250 degrees Fahrenheit and high pressures)
Perform a temperature distribution of the container in the retort to determine the time required to achieve even temperatures around all containers in the retort
Perform heat penetration studies for each type of product (or variable) in the selected packaging—this study will determine how long the product must be cooked to achieve commercial sterility. Note: Any changes to the product recipe may adversely affect the cooking time required to achieve commercial sterility.
Both 3 & 4 above require at least two replications. The studies in 3 & 4 determine the total cook time of your product.
Once steps 1-5 are complete and the process for your product is developed with the Process Authority, it must be filed with the FDA to be considered a legal process. Producers are required to follow all steps in the process every time the product is produced and use the same ingredients, ingredient quantities and packaging for every production run.
Development of a new low-acid canned food product can be a daunting process for many new food entrepreneurs. Packaging and ingredient costs are high due to the nature of packaging required to withstand retort processing temperatures and pressures, and the need for several replications of tests prior to process establishment. The USDA Food Safety and Inspection Service is a great source of information about shelf-stable foods, including thermally processed/retort products.
Will the FPIC hold and ship my product to retailers?
The facility has very limited storage space for ingredients and finished products. Clients coordinate and pay for the shipment of all finished products or remaining ingredients once a project is completed.
Will the FPIC staff source ingredients for my product?
Ingredient specifications and sources are all part of the development of recipes and are the responsibility of clients. Often, FPIC staff brainstorm with clients about ingredient suppliers, but we cannot guarantee that we will be able to identify acceptable suppliers.
Is the FPIC a true toll packer/co-packing facility?
The FPIC was established in 2018 to support the product development needs of food businesses of all sizes. The facility is extremely flexible in design and equipment mix which means we can support a wide variety of processing types. Large co-packing projects are often beyond our capabilities, and we always encourage clients to seek out for-profit entities in this space. Sometimes clients simply cannot find a co-packer willing or able to help with scale-up and early-stage production. In these cases, we will work with clients to produce products as we are able.
Would the FPIC help me produce a supplement (or baby foods)?
No, we do not work on baby foods or supplements.
Are there categories of foods that the FPIC does not process?
The FPIC can process a broad array of foods. We do not process baby foods, supplements, pet foods and products that require raw milk (anything that would fall under the Michigan Manufactured Milk Law). We do, however, have the capability to produce pet treats.