Grad Spotlight: Caitlinn Lineback
Caitlinn is a second-year student in the Agricultural, Food, and Resource Economics (AFRE) master's program.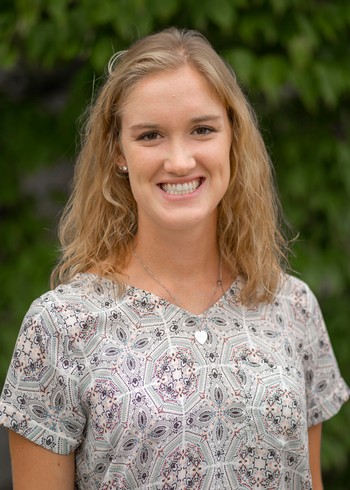 Caitlinn is originally from Dayton, Indiana; she grew up in a rural midwestern town where she enjoyed playing soccer and nearly any outdoor activity. At MSU, Caitlinn has enjoyed learning about food and agriculture in the state of Michigan, and is continuing to refine her skills in applied economics.
Why did you decide to choose AFRE for your graduate studies?

As a native Indiana girl, I chose AFRE because I wanted to see a different side of agriculture than just corn and soybeans. AFRE had amazing professors and networks that really sparked my interest to come here!
What has been your favorite class in the AFRE major, and why?
My favorite course so far, I think, has to be the course I am currently taking with Dr. Swinton – AFRE 891, Research Design and Writing Economics. While we are just a few weeks into the semester, this course has already helped to set the stage for academic writing/reading, and I am really excited to see what the rest of the course will entail!
What is one thing that you are looking forward to doing once we are able to return to campus?
The botanical gardens! I love to go down there in the middle of the day and read on the benches.
What is a saying or expression that you probably say too much?
"What in the world?" Apparently, I am nearly always in a constant state of shock because when I asked my fiancé this question, it took him less than 5 seconds to think of a response.
What one invention would you uninvent, and why?
I enjoy Facebook as much as the next person, but if I had to choose one "invention" to uninvent, it would probably be social media. I really enjoy connecting with people in person, and I think sometimes these platforms can be a waste of time.
What thoughts instantly make you feel more relaxed?
Probably one the most cliché answers, but being on the beach! My family takes a vacation every year to Gulf Shores, Alabama, and it is one of my favorite times of the year.