Grad Spotlight: Mohammed Beroud
Mohammed is a third-year student in the dual Ph.D. program in Agricultural, Food, and Resource Economics (AFRE) and Economics.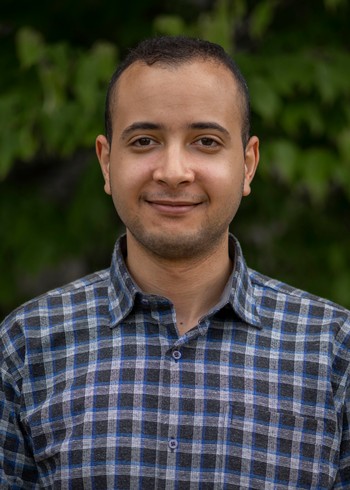 Why did you decide to choose AFRE for your graduate studies?
AFRE is the right program for me to acquire proper knowledge and shape the path I want to take as a researcher. I intended to learn from the best in the field, to produce good applied research and to contribute more effectively in the field of agricultural economics. With enough background in quantitative methods, the Development Economics major field in AFRE is a great opportunity for me to benefit from a high-quality program that will enhance my career and prepare me for my future objectives.
What is your favorite thing about the AFRE department?
I feel energized in the AFRE academic environment, seeing that I'm surrounded by brilliant researchers across all fields of agricultural economics. What I like the most about our department is that it provides a variety of classes with the right quantity and quality of content, to the extent that I wanted, at some point, to enroll in all available classes!
What is one thing that you are looking forward to doing now that we are back on campus?
Physically close enough to campus after the COVID-19 pandemic, I'm eager to meet again with my colleagues and enjoy the departmental research seminars.
What is a saying or expression that you probably say too much?
An inspirational Moroccan expression says, "Even the loftiest of mountains begins on the ground." It reminds me of the importance of having a complete step-by-step plan to realize my goals.
If you could have one song play every time you entered a room, what would it be, and why?
I would play Moroccan Andalusi music, because it reminds me of home and some good memories from my childhood.
What thoughts instantly make you feel more relaxed?
I feel relaxed after a very busy day working on coursework and research, steadily progressing towards my goals here at MSU.