Grand Rapids area tree fruit update – Aug. 25, 2020
Late season insects and diseases should not be overlooked.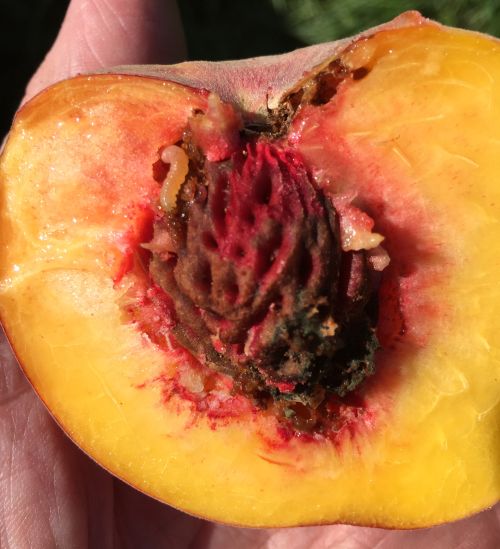 Weather update
Typically, when we get to the end of July, degree day accumulations are set for being ahead or behind the normal average and we do not see any significant shift one way or the other. However, in the past few years, the record breaking July and August temperatures push our degree day accumulations farther ahead each week. The Grand Rapids, Michigan, area continues to run ahead of normal averages. As of the end of day on Aug. 24, 2020, degree day totals for the Sparta Enviroweather station are 3,067 base 42 (six days ahead of average) and 2,057 base 50 (nine days ahead of normal average). For degree days base 42 and 50, we have moved ahead of normal by two more days from two weeks ago.
The last decent rainfall was on Aug. 10. Add in some very warm temperatures and we now have soil moisture levels that are inadequate for most orchard sites around the general Grand Rapids area. Irrigation systems should be running routinely if you have them in place. Irrigation needs can be monitored on Michigan State University Enviroweather, which is linked to the Cornell NEWA irrigation model using the MSU Enviroweather station nearest your location—the two systems are linked together.
Crop update
Apples continue to put on size nicely even with the dry conditions. Blocks with irrigation have the size advantage. Summer pruning and leaf removal are taking place to enhance fruit color. Early apples (Paula Red, Zestar) are beginning to be harvested. The 2020 predicted apple harvest dates are published.
Peach harvest is nearly to an end with only the latest varieties left to pick.
Tree fruit diseases
Continue maintaining a general protective fungicide program for any potential apple scab or fruit rots. This has been a banner year for fungal pathogens and there seems to be more issues with fruit rots and summer scab than usual. You should be adding more than captan to the tank to stay ahead of rots and summer diseases; do not let your fungicide program get too stretched out.
Tree fruit insects
A general reminder for all the late season pest management: Pay attention to preharvest intervals for pesticides as we approach harvest for early apple varieties along with peaches, plums and other tree fruits.
Adult flight of second generation codling moth is declining as expected and egg hatch is past peak. However, base your need for continued cover sprays on what your trap numbers were 250 degree days base 50 in the past. If you were catching more than the threshold (five moths accumulated for non-disrupted and one moth for disrupted) 250 degree days base 50 ago, then you could still have eggs hatching now that might cause fruit damage. I expect codling moth generation two to come to an end by Labor Day as usual.
There have been questions about a third generation and while that is likely in a hot summer, I don't feel we are so far ahead in degree days where a third generation would have much of a footing to cause significant damage. The cooler weather coming up will also limit our chances for a third generation.
Apple maggot adults have really slowed in their emergence as expected. We could see one more spike of emergence with the next good rain, so keep your traps clean and ready.
Japanese beetles are still around but have greatly declined.
Summer generation adult obliquebanded leafroller flight should be over and traps can be removed and stored. The new larvae are now easier to find in blocks with higher populations. If you have high numbers, they should be targeted right away. Be sure to watch the preharvest interval of your materials of choice as we get near harvest.
Second generation San Jose scale crawlers started to be found about a week ago and now can be found settled in the calyx end of some apples. As you move into harvest, flag the hot spots where you find scale on fruit so you can target spray for it next spring. This insect rarely infests entire orchards unless it is completely left unmanaged, and it can be controlled with targeted sprays quite easily.
Third generation activity of oriental fruit moth is underway. Enviroweather's oriental fruit moth model suggests that early egg hatch (8-10%) began a few days ago (Aug. 21) using the Sparta Enviroweather station data. Peak egg hatch will likely occur in the last few days of August. This generation can attack late peaches and other stone fruits, but also can cause damage to apples that might look a lot like codling moth. In blocks with a long history of mating disruption for codling moth, it is a good practice to have at least one oriental fruit moth trap up per 10 to 20 acres to keep an eye on potential activity. When routine covers sprays for codling moth are reduced or eliminated in a disrupted block, oriental fruit moth could be left to increase to damaging levels.
As I predicted in late May, this has been a great year for European red mites as well as other mite species. A mild winter was good for egg survival and the hot weather in late May really pushed populations to explode early in the season when predators were not yet active. In fact, mites seem to be having a great year on many plants this year, not just fruit trees.
I expect late summer feeding damage to be reported any day now from brown marmorated stink bugs in known hot spots. There has been an uptick of nymphs in trap catches around the state as well. If you don't have traps out, you should.