Grand Rapids area tree fruit update – May 18, 2021
Hot, dry conditions this week will accelerate apple growth and development.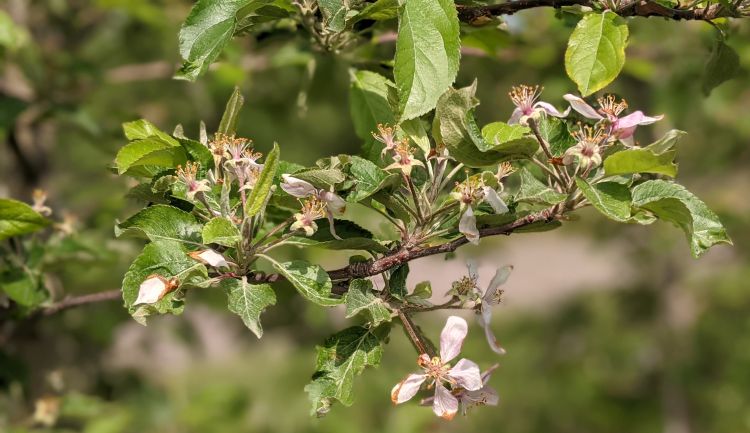 Weather update
The extreme weather rollercoaster continues across the Grand Rapids, Michigan, region, as in much of the state. Over the last week, temperatures were much cooler than normal, including frost conditions and overnight low temperatures in the low 30s and upper 20s (degrees Fahrenheit) on several nights. Weekend conditions were much warmer, including high temperatures in the upper 70s. Conditions this week are expected to be even warmer; highs are predicted in the 80s and lows in the 50s, meaning average temperatures will be almost 20 F greater than normal.
The extreme high and low temperatures have meant that overall heat accumulation is now approaching seasonal average. The Michigan State University Sparta Enviroweather station has accumulated 550.3 growing degree days (GDD) base 42 since Jan. 1, which is approximately five days earlier than the average for May 17.
Extremely dry conditions also continue in the Grand Rapids region, like in most of the rest of the state. Over the past week, despite storm systems in the forecast, only scattered showers were observed. Less than 0.1 inch of accumulation was recorded at Enviroweather stations throughout the region, a trend that has repeated nearly every week this spring. Over 75% of the state continues to be under a moderate drought, or classified as category D1, according to the NOAA U.S. Drought Monitor classification scale.
Soil moisture conditions, as indicated by top 3 feet of crop available soil moisture, are the driest recorded in the past 20 years. While this is typically a time of year in which Michigan experiences low levels of precipitation, the drier than normal conditions are concerning because soil moisture now will provide reserves for the rest of the season. The precipitation outlook is not very promising. Showers are forecasted for Tuesday night, May 18, into Wednesday, and again Sunday evening. However, accumulation is expected to be very minimal.
The cool temperatures last week led to a suspension in growth and development in orchards. Bloom lasted over 10 days in nearly all varieties. Most varieties, including Gala, Honeycrisp and Fuji, have reached petal fall growth stage. Early varieties and most advanced blocks are beginning fruit sizing, with fruitlets up to 8 millimeters diameter. The hot conditions anticipated this week will lead to rapid growth and fruit sizing across the region. The optimal thinning window (8-10 millimeters fruitlet size) is expected to be very compressed.
Fruit set across the Grand Rapids region is very good. Many flower clusters are missing king blossoms due to frost events in April. However, strong lateral blossoms have set in most blocks, to support a full crop.
Pest updates
Dry conditions remain and temperatures have been more in the normal average range for the past few days. Above normal temperatures are in the near forecast. This will get insects moving in all tree fruits. The biggest pest contender in the near future will be plum curculio for all tree fruits.
Most stone fruits are in the shuck or just breaking out of the shuck. Apples are a mixed bag of development with many blocks quickly moving into the petal fall stage. Make sure your bees and you neighbor's bees are removed before applying any petal fall insecticides. Pests to target with petal fall applications in apple include plum curculio, San Jose scale, obliquebanded leafroller, mites and aphids.
Oriental fruit moth adults continue to fly and trap numbers increased with increased temperatures. A biofix was set for the general Grand Rapids area for May 1. The Sparta MSU Enviroweather station has accumulated 135 GDD base 45 since that biofix. It is expected we will reach 175 GDD45 by May 19– this is the timing for early management for oriental fruit moth larvae in stone fruits. We found a small oriental fruit moth larva in an apple shoot just today in unsprayed trees.
The warmer weather has brough out codling moth. If you do not have traps up yet for monitoring, you need to get that done right away. Early adult moth flight started in higher pressure blocks with the warmer weather and an initial biofix for the Grand Rapids region was set for May 16. The GDD totals for base 50 are going to add up very quickly over the next week with very warm temperatures in play. Egglaying could begin May 20 or 21—insecticides that target eggs are best applied ahead of egglaying so you could add them right to your petal fall applications this season.
San Jose scale males will likely begin flying any day now as well. The timing for crawlers will be at least two weeks into the future.
Apple scab primary ascospores should be very near 100%. The last two rain events released large numbers of spores as expected. This very dry start to spring is unlike any ever seen in the last 30 years, so it is difficult to say what will happen with apple scab spore discharge. It is likely primary apple scab will end on the early side, but dry conditions might play a role in drawing out the spore release.
Despite the very dry spring, scab lesions can be found readily in unmanaged apples. There are a few reports of scab in commercial blocks as well. Be cautious of stretching fungicides too much. With a good deal of fresh, green tissue and tiny apples present, the risk for primary scab is a concern with any rain event from now until at least the end of May.
Cold temperatures have made the risk for blossom blight due to fire blight a non-issue for much of the long, drawn out bloom period. This is changing fast with the very warm temperatures. Bloom will quickly move to petal fall with warmer weather and some wind. However, we are seeing a wide range of blossom development on trees this season, and as expected, rag tag bloom is hanging on. Younger trees seem to be somewhat delayed in their bloom.
Any fresh bloom is a target for potential blossom blight. Warm temperatures and some rain for the next day or so will create a very high risk for blossom blight that needs to be protected against. Keep a close eye on your nearest MSU Enviroweather station for infection potential or just add an antibiotic in with your petal fall applications in the next day or two. Most have at least one application of prohexadione calcium (Apogee or Kudos) on and it might be time for follow up apps depending on your regime.