Michigan grape scouting report – May 27, 2020
Vines are growing quickly. The warm, wet week means disease management is critical.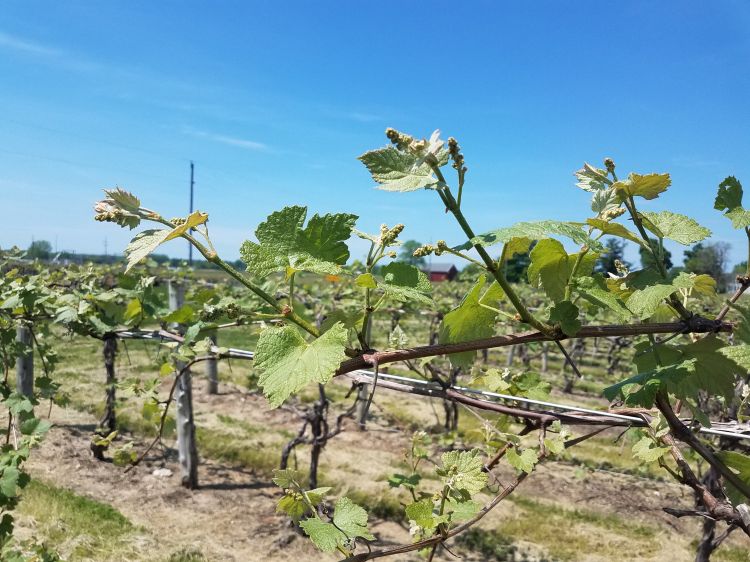 Weather
Last week was warm. The southern grape growing regions saw highs starting in the upper 60s, climbing into the mid to upper 80s over the weekend and start of the week. Lows were in the 50s and 60s. The northern region was 10 degrees cooler. Rain came over the weekend with areas around the state ranging from one-tenth to over 1 inch of precipitation. After the very hot weather on Tuesday, forecasts for this week are for cooler weather with highs near 70 and lows close to 50 in the southern parts of the state and temperatures 10 degrees cooler further north. Rain is expected across the state late this week with clearing over the weekend. With the warm week, we picked up a lot of degree days, 150-170 DDbase 42, and 100-120 DDbase 50.
Northwest Michigan GDD summary from March 1 - May 26, 2020

Northwest Stations

GDD 42 F

GDD 45 F

GDD 50 F

Petoskey (Petoskey)

312

231

131

Traverse City (NWMHRC)

349

259

150

Old Mission (Old Mission)

319

233

129

Average for the NW region

349

260

150

Average last week

197

129

54
Southwest Michigan GDD summary from March 1 - May 26, 2020 and southeast Michigan GDD summary from March 1 - May 26, 2020

South Region Stations

GDD 42 F

GDD 45 F

GDD 50 F

Benton Harbor (SWMREC)

607

475

300

Lawton (Lawton)

613

477

298

Fennville (TNRC)

535

410

245

Average for the SW region

607

473

297

Average last week

431

319

177

Romeo (Romeo)

527

399

234

Average for the SE region

550

420

252

Average last week

396

287

154
Phenology
Juice grapes in the southwest have up to a foot of growth. Clusters look small but healthy. Most Vitis vinifera cultivars in the southwest are at a couple inches of growth, with 6 inches in some areas. Wild grape is significantly further along with clusters separating. Bloom has started in Berrien County and is expected this week in many other parts of southern Michigan.
With the significant growth in the past week, it is easier to see that most varieties seem to have made it through the May 9 and 10 freezes with little damage. Most wine grape varieties were not developed enough to be significantly damaged by the temperatures we saw. Concord and Niagara saw up to 50% damage of primary buds, but secondary buds appear unaffected. These secondary buds can produce 35-40% of a crop compared to primary buds. Most growers do not expect a significant impact on yield.
If you do see significant damage, consider an adjusted insect and disease control program; see "Pest Management in Frost-Damaged Vineyards" for additional information. Be aware managing a crop on both primary and secondary buds means a variety of growth stages at the same time. Take this into account when timing chemical applications.
Northern grapes are at bud burst to 1-3 inch of growth, depending on variety. See this chart for grape growth stages.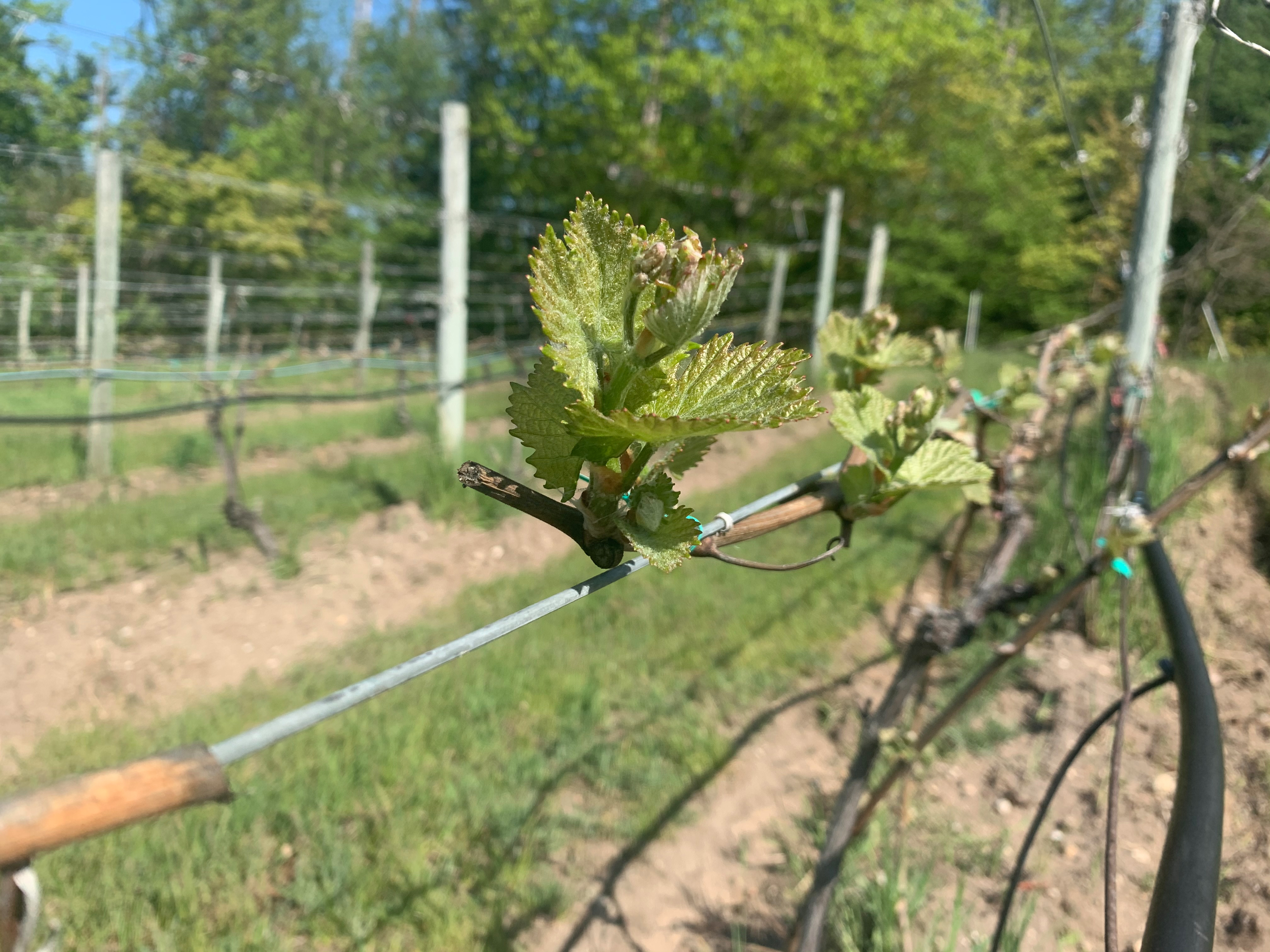 Diseases
Early season disease management in vineyards is critical. The first few applications until three weeks post-bloom are the most important. If shoots are more than 3 inches long, focus should be on black rot and phomopsis management. Products in the ethylene bisdithiocarbamate (EBDC) group are a great option for these diseases at this time of year because they provide good to excellent control and do not increase the development of fungicide resistance.
In northern Michigan, there may be time to apply dormant applications on V. vinifera cultivars or hybrids if they have not broken bud. These sprays target black rot and phomopsis that overwinter on trunks and canes. Recommended options for these diseases at this time include sulfur, lime sulfur and copper directly on the cordon. They also have the added benefit of mite control. Copper can also help reduce downy mildew later in the season. Lime sulfur cannot be used once green tissue is present. Sulfur and copper can be used until leaves have opened. Make sure to use enough water for good coverage. Lower rates can still be effective if there are any concerns of phytotoxicity.
In areas where clusters are emerging and grapes are growing quickly, fungicide sprays for grape black rot and phomopsis and powdery mildew are vital. Warm, wet weather like the past week promotes this quick growth and increases chances of infection. No disease infections have been reported or found by the grape team at this time, but symptoms may not show up for some time after infection.
Insects
For southern Michigan grape growers, the insects to be on the lookout for at this time are rose chafer and potato leafhopper. Both would usually be expected in vineyards by now, but the slow spring has held them back. But the warm weather is catching things up. Warm winds from the south like those areas in southern Michigan saw this past week can bring potato leafhopper. These can be rained out of the air mass by thunderstorms. Tumid gallmaker was an issue for many wine grape growers last year at this time, especially in hybrids. Be scouting your vineyards.
Some flea beetles and climbing cutworms were observed recently in northern Michigan, but vines are rapidly growing out of the risk period for these pests. They primarily attack developing buds. See: Bud swell is the time for monitoring vineyards for cutworms and flea beetles.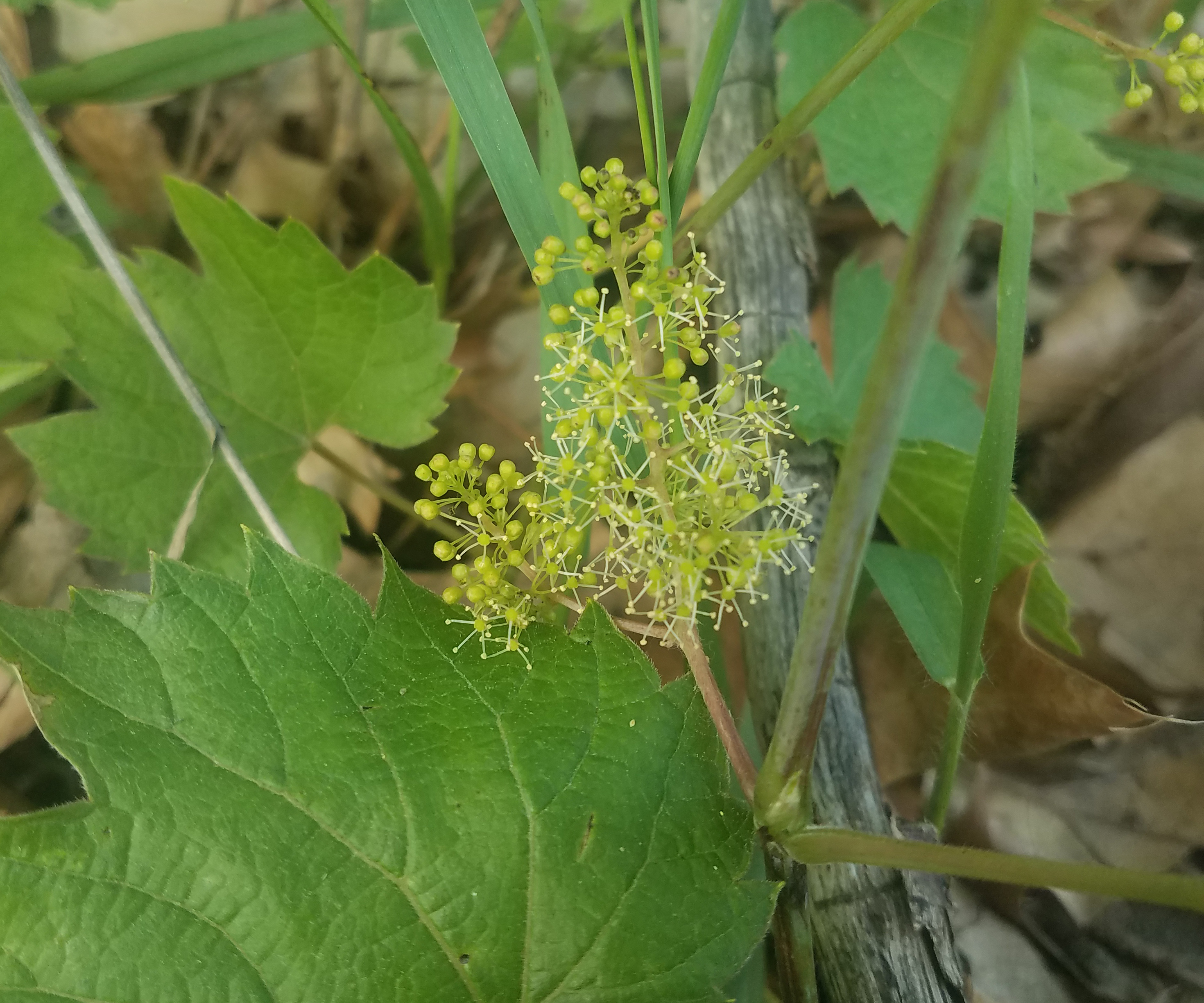 Upcoming meetings
Our grower meetings have moved online. We are using Zoom for our meetings. Here is more information on Zoom. You need to register for these meetings. Do not expect to be able to join these meetings just before they start. These meetings will be closed, and many are password protected to prevent their disruption by others.
The Grape Prebloom Webinar will be Thursday, June 4, from 1-4 p.m. An announcement will be out soon.
Related articles