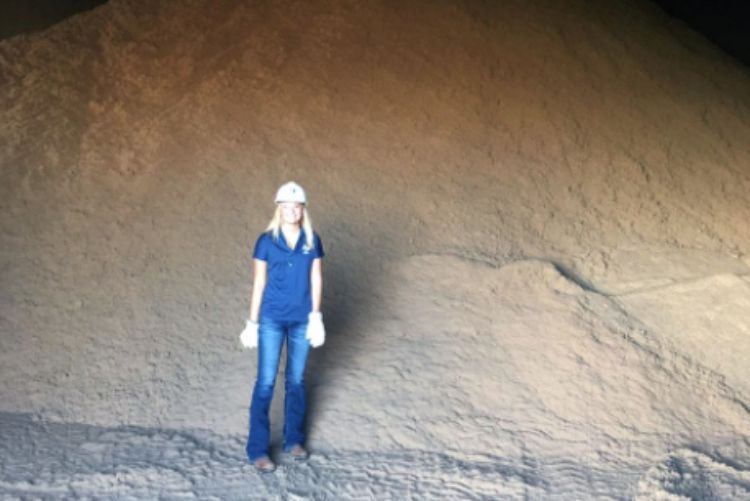 Agribusiness Management junior Madi Heath was chosen as the 2018 recipient of the Redmond and Edna Cotter Endowed Scholarship, presented by the Michigan Dairy Memorial and Scholarship Foundation Inc., and the College of Agriculture and Natural Resources Alumni Association at Michigan State University.
From Milan, Michigan, Heath received the award of $2500 based on her academic record and numerous out-of-classroom experiences, including leading the MSU NAMA team, interning at multiple organizations in the food and agriculture industry, and studying sustainability abroad in Australia.
"I am extremely honored to have received this scholarship and it means so much to me!" said Heath. "Everyone knows the cost of college is steep, but this scholarship helps so much in funding my studies that I get so much from."
An Agribusiness Management student, Heath has had a passion for agriculture since her days in 4-H and FFA, and made an easy transition to the AFRE department upon entering MSU.
"AFRE has a hometown kind of feel to it," Heath said. "Everyone within the department is friendly and cares about you. I've gotten so many opportunities from just connecting with students and professors."
Leading MSU NAMA
One of the opportunities Heath picked up was getting involved in MSU's National Agri-Marketing Association (NAMA) team. Heath first joined NAMA as a freshman, and "has been hooked ever since." Now the president of the MSU team, Heath leads the year-long effort to create a product that will help solve one of the issues the ag industry is currently facing, and then presents it amongst competing teams at the annual National Student Marketing Competition during the NAMA conference. With Heath at the helm this year, the MSU team brought back a fifth place finish, out of 30 teams, first in the John Deere Signature Award, and third place for Outstanding Student Chapter. Heath also individually won a scholarship from the association, along with fellow AFRE student Sarah Lokey.
"I have gained so much from NAMA. From professional development to networking with industry leaders, to scholarship opportunities and team building skills, you learn so much that employers look for in potential candidates," said Heath.
Learning Outside of MSU
Heath has already found internship employment within the agriculture sector, first working with Michigan Agricultural Commodities (MAC) at a grain elevator learning the operational aspects of running a grain machine and grain merchandising, and then transitioned to their corporate office, where she hedges for all MAC locations as well as works on risk management strategies.
Last summer, Heath took part in a study abroad trip that focused on sustainability practices in Australia, and rounded out her summer working for Archer Daniels Midland Company (ADM), in Lubbock, Texas. This summer, Heath will be back at ADM, working as a commodity marketing intern in Indiana.
"I have learned so much from these experiences, including the importance of learning from different people with different backgrounds," Heath said. "Working with people who have different backgrounds has brought so many more ideas and solutions to the table."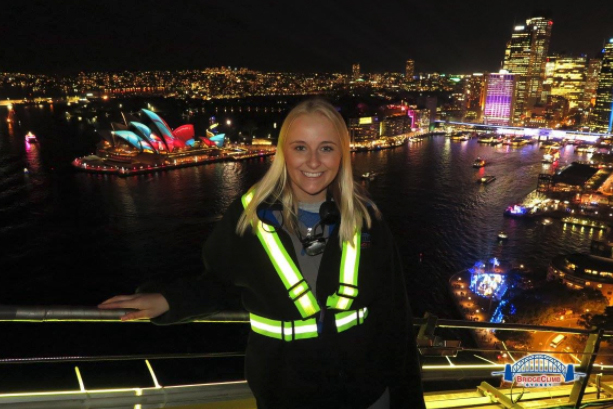 With career goals of becoming the corporate hedger or grain merchandiser for a prominent agribusiness in both the national and international markets, Heath serves as a leader among ABM students.
ABM director and AFRE professor Laura Cheney remarked, "I've known Madi since her freshman year at MSU, and upon arriving, she jumped right into ABM with both feet. In my role as the faculty advisor for MSU NAMA, I have truly learned to count on and admire Madi's enthusiasm, commitment, and dedication. One of the great pleasures I have as a college professor is watching young students develop into young professionals — Madi is one of those students with whom I have truly enjoyed sharing her journey and am excited to see what the next chapter will bring."