Homegrown goodness: Michigan asparagus
Helping Michigan retain its leadership role in asparagus production and working with growers to increase profits are two aims of asparagus research at Michigan State University.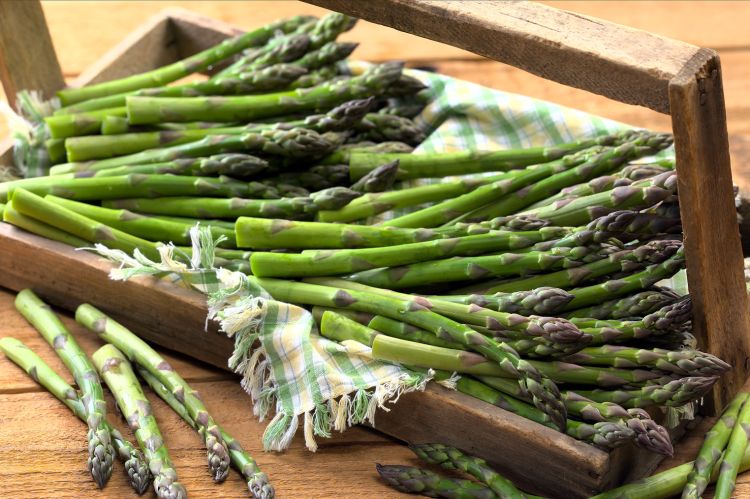 Growing benefits for asparagus farmers
Helping Michigan retain its leadership role in asparagus production and working with growers to increase profits are two aims of asparagus research at Michigan State University (MSU).
For instance, MSU AgBioResearch horticulturist Dan Brainard and MSU master's student Ben Byl established a multiyear study on irrigation systems for Michigan asparagus in 2010. Their project has funding from the Michigan Asparagus Advisory Board, Project GREEEN and the specialty crops program of the Michigan Department of Agriculture and Natural Resources.
"Asparagus is a perennial plant. After harvest, you need to have the fern and leaves grow to provide carbohydrates to the root system. We often talk about [this process] as 'filling the gas tank,'" said Brainard, an associate professor of horticulture. "That's when it is critical to avoid disease and drought stress."
Traditionally, Michigan asparagus has not been irrigated, but interest has risen because some of the newer varieties may be more susceptible to drought. Brainard is testing drip and overhead irrigation in comparison with control plots that receive no irrigation. He used two newer asparagus varieties – Guelph Millennium and Jersey Supreme – in the trials.
"In 2012 and 2013, we saw substantial increases in yield, particularly for Guelph Millennium, and we found that the overhead irrigation benefits the Guelph Millennium, and the drip system was better for the Jersey variety," he said.
The obvious benefit of irrigation is to increase yields and thereby increase profits. A key factor in profitability is the cost of the irrigation system.
"It's tricky to calculate long-term impact, especially for a crop potentially in the ground 15 years. In two years there was an increase in gross revenue for Guelph Millennium of about $900 per acre," Brainard explained. "The cost of an irrigation system is about $1,000 to $2,000 per acre. So, the increased revenue came close in the first two years to covering the cost of the irrigation systems, which can be used for 20 to 40 years."
An irrigation system has other costs and benefits beyond the increase in yield. Brainard has worked with MSU AgBioResearch plant pathologist Mary Hausbeck to get a better idea of how irrigation systems affect asparagus diseases. And MSU AgBioResearch entomologist Zsofia Szendrei is looking at irrigation systems as a way to deliver insecticides.
"That's another angle that growers are interested in because it could make more efficient use of both fertilizers and pesticides by using less of them and delivering them to the root system," Brainard said.
Irrigation systems also give asparagus growers more opportunities to plant cover crops without fear that they will compete with the asparagus for water.
"We want to know if we can use irrigation to promote other complementary practices that might be beneficial to growers, including plantings of cover crops earlier and possibly planting different cover crops," Brainard explained.
As for eating asparagus, Brainard is partial to tempura asparagus – a Japanese dish where the asparagus is battered and deep fried. He occasionally stops at a local Japanese restaurant to bring samples into a vegetable production class he teaches on campus. At home, he is more likely to cook asparagus on the grill.
Fast facts
Nationwide, Michigan ranks second along with Washington (the two states are tied!) in asparagus production behind only California.
The vegetable is produced primarily on 150 farms in Oceana, Mason and Van Buren counties.
The crop has an annual estimated value of $17 million.
In 2013, Michigan produced 18 million pounds of asparagus – 8 million pounds were sold fresh, and 10 million pounds were used for processed products.
Asparagus is a nutrient-dense food that is high in folic acid and is a good source of potassium, fiber, and vitamins B-6, A and C, and thiamin. It has no fat or cholesterol and is low in sodium.
Asparagus spears grow from a crown that is planted about a foot deep in sandy soil. Each crown will send spears up for six to seven weeks during the spring and early summer.
A well-cared for asparagus plant will generally produce for about 15 years without being replanted.
For more information visit the Michigan Asparagus Advisory Board at michiganasparagus.org.
Asparagus Frittata
This omelet that cooks in the oven makes a tasty supper or brunch.
2 tablespoons Italian dressing
2/3 cup sliced fresh mushrooms
1/3 cup chopped red bell pepper
¾ pound fresh Michigan asparagus, trimmed and cut into ½-inch pieces or
1 (14.5-ounce) can Michigan asparagus cuts and tips, drained
8 eggs
¼ cup milk
¾ cup shredded provolone cheese, divided
¼ cup freshly grated Parmesan cheese
Heat dressing in a large ovenproof skillet over medium heat. Add mushrooms and red pepper. Cook and stir 5 minutes. Add asparagus. Beat eggs, milk and ½ cup provolone cheese in a medium bowl. Pour over vegetable mixture in skillet. If handle of skillet is not ovenproof, wrap it in foil.
Bake in a preheated 350-degree oven 20 minutes or until eggs are almost set. Remove from oven and sprinkle with remaining ½ cup provolone cheese and Parmesan cheese. Bake 5 minutes or until cheese is melted on top. Cut into wedges to serve.
Makes 4 servings.
Recipe and photo courtesy of Michigan Asparagus Advisory Board.