Jake Ferris (1930-2022), Agricultural Market and Price Analyst
Professor Emeritus John "Jake" Ferris passed away on March 9, 2022. He is remembered as colleague, teacher, mentor, national expert on commodity price analysis, proud Spartan, and generous donor to the next generation of MSU agribusiness managers.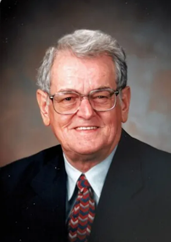 John N. (Jake) Ferris, Professor Emeritus in the Department of Agricultural, Food, and Resource Economics (AFRE) at Michigan State University (MSU) passed away at home in East Lansing on March 9th 2022 at the age of 92. He was born and raised on an Indiana hog-corn farm and graduated from Purdue University in 1951 with a Bachelor of Science. Next up, he went to Cornell University for his masters, before finally landing at Michigan State University, earning his PhD in Agricultural Economics, and joining the faculty in 1957.
Michigan State University was the center of his research, but also the home of his heart — he was a dedicated Spartan fan — and where he met his future wife, Maxine Schnitzer. They were married in 1968, four years after they first met in the MSU Union. They worked closely as she rose to become chairperson of the MSU Department of Agricultural and Extension Education. Professor Emerita Maxine Ferris followed Jake Ferris in death by five weeks.
Ferris had a three-way appointment in Extension, teaching, and research for 40 years until his retirement in 1997. He believed the three components worked synergistically: feedback from his Extension engagements informed his teaching and research, while his research informed his Extension market forecasts, his classes, and those class notes, which turned into his 1997 textbook. Agricultural Prices and Commodity Market Analysis was published by WCB/McGraw-Hill and was incorporated by the World Bank into an international, online course on commodity price risk management in developing countries.
Market forecasting was his passion, and while he began his career doing shorter year-long forecasting, in the 1960s he began doing longer 10-year forecasts for Michigan agriculture and natural resources, bringing together diverse faculty and stakeholders for workshops in which over 8,000 Michigan farmers participated over the course of 30 years. Ferris developed partial equilibrium, econometric simulation models of the U.S. agricultural sector. By capturing the supply and demand for agricultural commodities, the models could forecast changes in market prices and quantities. They helped to predict the effects of major market "shocks," such as the massive Soviet grain purchase of 1972 and the changes in the U.S. renewable fuel standard in 2006-08. Jake Ferris continually pushed the boundaries of available computer power, using mainframe computers in the 1960s and developing AGMOD for use on desktop computers by the 1990s.
He won many awards through his long career, including multiple "Premiere Forecaster Awards," presented by the Extension Outlook Committee of the American Agricultural Economics Association from 1989 to 2008, the "Distinguished Service to Agriculture Award" presented by the Michigan Farm Bureau in 1996, and the "Outstanding Contributions by an Individual" award, presented by the MSU Faculty Emeriti Association in 2009.
Ferris remained an active member of the AFRE community since retiring in 1997, attending events and continuing his work as a consultant for the state of Michigan, and writing monthly articles on the market for biodiesel. In 2021, he collaborated with MSU Libraries to narrate the film he made as a graduate student in 1955 of the Michigan State College Farm Mechanization Centennial. He and his wife established the John (Jake) and Maxine Ferris Global Agribusiness Award Endowment Fund to support MSU agribusiness students interested in international activity.