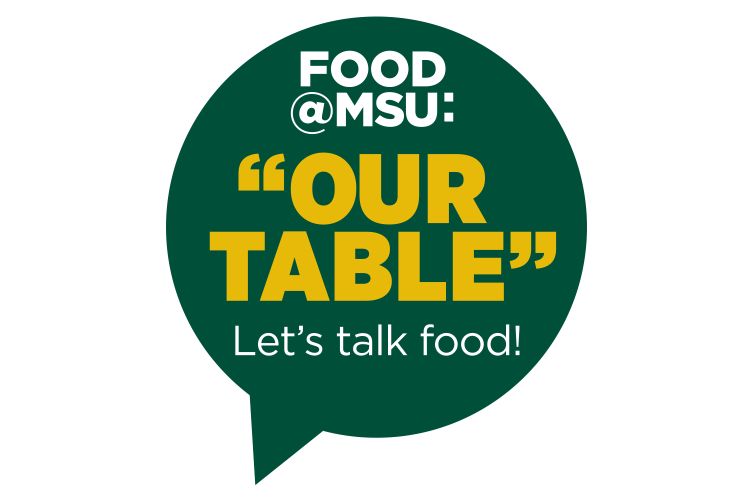 Food is the centerpiece of a new Michigan State University (MSU) public awareness campaign led by the College of Agriculture and Natural Resources.
A major goal of "Food @ MSU. Our Table" is to provide knowledge so that consumers can make better informed decisions about their food and their health, said Ronald Hendrick, dean of the CANR. The campaign is rooted in communication.
"As the value of science continues to be questioned in many political circles, we realize the need for MSU and other institutes of higher education to be more engaged with the public about how their research and work impacts important issues like food security, food safety and hunger," Hendrick said.
A key component of the campaign will be a series of community roundtable discussions centered on specific food topics. Scientists, farmers, consumers, policymakers and others will be invited. They will join host and moderator Sheril Kirshenbaum, co-author of "Unscientific America: How Scientific Illiteracy Threatens Our Future."
"With today's technology and 24-7 news cycle, we're constantly faced with conflicting messages about our food and health," Kirshenbaum said. "As a mom of two young boys, I share the challenges of deciding what to put on the dinner table each evening. I looking forward to hearing what concerns are top-of-mind and helping to lend advice in these important areas."
The conversations will be filmed and shared online, possibly even aired on television.
By 2050, the world population is expected to exceed 9 billion. To feed a population that size, food production will need to increase by 70 percent to 100 percent. In response, Michigan State University has expanded its presence in key food-producing regions of the world, including the United States, Africa, Asia and Central America. Our scientists are tackling challenges posed by population growth, climate change and persistent malnutrition, especially among children and women.
In 2015 alone, MSU researchers received more than $100 million in food-related grants. This work is advancing sustainable agricultural practices and the livelihoods of farmers here in Michigan -- the nation's second most diverse agricultural state -- and the world.
With three medical colleges and a rich agricultural history, MSU is uniquely positioned as the preeminent food, health and nutrition leader. MSU has expertise in human, animal and plant health, along with researchers specializing in agricultural commodities from Angus beef to zucchini.
MSU is one of the key food research institutes involved with Feed the Future, an initiative led by the U.S. government to address global hunger and food security. MSU is home to two Feed the Future Innovation Labs: one on food security policy and the other on grain legume research. Through efforts like these, we're bringing disease- and insect-resistant beans to places where hungry people are in need.
MSU is the sole implementer of the Borlaug Higher Education for Agricultural Research and Development (BHEARD), an effort under the U.S. Agency for International Development (USAID) to train agricultural scientists from developing countries to fight hunger and to strengthen the knowledge base. With $33 million in total funding, MSU has 170 scholars from 11 developing countries pursuing master's and doctoral degrees in both the United States and Africa.
The MSU Global Center for Food Systems Innovation, part of the USAID Higher Education Solutions Network involving seven American and foreign universities, is developing solutions to critical challenges affecting global food systems, such as rapid urbanization, climate change, pressure on natural resources and skill gaps in the workforce. Because women make up 43 percent of agricultural labor worldwide, this initiative is largely focused on gender equity and women's empowerment.
MSU has received more than $47 million in support from the Gates Foundation's Agricultural Development Initiative. These efforts are providing millions of small farmers with the necessary tools they need to increase yields and build better lives for themselves and their families.
MSU Extension partners with the Michigan Department of Human Services (MDHS) to provide Supplemental Nutrition Assistance Program Education (SNAP-Ed), a free nutrition education program to reduce hunger and food insecurity and promote healthy eating habits. Instructors teach youth, teens, adults and seniors how to make health a priority. Our goal is to increase the likelihood that those eligible for SNAP benefits will establish healthy eating habits and increase physical activity while staying within their limited food budget.
The MSU Center for the Health Impacts of Agriculture is addressing issues at the nexus of agriculture and health. The World Health Organization estimates that unsafe food is linked to 2 million deaths per year, many of them children. Designing and implementing agricultural policies and practices is not just about producing more food in more sustainable ways -- it's also about taking into account plant, animal and human health.
Michigan State University collaborates directly with more than 80-plus commodity groups in Michigan to help address industry concerns and promote economic viability and sustainability. The state's food and agriculture industry is valued at more than $100 billion per year.
MSU operates more than a dozen outlying research facilities spanning the state from Chatham in the Upper Peninsula to Benton Harbor in the southwest corner of the Lower Peninsula. These facilities provide places to conduct food research in the various soil types and diverse micro-climates of the Great Lakes region.
MSU Extension employs specialists in all 83 counties to address concerns of and questions from local agricultural producers and others. These services are paramount to educating folks about recent research and discoveries.
The College of Agriculture and Natural Resources (CANR) is built on the land-grant foundation of combining education, research and outreach to prepare and train the next generation of agricultural producers. The CANR offers 20 majors in 13 departments, most of which are related to food, energy and/or the environment. And enrollment is at a 40-year high.
MSU is the home of the Center for Research on Ingredient Safety (CRIS), the only national center devoted to the study of the safety of ingredients in food and consumer products. CRIS is governed by representatives from industry, academia, the public sector and nongovernmental organizations, and focuses on state-of-the-art research, graduate education, and communication of easily understood and science-based information to consumers.
Part of the initiative will also include national polling to help get a better understanding of people's scientific understanding of food and where they're getting information. In doing research on the project, Kirshenbaum said she was surprised at how difficult it was to find.
"Just bring up GMOs and you realize there's a lot of confusion and inconsistent information out there. It's an example of a topic where both the public and policy lag far behind the science," she said.
Hendrick said he hopes the campaign will inspire families to put down their technology, especially around the dinner table, and to talk with one another.
"This isn't about academics speaking scientific jargon, it's about engaging in meaningful dialogue and providing practical, viable answers that are easy to comprehend," Hendrick said.
Launched this spring, the initiative also includes a new website – food.msu.edu – and a Facebook presence. Both communication vehicles will spotlight stories and a question–and-answer blog, "Food for Thought."
The initiative comes at a time when six out of nine consumers cite that their life issues of most concern are related to the food system, according to research conducted in 2016 by the Center for Food Integrity. That same research also revealed that 80 percent want to know more about where their food is produced but lack any direct connection to agriculture. More and more consumers are also crowdsourcing information – that is, accessing information from many sources, particularly non-expert websites and/or social media outlets.
"MSU knows food," Hendrick said. "It harkens back to why the university was founded, and where we are headed in the future."
This article was published in Futures, a magazine produced twice per year by Michigan State University AgBioResearch. To view past issues of Futures, visit www.futuresmagazine.msu.edu. For more information, email Holly Whetstone, editor, at whetst11@msu.edu or call 517-355-0123.