Limited-time charcuterie box of MSU cheese, salami and bread now available through MSU Extension Product Center
Spartans and cheese lovers can take home a taste of Michigan State University with ready-to-serve charcuterie boxes of MSU made products.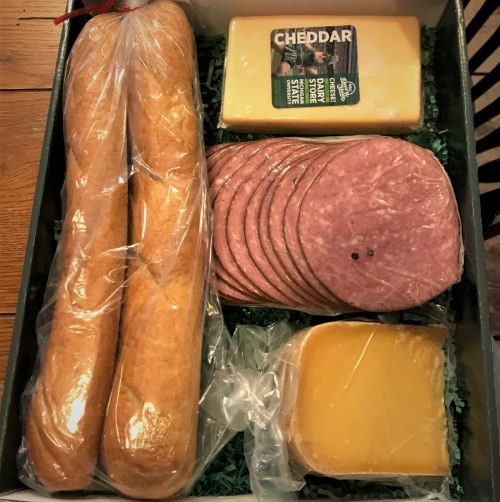 Thanks to a unique opportunity offered by the MSU Extension Product Center, Spartan charcuterie boxes are available containing approximately one pound of Dairy Store grass-fed Gouda, one pound of grass-fed cheddar, a half-pound of MSU Cotto Salami and two loaves of MSU Baker's sourdough bread. Available for pick up only, each limited-edition box contains the perfect selection of MSU made products to create a beautiful charcuterie board, or if you prefer, the beginnings of a tasty fondue.
"We are excited to once again celebrate the Spartan community and share multiple MSU made foods," said Mollie Woods, director of the MSU Product Center, which helps Michigan entrepreneurs and businesses develop and launch new product and service ideas. "These specially-selected products from the Dairy Store, MSU Meats and Bakers will treat Spartans with the great taste of MSU during the long winter months."
This is the second time the MSU Product Center has offered MSU Dairy Store cheese, which it obtained in 2020 when the COVID-19 pandemic disrupted the Dairy Store's normal operations.
The boxes are $34.99 each, and starting on March 8, 2021, orders can be placed via the MSU Dairy Store's Shopify website for contactless pickup. Orders will be available at the MSU Extension Food Processing and Innovation Center (FPIC) at 3361 Hulett Road in Okemos. Customers who place an online pickup order can bring a mobile or printed copy of their receipt to claim their boxes.
The pickup schedule is as follows:
MSU Extension Food Processing and Innovation Center, Okemos:
Monday – Friday starting March 8 until supplies last: 9 a.m. to 4 p.m.
For more information, please contact Mollie Woods, MSU Extension Product Center director, at willi751@msu.edu.