Liu accepts global award with message of hope
Jianguo "Jack" Liu, Rachel Carson Chair in Sustainability, accepts his Gunnerus Sustainability Science Award with an address about pandas, people and hope for the future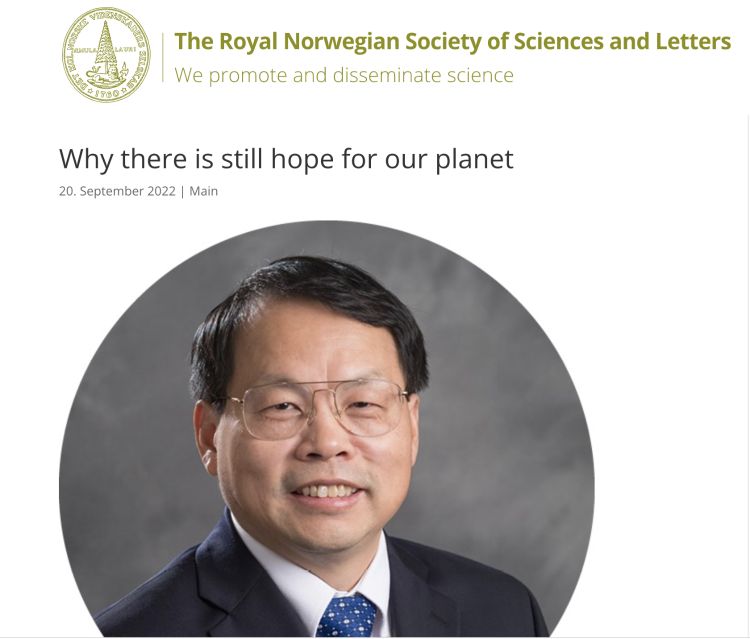 Sept. 21, 2022
Jianguo "Jack" Liu, noted for his pioneering, holistic work connecting people and nature, will invoke his long-standing work which weaves pandas, people and sustainability into a message of hope in his address to the Royal Norwegian Society of Sciences and Letters and the Norwegian University of Science and Technology in Norway.
Liu, the Rachel Carson Chair in Sustainability, was the fourth person to receive the Gunnerus Sustainability Science Award. The award was announced in 2021, but the pandemic delayed ceremonies till this week.
"There are a number of reasons for hope," Liu said in an interview with the society. "First, there is an increasing global awareness of challenges, especially among many young people. Of course, awareness alone is not sufficient, but it is an important first step."
His address, Pandas, People and Planetary Sustainability at tonight's award ceremony will explore how a rise in the divorce rate threatens the Chinese giant pandas and other connections between people and nature, as well as discuss the groundbreaking concept of "telecoupling" socioeconomic-environmental interactions over distances. Liu is the leader in developing and applying the telecoupling framework to untangle the complexity of increasing globalization.
The award honors outstanding scientific work for global sustainable development, and aims to promote research and strengthen the scientific basis of sustainability. Liu, a University Distinguished Professor, is director of the Center for Systems Integration and Sustainability.